A Survey of the Region's Small-Town Racing Tracks
Racing built its foundation at places like these—which still offer fans a chance to see tomorrow's stars and cars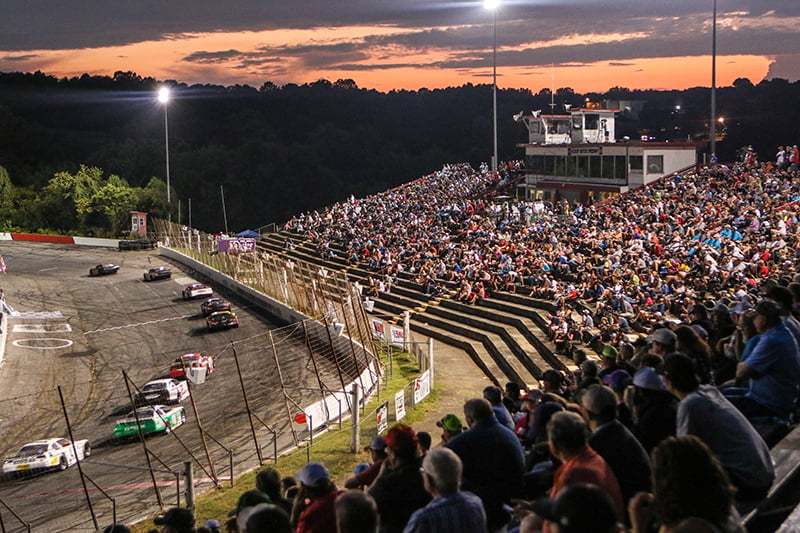 The big tracks, like Charlotte Motor Speedway and Daytona International Speedway, get most of the attention. But the heart and soul of auto racing lie in local tracks, which run on weekends before a couple of thousand, or even just a few hundred, fans in the most intimate fossil-fueled venues.
Kyle Petty calls these events the Friday Night Lights of racing, on small tracks that establish the most personal connection among racing, racers, and fans. "You watch two guys run 30 laps door-to-door at Hickory. They beat, they bang. They do it every Saturday night because they're the two best drivers there. Chances are they get mad at each other. Chances are their crews scream at each other sometimes. But a lot of times, an hour or two after the race, you'll see them sitting on the hoods of their pickups drinking beer.
"And you know why you'll see them there? Because you're a fan. You come down out of the grandstand. You can walk across the racetrack. You can go touch the car, see the car, see the driver, touch the driver, talk to the driver, and you experience everything about what the sport is."
Petty, who raced in NASCAR's Cup Series for three decades, is the grandson, son, and father of storied stock car racers, so he's spent plenty of time at all kinds of racetracks, whether in the car or the stands. He likens the experience of seeing up-and-coming drivers at small tracks to catching Bob Dylan in a dive bar before he became famous: "That's where you saw Dale Earnhardt Sr. for the very first time, but you didn't know it when you saw him. You just liked the way he drove; you just liked what he did. He was a nice guy. Good guy. You talked to him. And eventually, he became Dale Earnhardt."
They're all over the country, in small towns where crews from ESPN and Fox Sports don't often show up. Here are five, within an hour's drive or so from Charlotte, that offer more intimate experiences than you'd get at a Cup race.
---
153 Speedway Road, Gaffney, S.C.
The action at this 3/8-mile dirt track is intense enough to earn it the nickname "The Place Your Mama Warned You About." It's just off I-85 (Exit 96), about 50 miles west of Charlotte, and since 1957, it's hosted various Late Model, Sprint Car, DIRTcar, Street Stocks, and Monster Truck events every year from February to late November. General admission is $15, but $30 gets you into the pits, and kids 12 and under get in free (prices could vary for other events).
---
3130 Highway 70 SE, Newton
NASCAR was founded in 1949. Hickory Motor Speedway, off Exit 128 on Interstate 40, opened two years later as a half-mile dirt track. Two years after that, in 1953, the NASCAR Grand National Series—now the Cup Series—raced there; Hickory hosted the series for 19 years until new sponsor Winston dropped all races of less than 250 miles after the 1971 season. It still held what's now the Xfinity Series until 1998.
It's been nicknamed "the birthplace of NASCAR stars" for a reason. "There is no sport," Petty says, "without Hickory." Hickory winners include Hall of Famers Junior Johnson, Ned Jarrett, Jack Ingram, and others who should be Hall of Famers, like Ralph Earnhardt. NASCAR doesn't keep records this detailed, but it's likely that every driver who's hoisted a Cup race trophy in the last seven decades raced at Hickory at some point.
The dirt was paved in 1967, and the track is now .363 miles, which keeps the action tight and fierce for as many as 13,000 fans. Though its varsity days are long gone, Hickory is still used as a venue for NASCAR's club racing division; the Advance Auto Parts Weekly Series (formerly the Whelen All-American Series); Pro All Stars Series South Super Late Models; and the CARS Tour, with late model and super-late model touring series cars.
---
5555 Concord Parkway S., Concord
OK, this is more small-track racing than racing at a small track—it's held at Charlotte Motor Speedway. But these summer races are worth checking out. Drivers race more affordable roadster-style cars to keep expenses down and open the field to more competitors. Current Cup stars Ryan Blaney, Kyle Busch, William Byron, Bubba Wallace, and others have used Legend racing as a springboard to the bigger, pricier series.
---
6670 Mooresville Road, Salisbury
This little 1/6-mile dirt track in Salisbury has been around for more than 25 years and gained traction as a proving ground for young racers. The progeny of Kevin Harvick, Kyle Busch, and Kyle Larson have competed there, and there's always a chance you could see Cup drivers Kyle Larson, Christopher Bell, or Chase Elliott on a busman's holiday, sliding their midget cars around the red clay oval in 30-lap feature races when they're not gunning for NASCAR glory.
---
130 Motorplex Drive, Mooresville
This karting venue is less a spectator venue than an experiential "get-behind-the-wheel-and-put-the-pedal-to-the-metal" thing. Still, friends and family come to watch competition among kids who may still have training wheels on their bikes.