A Touch of Pink in South Charlotte House
Holly Disser's love of pink shows in her bright home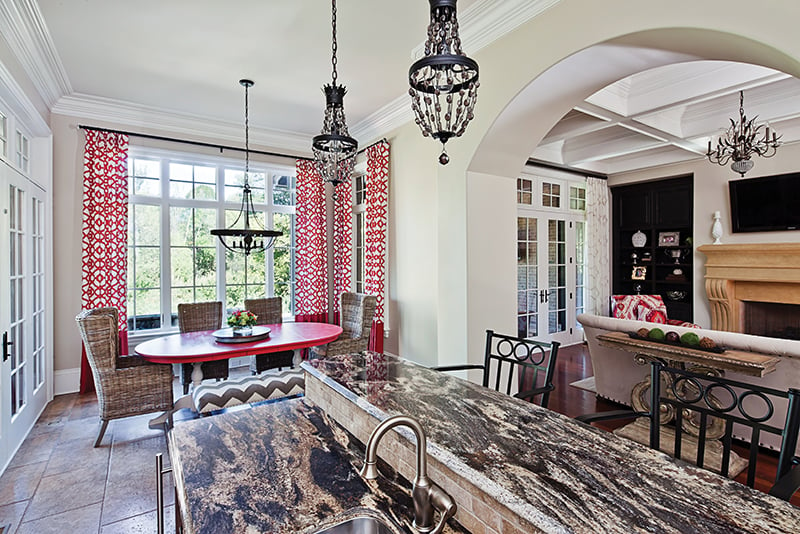 WHEN HOLLY DISSER walked down the aisle in a pink wedding dress, her husband, Tim Schnecker, knew the color would be one he'd see for the rest of his life. Holly, a doctor, always had an affinity for bright pink. As the couple prepared to move from a town house near Carolinas Medical Center, where Holly completed her residency, to a house they could start a family in, she had a bright pink color scheme in mind.
They scheduled a tour of a castle-like home in south Charlotte that stood out to Holly amid the MLS listings. Inside, though, she found a stark difference from the home she wanted. The fixtures and details—from the crown molding to the stair treads—were a chocolate brown. The interior was far from the light-filled, bright space she wanted, and Holly wasn't sure if the home could be redone in her taste.
"It was sort of cool for the theme, but I just didn't really have a vision of how I wanted it to be, because I like a lot of bright, more modern-type stuff," she says.
She wanted to bring in someone who did have that vision. Holly searched Houzz, a website for home professionals, and came across a portfolio that she loved. She called Lauren Nicole Clement, of Lauren Nicole Designs, and asked her to walk through the home. Lauren said that it could be done—with a lot of work.
"It was a pretty major task to undo everything, because not only is it a ton to paint, but you're going from such a dark color to the bright white," Lauren says.
Holly and Tim closed on the home, and Lauren went to work. It took four weeks of painting to cover up the dark colors. Of course, Holly wanted bright colors everywhere. To her, the colors are a reminder of family.
"My mom was always—from the get-go—everything was pink, and my grandma, too. I remember she was always like, when we were little, 'Oh, pink's a neutral, it goes with everything.' "
Remembering that Tim also had to enjoy being at home, Lauren decided to use more true neutrals, and used pops of pinks, reds, and oranges to give Holly the color she was looking for. Tim told Lauren to take Holly's ideas and tone them down by half, and he'd be satisfied.
One of the most stunning rooms in the house is the dining room. The domed ceiling is painted a bright pink, in Benjamin Moore's Corsage Pink. A tiered, semi-gloss white chandelier hangs from the center, with strands of white acrylic beads strung by hand on the tiers. A patterned wallpaper and carpet in whites and silvers keep the room light, while bright pink window treatments bring the dome's color to ground level. It's both Holly and Lauren's favorite room.
"We could be more fun with [the dining room, since it's not] a room you sit in every day," Lauren says. "But also being able to play up some of the bling-y elements mixed in with the fun colors: the wallpaper, the ceiling."
In the family room, a glowing red was painted between the ceiling's coffers. The same color is found in the patterned chairs that surround the gas fireplace, as well as in the throw pillows on the off-white sofa. With two children under three, Annika and Isabella, and a dog, Mickey, the furniture had to be durable—and safe. An ottoman in the center of the room is rounded, leaving no sharp edges for a toddler to run into, and opens for easy storage.
The kitchen, too, has a surprising addition of color: The table, a piece constructed by Tim's great-grandfather, is painted an orange-tinged red, picking up the same tone in the colorblocked, fretwork-patterned draperies. Above the table hangs a pendant light fixture with forged iron arms and spearhead detailing at each rivet. The room is whimsical and energetic, but Holly recalls seeing the painted rooms without the details, and thinking something much different.
"It's a lot of neutral!" she remembers saying. Yet as the accents were added, and color began creeping into the rooms, she understood Lauren's plan. There was just enough pink.
"That's the right thing to do, no matter what," Lauren says of the neutral tones with bright details—and not just because Tim has to enjoy the home, too. "Even if she were a single gal living it up, I still would tell her the same thing. Because she'd be tired of it. And this house needs a little bit more to be refined."
They decided to stray from pink in the master bedroom, instead choosing an aubergine, which Lauren says was still a happy color, but a bit more romantic. The master bathroom continues the color; existing mirrors were lacquered in the same eggplant tone. A light fixture of cascading globes, reminiscent of a bubble bath, hangs in front of the bath tub and double-door shower, one of Holly's favorite escapes.
Tim has his own space, too—he took control of the outdoor area, putting in a TV on the covered patio. It can swivel out so he can watch football even from the couple's pool area.
After daughter Isabella arrived in June, Lauren helped design the girls' rooms to fit their personalities. Annika helped choose her own bedding, and a quote on the wall reads, "Though she be but little, she is fierce." Isabella's room is decorated with a set of angel wings.
With Lauren's interior design touch and Holly's love of pink, the home has taken on a feel as warm as the family that lives in it. That's not to say that the home hasn't kept its mysteries, befitting a fairy tale. After moving in, Holly and Tim were taking a walk when they ran into a neighbor. She told them about a wine cellar that the former owners had planned to build, but never did. The cinder blocks were laid, but instead of finishing it, the wall to the cellar was closed off.
Such secrets still enchant Holly.
"I find the entire house just calming," she says. "I walk in, and I'm like, 'This is my space.' It makes me happy."