A Writer Traces the Origin of Her NoDa House
And reflects on its renovation—and the life she's built within its walls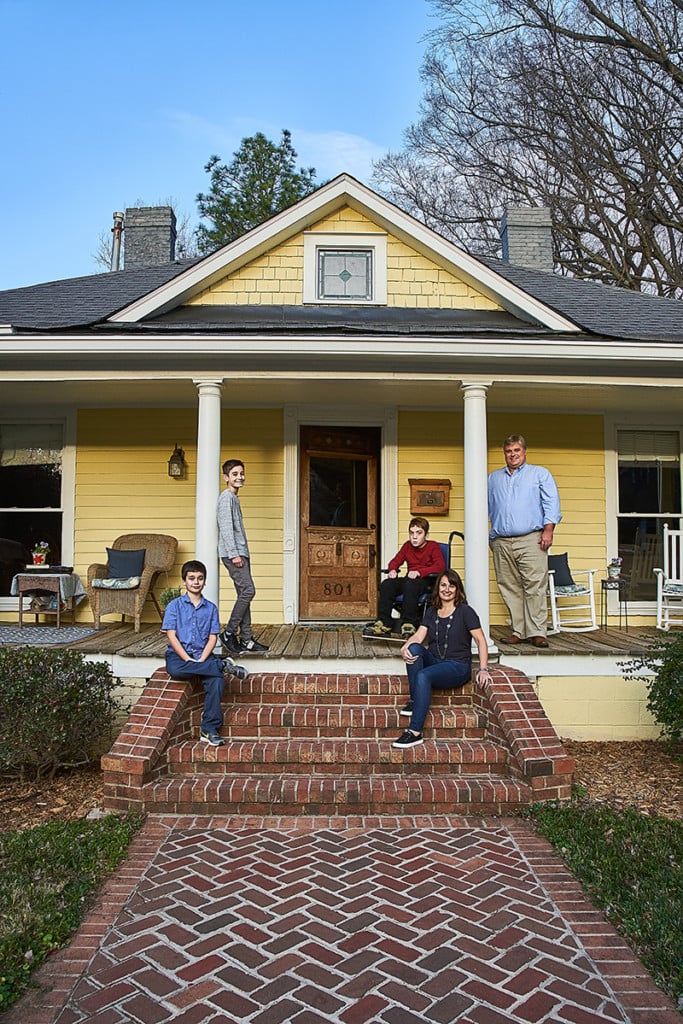 "IT'S PERFECT." I let it slip out my mouth as we open the screen door to a house on 37th Street, in a neighborhood northeast of uptown that only recently has acquired a new name: NoDa. I walk down the dark hallway, stepping on green carpet that's nearly black from a thick film of dirt. The smell of mildew lingers. A broken table, rickety lawn chairs, and an old laundry hamper furnish the living room.
It's 1997. My carpenter boyfriend, Ryan McCall, and I live on Hamorton Place in Plaza Midwood, in a rental house with a hole the size of a queen-size mattress in the bedroom floor, roaches in the kitchen cabinets, and a rental agreement that lets us live there free if we renovate it and safeguard the flea-ridden, on-site stray cats. (Seriously, the lease has a stray cat protection clause.) We're poor, naïve, in love, and new to renting. Under these circumstances, home ownership grows more and more appealing. Squalor, we think, might be easier to endure if we're homeowners.
The thought propels us to the house on 37th Street. From that first tour, I only remember the hallway, seven feet wide and 23 feet long. As we enter, I dismiss the grimy carpet and mold and envision a grand entranceway with arches, artwork, and bright lights. It's enough for me. That week, we put in an offer, sign the contract, and celebrate with a muffaletta at Fat City, a hub of the neighborhood in those days.
NoDa then is a neighborhood of cheap rents and independent art galleries along North Davidson Street, where Paul Sires' and Ruth Ava Lyons' Center of the Earth Gallery operates as the springboard for monthly Friday night gallery crawls. On other nights, though, it's still a rough neighborhood. Prostitution and drug deals are common up and down Davidson.
Of course, it's not that way anymore. The young and wealthy have arrived, scooping up old mill houses to renovate and live in, renovate and flip, or raze and replace with new houses. Property values have exploded, including ours. NoDa and our house on 37th Street have accumulated a lot of history in a little more than 20 years. We spent five years on a renovation and practically reconstructed the house from foundation to roof—and raised three sons, experiencing challenges along the way that made the renovation seem like a picnic. We've gotten to know the family that owned our house through other seasons of hard times: the Depression years and its time as a mill village.
Yet my mind keeps coming back to that hallway. It's served as a makeshift dining room for Thanksgiving during the renovation, when we had nowhere else to eat. It's where our boys throw balls, shoot Nerf guns, and race remote-controlled cars, and where our son Ben learned to walk with assistance. The dismal corridor of 22 years ago has become the center of our home.
***
OUR RENOVATION STARTS with a demolition party. Friends come by with sledgehammers to take down the plaster walls. We rip the rickety wooden steps apart and pull a dumpster to the front porch.
Ryan and I live in two small bedrooms, where our three sons sleep now, and work nights and weekends with help from our friends and Ryan's father. We set up a toaster oven and an electric skillet in what serves as a makeshift kitchen. When we're too tired to cook, we eat at Martino's, a pseudo-Italian restaurant at Davidson and 35th. (Later, it would become Cabo Fish Taco.) Ryan always orders two hot dogs. A native Long Islander, I always get the baked ziti.
We don't have much money. Ryan salvages unwanted doors and windows from his job sites. We dig up plants from houses scheduled for demolition and replant them in our yard. One of Ryan's clients offers him a library bookcase with a rolling ladder, which Ryan gives me as a wedding present six months after we close on the house.
I keep multiple video tours of our house in varying states of renovation. I'm always wearing the same gray sweatpants and white sweatshirt as I explain the intricate plan for each room. It's almost as if I don't see the tools, broken windows, wires, and boxes that hold our belongings. Our lone bathroom lacks walls for the first two months. We live without heat or air conditioning for the first two years. On days above 80 degrees or below 40, I can't wait to get to my job at Queens University of Charlotte for a bit of comfort. Dust and dirt are everywhere, along with field mice and dreaded camelback crickets; I find one crushed under my pillow.
The chaos pushes us to marriage counselors, who help us through what we're sure will be the toughest stretch of our life together.
***
THE FIRST OF OUR THREE SONS, BEN, is born in 2003. We spend the first six months in bliss, marveling over his chubby face, tiny feet, and red hair that stands up like Woody Woodpecker's feathers.
Gradually, I notice that Ben isn't sitting up or holding his head upright as well as he should. I turn to Ryan over dinner and ask, "Do you ever think Ben might be special?"
Doctors diagnose our son with developmental delays, epilepsy, and low muscle tone. We grow into fierce advocates for him and other children with disabilities, and I start a blog about the challenges of raising a special needs child that leads me to a new career as a writer.
Ben is 15 now, a special education student at Randolph Middle School and a happy NoDan. He loves the pastries and smoothies at Smelly Cat, where he's a regular. He loves the chicken tenders and fried pickles at Solstice Tavern until it closes in November. He chases the attention of his two younger brothers, Michael and Sean, as they watch movies and play games. Ben will crawl into their beds and boot them out. When he gets in trouble for it, he just laughs.
Thank goodness we chose this house. Its one-story open floor plan is necessary for Ben's walker and other equipment. But he also needed a ramp for his wheelchair, and a 30-square-foot bathroom proves a challenge with a child who uses one. In 2013, a nonprofit called Love in the Name of Christ, with Ryan's help, built the ramp in a day. Two years later, more than 20 designers, contractors, and cabinet, lighting, and tile companies organized by the National Association of Remodelers International (NARI) and Rebuilding Together of Greater Charlotte built a handicapped-accessible bathroom.
Without the ramp and bathroom, we'd have had to vacate this house, this home we love.
***
I'M STANDING OUTSIDE OUR HOME one morning in July 2017, waiting for Ben's caretaker to pick him up and take him to camp, when a car pulls up and slows to a stop. The man behind the wheel explains that he and his wife always drive by his grandparents' old home on 37th Street when they're in town. His name is Jerry Bostic. He's 82, lives in Morgan City, Louisiana, and knows the life of this home long before Ryan and I first walked through the front door and into the hallway. I offer Jerry and his wife, Denise, a tour of the house.
It was built in 1916 as a one-story cottage with a steep-pitched roof and a front porch, one of dozens of mill houses for workers at nearby Highland Park Mill and Johnston Manufacturing Company. I can't find records of the owners before 1928, the year when Jerry's grandparents, Haywood W. Lowe and Emilie Elizabeth "Bettie" Costner Lowe, moved in with their daughters Georgia and Rose. Haywood worked at the mills, and Bettie was a midwife.
When Jerry walks in, he turns to the room on the left and tells me about his older sister Emily, whose beginning and end came in what's now our dining room. Bettie delivered Emily here, Jerry tells me. "Emily lived in the house until she was 60," he says, "and died in here of breast cancer." He points to our bedroom, the kitchen before we renovated: "Aunt Georgia, who lived in the house, would sit in the kitchen and chew her snuff."
The room on the right side of the hallway, our library, was the Lowes' parlor. "I can still hear my aunt playing Christian music on the piano in the front living room," Jerry says. "(I can) see my grandmother sitting on the front porch at the end of the day, reading the Bible."
Jerry's visit piques my interest in the Lowes and their history in the house on 37th. A little more than a year later, I call Jerry's other sister, Betty Bostic Cook, at her home in Rosebud, Texas, just south of Waco. Betty tells me she recalls spending two weeks every summer in Charlotte with her grandparents, whom even the Lowes' insurance agent called Ma and Pa. "The insurance man would come in," Betty tells me. "He didn't even knock on the door. He'd open the front door and walk all the way to the kitchen and reach up to the top of the stove and get him a biscuit. Georgia made so many wonderful biscuits."
There were never less than five people living in the house, the same number as in our family. And just as it is for Ben, our home has a history as a refuge for people who needed help. Ma and Pa Lowe unofficially fostered three girls who needed homes. "If someone needed a place to stay or if they got 'em a job in Charlotte and they couldn't afford housing, they ended up at Ma's," Betty tells me.
Her words bring me back to the hallway again, and the way it was in 1997, and my sense that even a house at that level of disrepair could be so much more. Betty relates a poignant tale about the bathroom we ended up using even when it went without walls. One day in the 1950s, she says, Haywood Lowe sat on a stool on the front porch and waited for Bettie to finish up in the bathroom.
"I think I'm going to get out the almanac," he told his granddaughter, "and see what year it says she'll come out."
Vanessa Infanzon is a writer in Charlotte.