Abbeydale celebrates two years in uptown
Shoe shines and coffee at the menswear store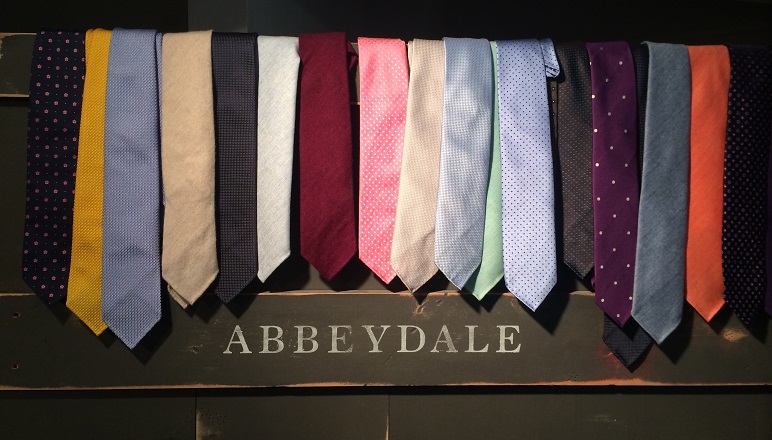 WHEN DAVID WATKINS moved his custom suiting company, Abbeydale, to a small storefront on W. 4th Street two years ago, he wasn't sure what to expect.
"We just came in every day and tried to do good work," Watkins said this week, during an anniversary celebration inside the cozy shop, where walls are lined with bespoke suits, tailored shirts, and cashmere ties. Watkins and fitter Theo Mercado thanked customers this week with complimentary shoeshines and cappuccinos from Not Just Coffee.
"I never really felt like we were a traditional retail spot, and I still feel that way," he said. "We're quirky and different."
Abbeydale leans Italian, with slim tailoring and soft edges. That style, Watkins said, can be an adjustment to Charlotte men used to buying department store suits. "That takes a lot of guys time to get used to," he said. "I mean, our ties are unlined and that freaks people out."
In the last year, Abbeydale has launched a ready-to-wear line, called u t i l i t y, that includes shirts and jackets. Watkins has plans to roll out a set of try-on garments for suiting. The idea is to send customers a couple of suits to try on at home, so they can tell Abbeydale how to adjust the fit. It's better, Watkins believes, than mailing someone a tape measure and hoping he gets the numbers right.
"There is so much room for error in that process," he said. Plus, the try-on line would allow Abbeydale to serve customers who can't make it to the 4th Street location.
Indeed, even after two years, Watkins has been surprised at how many men still don't know Abbeydale's uptown storefront exists. "It's a one-way street. You're not coming by here unless you're going to a parking garage or maybe a baseball game.
"I have dudes who stumble across here on a weekly, sometimes daily, basis. I love when that happens."