Abby's Better: The Nut Butter Sold Nationwide Started by a Mooresville Teen
Nine years ago, a Mooresville teenager started making her own nut butter. Today, her products are on grocery shelves around the country.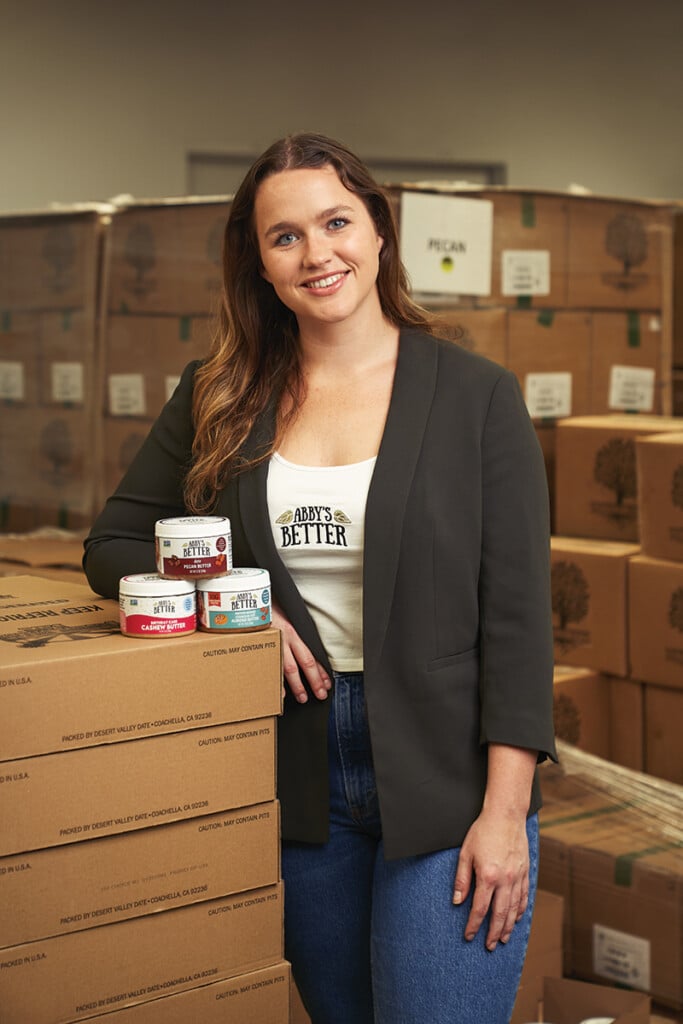 Abby Kircher uses phrases like "consumer insights," "profit margins," and "CPG space" in conversation like someone with an MBA and decades of experience in business. She's 22.
Kircher is the CEO of Abby's Better, a nut butter company she started in her family's Mooresville kitchen in 2014 at age 13. Today, her company produces 14 nut butters and four kinds of nut butter snack bites, all sold online, including on Amazon, and at more than 4,000 brick-and-mortar retailers across the country, like Whole Foods, Food Lion, Lowes Foods, and Wegmans. She says sales have tripled each year since 2019.
"I was always a big foodie and loved peanut butter," Kircher tells me over coffee in South End in March. She's wearing a sage-green flannel button-up, open over a tank top, with a large Abby's Better logo embroidered on the breast pocket. She was overweight in high school, she says, which drove her to start "making little changes here and there." She worked out, paid attention to what she ate, and researched nutrition. She learned most nut butters on grocery shelves contain processed sugar and palm oil, an additive used to prevent oil separation that's high in saturated fat.
"I thought, I want something healthier, so I'll just make it myself," Kircher says. "So I whipped out a food processor and started playing around with cashews, pecans, almonds, and natural sweeteners like fruits and honey. And I developed these flavors that I would make repeatedly and eat every day." Family friends began asking to buy them.
She and her mom—a former psychologist, now president of Abby's Better—made a few batches to test their popularity at Davidson Farmers Market. "I just thought it would look good on a college résumé and be a fun hobby," Kircher says. But they sold out. Same thing the next weekend. And the next, and the next.
Kircher started her business at an opportune time. In a 2020 Gallup poll, 23% of Americans said they've decreased meat consumption in favor of alternative protein sources. And though peanut butter has been a mainstay in American pantries since the turn of the 20th century, peanut allergies are now 20% more common than in 2010. You're more likely than ever to find items like almond, cashew, and sunflower seed butter on the shelves.
After the farmers market success, Kircher took her nut butters to local retailers. The first to stock it was a health food store in Davidson in June 2016. "I would go into, like, Whole Foods with jars of nut butter and would say, 'Hey, can I speak to your manager? I want them to try our products,'" she says. "It's amazing how many retailers we got into without using brokers or having a VP of sales." To keep up with demand, they moved production into a commercial kitchen.
After Kircher graduated from her home school program in 2016, she took a gap year to attend Food-X, a three-month food business accelerator program in New York City. "I learned so much about running a business," she says. "And I had to make the decision of, either I keep going with Abby's, or I go to college. With the time commitment, I knew I couldn't do both. I realized I could always go back to college, but the business was a unique opportunity that I really wanted to be able to experience."
Today, Kircher has more than a dozen employees—including her mom and brother—and a manufacturing facility on Sunset Road with a $20 million revenue capacity. She says her next goals are to get into more West Coast stores and come up with new flavors and products—her favorite part of the gig. "You know, I think through this whole experience," Kircher says, "and I've learned that there are few things that teach you more than just living something."
Tess Allen is the associate editor.