After Injury, Charlotte Hockey Player Makes a Second Chance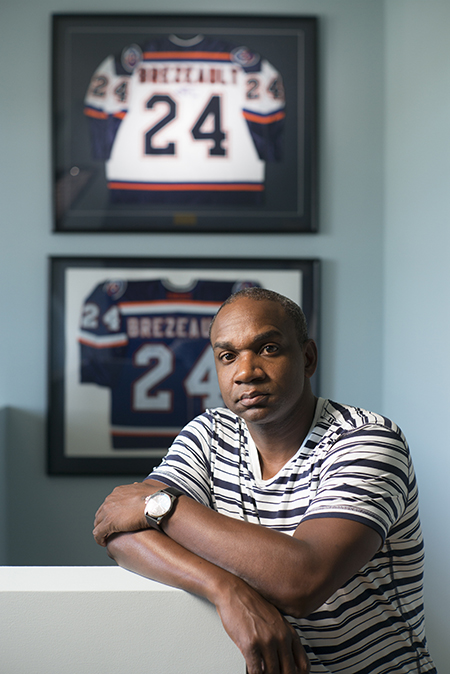 A BLACK FRAME hangs on the wall of Reggie Brezeault's stairwell. It holds a Charlotte Checkers hockey jersey, cut with scissors down the sides. A plaque recalls the date his career as an athlete ended: December 4, 1999.
As if the pain he feels each day isn't reminder enough.
That night, Brezeault's minor league hockey team, the Checkers, had a home game. He was on offense, playing left wing. As he skated down the ice of Independence Arena, now Bojangles' Coliseum, he neared the corner. An opponent chased him down, lifted his stick across his chest and shoved Brezeault, cross-checking him from behind. Brezeault's head hit the boards, then he hit the ground.
He was unconscious.
He recalls coming to in an ambulance as paramedics rushed him to the trauma center at Carolinas Medical Center. He couldn't feel his limbs.
He was temporarily paralyzed.
It was reminiscent of the injury Travis Roy, a Boston University student, suffered from a hit in 1995. Roy was paralyzed, and still is today. The similarities rushed through Brezeault's mind in his moments of consciousness.
When he woke again, he was in the trauma center. Medics had cut through his gear, from his shoulder pads to his padded shorts. As the hospital staff prepped him for surgery, hoping to relieve the four bulging discs pressed against Brezeault's nerves, the feeling came back. He could feel everything.
The frame in the living room is a visual reminder of that day, but even when Brezeault can't see it, he doesn't forget.
"I feel it every day," he says. The left side of his body is stiff, and it takes a morning routine of stretching and working out to move around normally. Some days, it takes more than half an hour on a treadmill for the stiffness to lessen. To Brezeault, that's just the cost of being an athlete.
"If you asked me again today, I would probably do it again," he says, "because that's something that you can't take away. I learned from this—life skills, how to work with people, how to understand people, traveling. I've seen some places I would have never been before."
He even learned a new language, English, when he came to the United States to play professional hockey.
His native language is French. Brezeault grew up in Canada. His parents had moved there from Haiti before starting a family. Like most Canadian boys, he played hockey for fun. His parents divorced when he was 11, and Brezeault's mother moved him and his siblings from Montreal to Haiti. He recalls living in a gated home with armed security guards, in an area overcome by poverty. He couldn't walk down the street to play with friends, let alone play hockey. And he couldn't escape the reality of life for the less fortunate.
"I have this vision always of this little kid, he was hungry," he says. "Haiti is so hot, and he was starving. He was taking some kind of sand and he was getting it wet and making a patty with it and letting it dry, and that's what he was eating. It's horrible. I remember; I can close my eyes. … Those are things you don't forget."
A year later, the family returned to Canada, and Brezeault was back to playing hockey. At 15, he decided to give up soccer and baseball to play hockey year-round. Life in Haiti had changed him, though. He worked harder, appreciated more.
"When I came back, I knew, it opened my eyes, and made me realize what you have. But I was still a kid. Now, to this day, I know I'm blessed with everything I have, trust me."
When an athlete suffers an unexpected, career-ending injury, what does he have left? Aches each morning when he wakes up, a jersey cut open in a frantic ambulance?
Brezeault saw more. He had learned valuable skills: Hard work. Teamwork. Knowing his strengths and using them to make himself a necessary asset.
"I was not the best player, but I knew my job, and I did my job well," he says. "I made sure that within my talent, what I had to do to provide for my team, I did that. I was more that physical guy. I had to fight. I had to be kind of a bruiser. That was my job."
The role of tough guy doesn't seem to come naturally to Brezeault. He's easy in conversation, eager to listen, dressed in a pristinely pressed suit with a shiny watch poking out from underneath one of his sleeves. He has three kids, Remy, Alexa, and Lochlann, and he can't help but smile when he talks about them. As a hockey player, he did what was needed of him from his teammates. He knew his strengths and capitalized on them.
After his injury, he did the same.
He got a start in his new career, working with his father-in-law in real estate, buying and flipping properties in Cornelius. In 2001, he bought a single limousine to start his own company. The Lake Norman area was growing, and there was only one other limousine company to compete with. He knew his strengths; he drove the car himself, getting to know his clients and growing his customer base. Many loved knowing a hockey player, and he used that to his advantage.
"The fact that I was an athlete for the Checkers really helped," he says. "It just opened a lot of doors and connections."
By 2005, he had nearly a dozen cars for hire. One of his customers was a man named Hunter Edwards, owner of MSS Solutions, a contracting firm in Charlotte. Edwards became Brezeault's business mentor, and the two eventually purchased JaniTech, a corporate cleaning company in Charlotte, together in 2006.
In 2011, Brezeault sold his stake in JaniTech. He again tapped into the relationships from his past, and joined United Management Corp., where he oversees operations. He's become a valuable part of the team by practicing what he knows makes a good teammate. His job is to make sure clients are happy. He spends much of his week stopping in at some of uptown's largest office buildings, such as NASCAR Plaza, to check in with the staff. He maintains his connections from his time with the Checkers, but he rarely talks about those days anymore.
"I don't want to be known as Reggie Brezeault the hockey player," he says. "Those days are long gone. They were great days, you know. I learned a lot and it did a lot for me. But I have a new identity now."
The corporate Brezeault still has the same dedication to hard work that a scout noticed in him back in his high school days. His cell phone constantly pings with meeting invites, texts, and phone calls from colleagues and clients looking for their teammate.
The new Reggie gets up to walk away, faintly feeling the tingle of pain on his left side—a reminder of the Reggie that used to be, who overcame the night commemorated on his wall—but thankful to be walking at all.
Kristen Wile is senior editor of this magazine. reach her at kristen.wile@charlottemagazine.com or on twitter: @kristenwile.
---
This article appears in the October 2016 issue of Charlotte Magazine
Did you like what you read here? Subscribe to Charlotte Magazine »
---