Ahead of Her Time: Pauli Murray at the Levine
A new exhibit highlights groundbreaking activism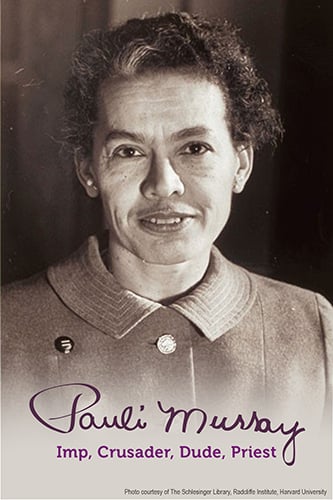 Fifteen years before Rosa Parks took her historic stance against segregation on public buses, Pauli Murray was arrested for refusing to sit in the back of a bus on her way home to Durham from New York.
By then, Murray was familiar with many forms of discrimination. The admissions office at Columbia University told her not to apply because she was a woman.
When she applied to law school, the University of North Carolina denied her because of her race. When she was later accepted to Howard University to study civil rights law, she experienced sexual discrimination from faculty, staff, and students.
She would eventually become the first African American student at Yale Law School to receive a JSD, a research doctorate that is the most advanced law degree available—one of her many firsts. As an activist, lawyer, poet, author, and, later, Episcopal priest, she championed the rights of African Americans and women and explored taboo topics about her own sexuality.
A new series of exhibits at Levine Museum of the New South, LGBTQ: Perspectives on Equality, examines Murray's life and those of other groundbreaking North Carolinians. The LGBTQ project is the first local museum series of its kind, offering historic, personal, and artistic views on lesbian, gay, and transgender life in the region. Murray's writings are in an exhibit called "Pauli Murray: Imp, Crusader, Dude, Priest," highlighting the role she played in advancing civil rights.
Her 1950 book States' Laws on Race and Color, was used as a reference text in the landmark school segregation case Brown v. Board of Education. With Mary Eastwood, she coauthored the 1965 article "Jane Crow and the Law: Sex Discrimination and Title VII," identifying sexism as a cousin to the racial segregation laws of the Jim Crow era and using the Civil Rights Act of 1964 to highlight continued struggles for women. A year later, she helped create the National Organization for Women.
Through those years, personal letters and journals reveal another struggle in Murray's life. In her writings, she discusses her attraction to women, a "boy-girl personality," and a medical exploration of whether she possessed internal male anatomy. "It was very dangerous to be identified as a memberof the LGBTQ community," says Barbara Lau, curator for the exhibit and director of the Pauli Murray Project at the Duke Human Rights Center. "Especially as a public figure. That was quite a risk."
In 1973, Murray traded academics and the law for the seminary, connecting with her morality and spirituality. Four years later, she became the first African American woman to be ordained in the Episcopal priesthood, breaking barriers again.
"If we don't see ourselves in our American story, we feel marginalized, we feel less important," Lau says. "It's important to have an exhibit that makes public the freedom struggles of people like Murray. … For young people who also struggle with gender identity and want to become lawyers or leaders, they can see someone's had the same experience with gender and has done that."