All About Paper: Stationery Q&A with Three Little Birds
We sat down with Kristen Stewart, owner of Three Little Birds, to have your top wedding stationery questions answered.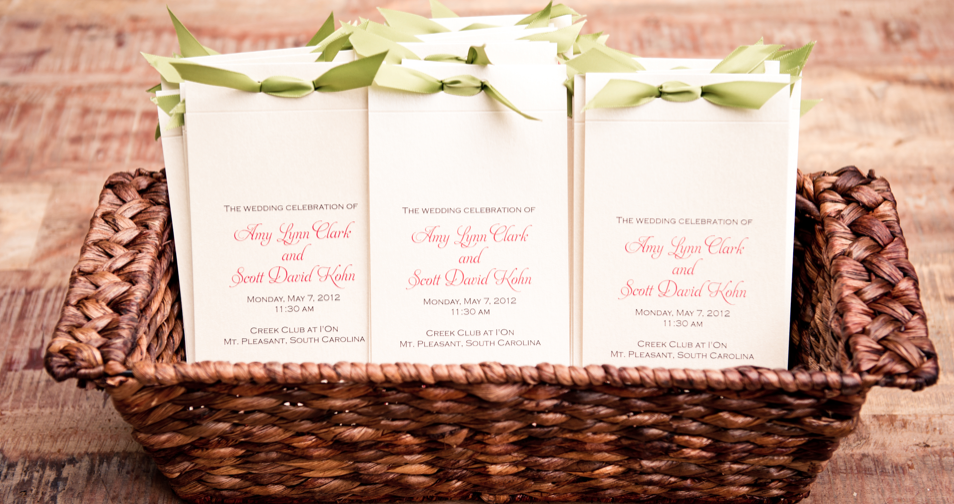 Tucked in the trendy Southend district is Three Little Birds, one of Charlotte's full service stationery stores. Kristen Stewart (no, Twilight fans, not that Kristen Stewart) first opened the store six years ago and it has since become one of the most popular stationery stores around.
It's easy to see why. Stewart and her team – a laidback, fun group of energetic and creative souls – can do it all. They offer in-house printing, calligraphy and custom design for everything from invitations to table cards to dinner menus.
We've seen a trend in brides' budgets for paper products rising over the last couple of years and, with increased importance and focus on wedding paper, decided to sit down with Kristen for an exclusive Q&A.
How early in the wedding planning process should a bride order her wedding invitations?
A bride should start looking at wedding stationery about 9-12 months before her wedding because of the number of options. This will allow her to educate herself, consider the options and make a choice that provides the greatest value. Ideally, an invitation would be ordered six months in advance of the wedding to accommodate an enjoyable proof process, as well as the production and addressing schedules.
If a bride does not have six months, no worries! There are many options available in a shorter time frame; the goal is to not have a rush order and incur unnecessary expenses or anxiety when the invitations could have been ordered earlier.
Traditionally, brides are advised to allocate 2 to 3 percent of their budget for wedding invitations and other paper goods. Is this still an accurate guideline?
As a stationer, I am quite biased and think the allocation should be more like ten percent. This allows enough money for a variety of stationery items like Save the Dates, Invitations, Ceremony Programs, Place Cards, Table Numbers, Menus, etc. Keep in mind that just because it's allocated in the budget, it doesn't mean you have to spend every penny. A more generous budget allows you to demonstrate your attention to details, set the tone for your wedding and assist your guests in having a memorable experience.
What's your opinion on Save the Dates? Are they necessary?
I love Save the Dates, but no, they are not necessary. Save the Dates allow your guests to not only know the date, but other valuable information such as the location, accommodations and additional events they may like to attend. These allow you to either infuse a little personality or whimsy or serve as an indication of the overall feel of the wedding – your choice! With today's busy schedules a Save the Date ensures many of your guests can plan ahead to attend your wedding.
Kristen and her team designed my Save the Dates – we're obsessed!
How can a bride cut costs on her wedding paper without cutting quality?
Cutting costs is possible with education and time, which is yet another reason to start your process early. When meeting with a stationer it's always good to divulge your budget, not so it's spent to the max, but so you can get the greatest value. Some companies represented by that stationer may have sales throughout the year of which you can take advantage. At Three Little Birds, we offer a variety of printing styles and stationery at a variety of price points so if you would like a cream invitation with one color print, there are at least four different price points to achieve that look. A couple other cost savings strategies are:
Instead of having a separate reception card, include the reception information on the invitation and save several hundred dollars per order
Instead of having place cards that are individually written by a calligrapher or printed, try a seating chart that can save up to 50 percent.
What's your best advice for brides when it comes to selecting a stationer?
When selecting a stationer, choose someone who is knowledgeable about paper options, printing styles and etiquette. Personality should also play a large role, as your stationer is the vendor with whom you will interact the most. You need someone who is patient, understanding, cooperative and excited about your order as much as you are!
Three Little Birds
2115 Southend Drive
Suite 103
Charlotte, NC 28203
704-379-7778