Along the Way: Life, Meaning, and the Senior Scholars
After 100 interviews with people from all over the city, a podcast host shares his lessons about what matters most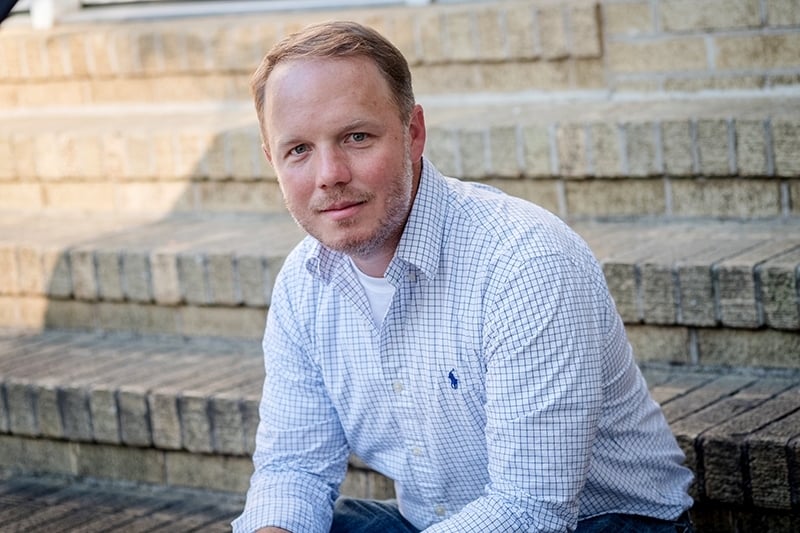 ON THE LAST FRIDAY IN MAY, Mark Peres stood in front of a group of several hundred people, many old enough to be his parents, and told them what he's learned about life.
He'd just completed a two-year artistic experiment of sorts in which he interviewed 100 people, mostly city residents, across a range of generations and backgrounds, from longtime philanthropist Sally Robinson to fast-rising image activist Alvin Jacobs to retired CMPD Major Freda Lester to 41-year-old district attorney Spencer Merriweather to Blumenthal CEO Tom Gabbard. Mark recorded the interviews and turned them into a podcast series called On Life and Meaning.
Then Mark, a professor at Johnson & Wales University and former publisher of Charlotte Viewpoint, spent an hour reporting his findings to a group named the Senior Scholars.
Officially, they're the Senior Scholars at Queens. The group formed in 1972 as a program to keep seniors engaged and learning. They gather every week from about Labor Day through Memorial Day, with the exception of December and holiday weeks. They draw up a curriculum using resources like the nonpartisan Foreign Policy Association's annual Great Decisions book. The 2019 edition includes topics such as refugees, nuclear negotiations, and trade between the United States and China.
The organization's membership has turned over since its founding, of course. But a good idea has life beyond flesh, and this one has carried on for nearly half a century.
Mark's talk, "Charlotte, Citizenship, and What Matters Most," was the last one before the group's summer break.
What he learned from all of those interviews, he said, was that two traits were consistent in his subjects. One, they are not always confident. "Everyone, everyone, has his or her share of sadness and insecurity," he said. "One thing that all my guests have in common is that they step into their doubt."
The other takeaway was that they "know that they are loved," in some way, whether from a teacher, or a parent long gone, or a spouse or child in the present day.
"When you're loved for who you are and not for what you do, you really are free to do anything," Mark said, and I liked that.
I've thought a good bit about those two threads, being tested and being loved, since the talk. In Mark's interview subjects, it's as if one couldn't happen without the other, and if it's true that a blend of those things makes people active citizens, we should recognize that and try to spread it.
People need challenges, and people need comforts. Of course, there will be times when we feel too relaxed or too overworked, but it's important to not be one or the other at all times.
There's a great deal of talk these days about the divide between generations, and the two sides most often at odds are millennials and Boomers. (While that war rages, Generation X's place is often where its caricature likes to be—left alone.)
One flare-up came in June, when the nightly news ran a story about a program in Minnesota that allows people 62 and older to audit university classes for free. It was intended to be a nice, human-interest piece. But millennials, many of whom graduated from college with massive student-loan debt just as the Great Recession hit, were outraged. In the same University of Minnesota system, they noted, in-state students pay $14,760 a year.
The internet offers plenty of reasons to get mad, but for some reason the responses to this irked me more than most. I'm 39, just too old to be a millennial and just too young to be Gen X, and I believe one thing's true across generations: How we care for those who came before us and those who come after us determines not our financial status or social status but our character.
One of life's great promises is that no circumstance is more lonesome than growing old. Parents die, spouses die, siblings die, friends die. Giving elderly people a chance to keep learning is good for them, and good for us. Often, the most dangerous person in a group is the one who's content with being comfortable. Certainly, that's been the case in Charlotte, long defined by its livability and now defined by its lack of social mobility.
The dues for a full year of Senior Scholars are just $20—or $30 for new members to cover the cost of their nametags. The important thing is that they're choosing to do it.
Mark Peres, for his part, is 56, which puts him right on the line between Gen X and Boomer.
During his interviews for On Life and Meaning, he talked to people who spend much of their lives considering big questions about Charlotte and its past and future. And to understand why they stand where they do, he asked them intimate questions about themselves. Those questions were sharp, thoughtful, and piercing. I know because I was one of his guests. He's the only show host who's made me cry. Sitting with him was like sitting through a therapy session in which the underlining inquiry was this: "What is it, Mike, that you're doing with your life?"
And at Providence United Methodist Church that last Friday in May, the hundreds of people in that room were doing something other than golfing. They were listening to someone from a younger generation school them on meaningful lives, and isn't that the kind of open-minded citizen we want?