Alton Lane Opens Friday in South End
Richmond-based company offers custom suits and shirts for men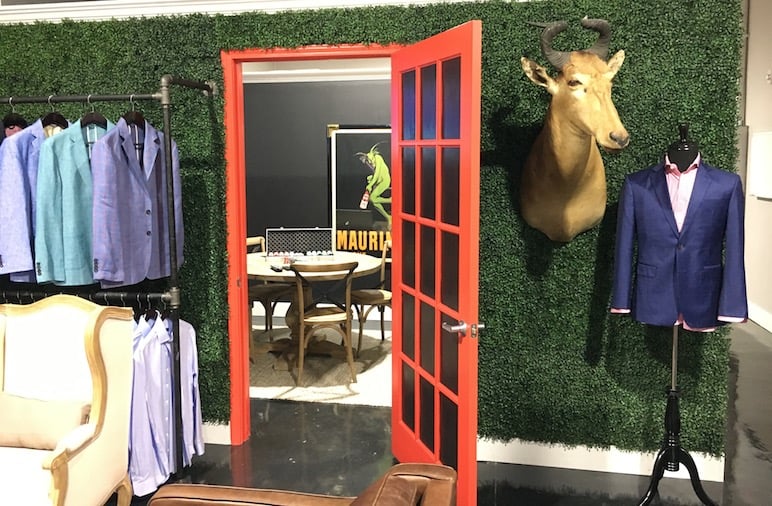 Alton Lane co-founder Peyton Jenkins wanted to expand his bespoke suiting brand to Charlotte—because it reminds him of his hometown of Richmond, Virginia.
"Cities like Richmond and Charlotte are dramatically underserved in terms of menswear," Jenkins told me this week in the company's new industrial-style showroom at South End's rapidly-changing Atherton Mill.
Alton Lane has 12 other showrooms across the country, including a converted Airstream trailer, and the company relocated its flagship space and corporate offices to Richmond from New York last year.
Jenkins said corporate towns such as Richmond and Charlotte—where men tend to eschew suits and ties for business casual khakis—are ripe for companies that cater to men who want to elevate their style.
"I think it's more about options," he said. "If (business casual) is what you have access to, then that's what you're going to go for."
Alton Lane's services are appointment only. Customers meet with consultants at a bar counter and get measured in a 3D body scanner, which helps guys with hard-to-fit frames such as Jenkins, who's tall and lanky. "I'm like a Velociraptor-meets-jockey body type," he said with a laugh. Jenkins wore a royal blue suit; a light blue, spread collar oxford shirt, and a yellow-and-blue striped tie. The look was conservative with a little edge, and something that could work in most uptown offices.
Custom shirts start at $99 and run up to $500; suits begin at $595 and go higher based on the fabric. In addition, Alton Lane sells small goods—grooming products from Baxter of California, for example—and handmade, Italian silk ties.
You can book appointments online and enter the showroom through the breezeway between Big Ben pub and Savory Spice Shop, on the Tremont Avenue side of the mill.
Adam Rhew is the associate editor of this magazine. Reach him via email at adam.rhew@charlottemagazine.com or on Twitter: @AdamRhew.