Ambitious and Delicious: Ajbani Moroccan Cuisine
Restaurant was born of a quick decision and hard work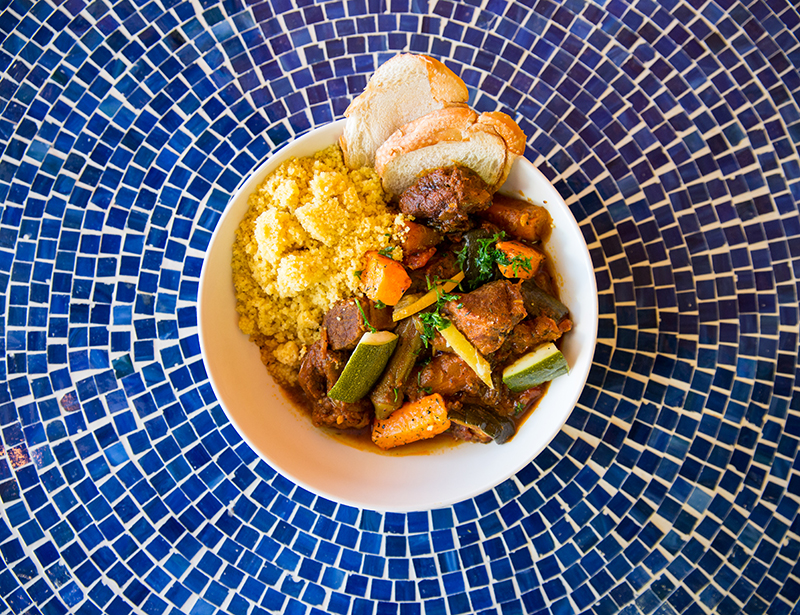 VIRTUALLY OVERNIGHT, Hamza Seqqat and Chef Craig Linthicum went from friendly neighbors living in the same condo building to business partners opening a Moroccan restaurant. On a Thursday in late May, the pair inspected equipment in a vacant space on Central Avenue, Plaza Midwood's version of main street, then pulled up bar stools at Linthicum's place to discuss a partnership. They had until Monday to sign a lease or lose the space.
Lease or no lease, Seqqat was scheduled to be on a cruise that left on Monday. He talked things over with a third partner, his brother-in-law, Younes Derouiche, as he drove to Florida to board the ship.
"I was on the phone with younes during the whole trip to Florida," Seqqat says. "I gave Craig a check on my way out and told him to watch for an email from Younes telling him whether to deliver the check or not." Seqqat boarded the ship and turned off his phone. "I told Craig to tell me what we decided when I got back."
They opened Ajbani Moroccan Cuisine on July 1. The primarily takeout restaurant specializes in healthy, Moroccan-inspired fare for vegans, vegetarians, omnivores, and the gluten-free.
Seqqat manages the front-of-house and business side at Ajbani. Yet each weekday evening when he arrives at the restaurant, he's already put in a full day's work as a core network design engineer for Time Warner Cable. The 26-year-old is also a student, taking pre-requisite classes to prepare for an MBA program he's starting in January.
Linthicum is just as ambitious. At 27, he's the senior member of the staff, and puts in more than 60 hours a week between Ajbani and Nourish, where he is the chef de cuisine.
Though similar in ambition, Seqqat and Linthicum brought different perspectives to their concept. Seqqat simply missed the food he grew up with in Morocco, while Linthicum rediscovered his love for cooking while living in China in 2010. There, he regularly fielded requests from homesick expats who longed for a taste of home. The experience exposed him to a wide range of cooking traditions, including Thai and Indian. It also drove him to enroll at Johnson & Wales upon his return. Linthicum enjoys this culinary globe-trotting, but his main aspiration is "to make healthy food easily accessible."
The resulting menu is big, diverse, and demanding. Fresh takes on Moroccan cuisine, such as the tender berber chicken, sit beside more traditional preparations, such as the beef with prunes and almonds. This season, Linthicum is making the beef with local butternut squash, which soaks up the sweet, aromatic sauce like a sponge. The chicken and fries tajine, a Moroccan favorite that speaks to the country's diverse influences, can only be described as comfort food. Several of the entrées are vegan, including a delicious preparation of seven veggies with lentils.
The menu also has a selection of interesting appetizers, sandwiches, and sides, such as the refreshing olive and orange salad and the harissa yogurt. Harissa is an increasingly popular but intensely hot condiment, so Linthicum created this milder version to put out the flames. "I grew up putting sour cream on everything," he explains.
The dessert list is short, but includes a baklava worth mentioning. Ajbani's version finishes with a delightfully surprising punch of cinnamon.
Whatever you order, be sure to leave with some couscous, which comes from Casablanca and is nothing like what you get from the box at the supermarket. It's steamed over the restaurant's house broth, made three times a week from vegetables and aromatics. The process is lengthy but yields a fluffy, lightly scented pasta that makes it difficult to honor the "just one more bite" promise that you'll try to make to yourself.
That attention to detail is not limited to the couscous. "There is a lot of manual labor in Moroccan food," notes Seqqat, who sometimes lends a hand in the kitchen. He recalls family members in the country spending hours picking over lentils, and a nanny who loved to sit around and roll couscous by hand, one tiny piece at a time.
Linthicum and his team honor such traditions with their own meticulous preparation, which begins every day (except Monday) at 11 a.m. and continues until closing time at 10 p.m. They preserve their own lemons. They make their own spice blends. They purchase major cuts of meat—mostly halal—and break them down in-house. The olive and orange salad requires that someone carefully remove the membrane and pith of each orange slice, leaving only the juicy segment.
The Plaza Midwood newcomer is already enjoying a positive response, from the neighborhood and beyond. "I think it's an underrepresented cuisine," says Linthicum. They can spot the regulars, including one customer who can't bring himself to order anything but the fez falafel, which toes the texture line with a crunchy exterior and soft core.
Eventually, Seqqat and Linthicum would like to include on the menu a gluten-free quinoa substitute for the couscous, fish dishes from northern Morocco, and bastilla, a crispy-thin pastry stuffed with saffron chicken and dusted with powdered sugar and cinnamon.
If you visit on a day when Seqqat's friend George Ouzounidis is behind the register, you'll likely be steered toward the rubbed chicken with apricots, his top pick from the menu. "He loves to interact with people, so he comes in and works the register a few hours per week," says Seqqat. Besides the food, which is probably the most labor-intensive takeout around, Ajbani has the potential to become equally known for the staff's genuine enthusiasm and friendliness.
Cat Carter is a freelance writer in Charlotte. She founded Edible Charlotte magazine, a publication that discussed the region's local and sustainable food culture. Reach her by email at catyicarter@gmail.com or on Twitter: @catyicarter.
Ajbani Moroccan Cuisine
2903 Central Ave.
980-349-4015
Entrées: $9 to $11