An Airy and Bright Design for a New Home
Jacqueline Wood Wheeler takes a home from drab to divine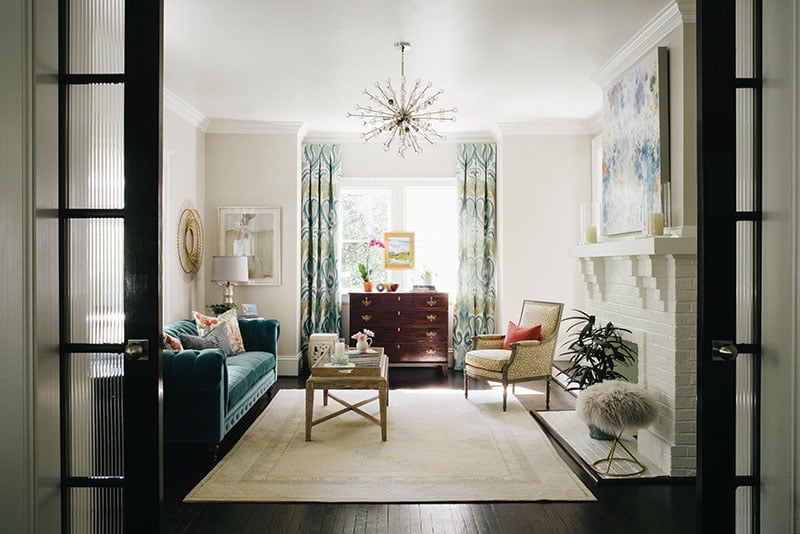 FOR MORE THAN two decades, Jacqueline Wood Wheeler managed dental practices. When friends needed help redecorating, she'd spend weekends or evenings helping them pick out pieces and rearrange furniture. She enjoyed it more than she ever enjoyed her day job, and after 24 years, she finally quit dentistry to become a decorator full-time.
That was four years ago, and Wheeler has slowly been building business at her company, Jacqueline Wheeler Interiors. It turned out to be her dream job, and Wheeler recently scored her dream client: a single mother who wanted a new home that was airy, bright, and happy.
The woman, one of Wheeler's neighbors, asked the designer to visit a house she was considering purchasing. It was dark and drab, and she wanted to know if Wheeler could give the house a more optimistic vibe.
"She really wanted it to feel different," Wheeler says. "She wanted it to feel more modern but not modern, and she wanted it to feel bright and happy. So that's what we started with."
Once the client closed on the house, Wheeler went to work. She started by lightening the walls, which were painted in dull colors, in each room, from the baseboards to the crown molding. The first piece of furniture Wheeler purchased helped inspire the rest of the home: a bold turquoise sofa from CoCoCo Home.
"I talked her into that bright sofa," Wheeler jokes. "That really set the tone for the whole palette of the house."
With help from principal designer Faith Penney, the home's alterations moved quickly.
The jewel tone of the sofa is reflected in the floor-length, damask curtains and a painting hanging above the fireplace. A starburst chandelier by Regina Andrew hangs above a pale rug that contrasts with the dark, hardwood floors. Wheeler approaches rugs the same way she looks at art; this one came from the Charlotte Rug Gallery.
"That, I think, was the most fun we've ever had, having a client who also appreciates (that rugs are art), and just getting to sit there while (the clerk) lays out all of these amazing rugs," Wheeler says.
Across the foyer, the most brilliant of the rugs set up a color scheme with more jewel tones, this time blues and reds. Artwork throughout the house—most of it bought locally at Alexander Scott and Shain Gallery—fits naturally with the rooms' designs. In fact, many of the products Wheeler and Penney chose came from local shops and boutiques, including High Cotton Home and Cotswold Marketplace.
"We really do try to support all of those guys," Wheeler says.
A bright, white sectional from CoCoCo Home (a Cornelius company) gets touches of color with throw pillows, and a rust-colored accent chair balances their colors across the room.
Another stunning light fixture holds your attention in the dining room, while grass cloth wallpaper by Phillip Jeffries and green-patterned Duralee window treatments give the room an earthy vibe. In this room, as in every room, the baseboards and crown molding were returned to white, helping to add dimension. The nearby kitchen needed surprisingly little work. It came with an AGA stove, which has become simply a beautiful visual piece, as the homeowner doesn't often cook.
A beautiful geometric pattern stenciled by Lindsay Brown in a playroom toward the back of the house exemplifies the thoughtfulness of Wheeler's designs. Paired with a light fixture reminiscent of a bubble bath, the room balances whimsy and elegance.
Upstairs, the master retreat is regal, while the daughter's room is playful, with a painting of a smiling dog looking over the room. It's a space where a toddler can grow into a teenager with just a few small tweaks. When each room was revealed, the homeowner, who often travels, came home to new spaces and was thrilled.
She loved the home so much that Wheeler recently began work on her beach house in Sullivan's Island, too. Turns out, creating this happy place for a mother and daughter to call home created a happy place for Wheeler, too.
"This is what I'm meant to do," Wheeler says. "This, for me, is like breathing. It's not a job; I live it, breathe it, adore it, never get tired of it. I get more excited than anybody about the reveal. I love it."