An Announcement From Our Publisher
After 21 years, I'm leaving Charlotte magazine to join Charlotte Center City Partners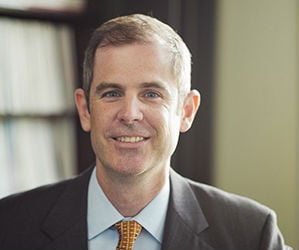 EARLY IN THE SPRING of 1995, I walked into the cramped Cotswold offices of Charlotte magazine, looking for a job. I was a freelance sportswriter/record-store clerk who was determined to put my newish English degree to good use. Charlotte magazine had been founded in 1968 but was being relaunched by new ownership and a team of five. The editor, a man named Ken Allen, offered me five bucks an hour to be the other editorial staffer.
So I added that job to my collection.
Before the first issue of our relaunch, I had three titles. Ken, who passed away earlier this year, became my first mentor and my one-man journalism school. In 1999, when Ken left to do something else, I got his job. Since the start of 2013, I've been lucky enough to be publisher. I've loved every minute of all of it.
Over the past two-plus decades, this Tallahassee transplant has become passionate about Charlotte. In particular, I've enjoyed watching our center city develop into a thriving urban core. I love cities, and I believe great ones start at the center.
So I'm excited to announce that I'm joining the team at Charlotte Center City Partners as senior vice-president of community and business development. As Uptown and South End and West End grow upward and outward, I'm thrilled for the opportunity to help chart the course.
I'm incredibly proud of what we have built with Charlotte magazine. In 22 years, we've gone from a startup to a magazine to a media company. We publish—in print and online—some of the best writing anywhere. More than 700 people attended the BOB Awards party this year. We've launched successful spinoffs, pioneered newsletters in this town, and were first movers locally on social media.
Even as the media landscape has shifted, this magazine has added readers, grown audience, and increased revenue every year since 2010. Our growth this year has outpaced all of the others. Our brand-new redesign is a triumph.
All of that is testament to the amazing team here. I believe it is the most talented collection of editors, designers, marketers, account executives, support staff, and freelancers in the city. I will be sad to leave them.
We are also blessed with amazing advertising partners—companies who've grown with us and trusted in our brand to deliver the audience they need. I know Charlotte magazine has delivered for them and will continue to do so. I'm appreciative of their support.
This is a bittersweet transition. I am sad to leave what's been my life's work. I'm grateful for the opportunities I've had. And I'm honored to join the team at Charlotte Center City Partners. I was lucky enough to serve on the board of CCCP for six years recently, which afforded me a front-row seat to the work the organization does. Some of the work is very public, and some of it is behind the scenes. All of it is, I believe, essential to making this city even greater.
The growth of the center city in recent years has been well documented, by Charlotte magazine and everyone else. The best is yet to come. There has never been a better time to be involved in the economic, cultural, and community development of this city, and I'm looking forward to getting started.
The future of Charlotte magazine also is blindingly bright. There are ambitious plans for next year and beyond. Just this month, this team has launched a podcast, announced the lineup for our next DiscussCLT, opened nominations for Charlotteans of the Year, sent an issue of Charlotte Home + Garden to the printer, published a stunning redesign, published exclusive, definitive pieces to the web, held a few happy hours, redesigned newsletters, joined Snapchat, and filmed a documentary video.
Over the past five years, no Charlotte media company has been more innovative, launched more new projects, or produced more quality work than this one. That pace will only quicken. Charlotte has always been a city on the make, and so is this magazine.
I am leaving one local institution to join another, one fantastic team to join another. I look forward to watching Charlotte magazine fulfill its great potential, and I'm ready to get to work helping this city realize its grand ambitions.