An Insider's Guide to the Myers Park Yard Sale Circuit
Three friends navigate the scene and show us how it's done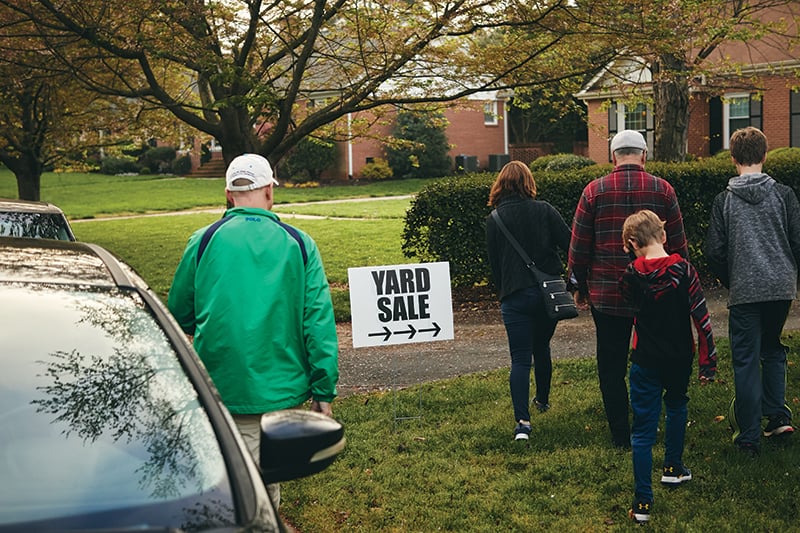 THESE DAYS, we can buy almost anything online with a few clicks, so garage sales may seem like a primitive way to shop. But for one savvy group in Charlotte, shopping garage sales is a weekly ritual that's equal parts camaraderie and anticipation of the unexpected treasures they'll find. For friends Marty Settle, Steve Nichols, and Jenny Bonk, it's a game that requires strategy, stamina, and a little spontaneity.
When the four of us meet at Starbucks on a morning in late winter, my eyes land on Jenny's green tweed pea coat. "Ten dollars at a consignment sale!" she says as she slings it over her chair. If she'd told me it was a vintage CHANEL, I wouldn't have questioned her.
We meet here because our mutual friend, Settle, is a fixture at the Myers Park coffee shop. A retired UNC Charlotte teacher, he's here every morning between 5:30 and 6:30, working on his laptop. When he's not chatting with the baristas or regulars on their morning coffee runs, he's writing poems or conceptualizing his next sculpture. To kids, he's "Mr. Marty," and he'll stop whatever he's working on to say hello. It's how I met him five years ago when my son toddled over to Mr. Marty and climbed into his lap.
Settle's hobbies include poetry, photography, and assemblage art, which is best described as three-dimensional collage. He builds these pieces with objects he scavenges at yard sales in and around Myers Park. On Saturday mornings in the spring and summer, he plans which ones he'll visit that day, and often takes his second cup of coffee to go to get a head start. It's peak season, and he's on the hunt for some junk to repurpose.
For years, I've watched this ritual and wondered if there was more to know about the local garage sale circuit. Now Settle and his "brother and sister of the hunt" are about to school me on the strategy behind this pastime.
***
THE PLAYERS
JENNY BONK, a freelance consultant who lives in SouthPark, has shopped at yard sales her whole life. Growing up in Cleveland, Ohio, "it was part of my heritage, so I'm deeply grounded in it," says the 42-year-old mother of four, who learned the art of shopping yard sales from her grandfather. "(He was a) massive yard-saler and junk picker-upper." She remembers her grandfather would have 30 lawnmowers at his house—all at different stages of repair—that he'd later resell at his own yard sale. "It wasn't for a profit—that was his community," Bonk says. "He'd always find stuff for me, too—I collected stamps when I was little. It's why I have the compulsion to hunt for things."
Architect Steve Nichols, 52, grew up in Kansas City, Missouri, and now lives in SouthPark. He started shopping garage sales 17 years ago, when his kids were young, to find items like American Girl dolls, Legos, and Playmobil sets at deep discounts. These days he looks for vinyl records to add to his collection, and he says he can count on seeing Settle at eight or nine sales during the summer: "One Saturday I saw Marty carrying a samurai sword …"
"If you carry a samurai sword," Settle interjects, "people give you better prices."
Marty Settle, 72, grew up in Quincy, Illinois, where weekend yard sales were all-day affairs. "My mother thrift-shopped and garage-saled, so I don't think I had any new clothes until I was 15," he says. Today, he lives in the Ashbrook neighborhood of Myers Park, where he scores his best secondhand finds—and connects with old friends. "If you do this long enough," he says, "you see a lot of regulars."
***
THE PLAN
GARAGE SALE SEASON typically picks up in spring, when more people move. Bonk relies on Craigslist to find sales because it has a mapping tool that helps her create a route. When sellers post ads or flyers, she looks for key words like "furniture." "I like when they list furniture, because it's a signal it's a bigger move, or a whole house of stuff, which is more interesting to me," she says. But words like "baby clothes" alert her to skip that sale, since her kids are older now.
Both Nichols and Settle comb the newspaper before planning their day. "I'll circle each sale like this," Nichols says, demonstrating, "and make a priority route. Prioritize where you want to go first, and get there 10 minutes before they start."
***
THE COURSE
SETTLE GENERALLY STAYS WITHIN a radius that includes Myers Park and Foxcroft, and he rarely goes past Pineville-Matthews Road. "The farther I get down Carmel Road, and closer to I-485, the less luck I have," he says. Nichols has the best luck in Foxcroft, "but I avoid Raintree," he says. "There's nothing good there, ever."
Bonk does what she calls "the pie," also known as the south Charlotte wedge. "South Boulevard is farthest west I'll go," she says. "Because of the nature of Providence Road, if you go too far out into the suburbs, you're driving for 20 minutes to find a house. The sales on main roads are easier to get in and get out." She says it's a bonus when she finds sales along the way that people haven't advertised. "When you're alone, you learn to drive with a peripheral vision that's incredible."
***
THE HUNT
1. Garage sales aren't organized like a retail store, so don't count on finding similar items grouped together. "You have to do an initial walk-around, and then another, because you'll inevitably spot something new," Bonk says.
2. You probably won't find shopping bags when you check out, so bring your own. "If you have any interest (in an item), put it in a bag or box and decide later if you really want it so someone else doesn't snatch it," Nichols says. "At some sales, you can put everything you want in a box, and they'll name you a price."
3. Don't get turned off by an item just because it's dirty or shows wear and tear. "I don't get the social stigma of buying used or secondhand items," Bonk says. "Just wash it, and there's nothing wrong with it."
4. When kids are selling something, support their entrepreneurial spirit and do what Settle does: Buy something, even if it's a 10-cent Frisbee.
5. Never assume the price you see is final. "You'll pull up to (a sale) with lots of decorative pillows, and they've spent way too much time on tags and pricing—they've probably assessed too much value to their stuff," Bonk says. "Prices at end of the second day are usually better, so I'll come back later."
6. Bring cash—unless it's a high-end estate sale, people don't usually accept credit cards. "Have small bills, or you'll get stuck paying for a bunch of 10-cent items with big bills," Bonk says.
7. If you don't have enough cash for an item, ask to put it on hold. Many estate sales have a boutique area with jewelry or other high value items, and sometimes you can offer a "down payment" and come back with the rest later.
8. Ask for a discount—the worst that can happen is the seller won't budge. Bonk likes to send her kids in first. "It teaches them to negotiate," she says, "and everyone gives kids a deal."
***
THE FINDS
NICHOLS ONCE FOUND a house with brand-new "as seen on TV" items for sale.
"I got the Liberator—it's a 'marital aid' wedge pillow, to um, get in different angles and positions."
Settle chimes in, "I collect them myself."
Nichols continues, "That big wedge pillow is now a bumper in my garage to stop my car." He smiles and shakes his head.
"It's repurposing!" Settle says.
Another time, Nichols lucked out at the yard sale of a New Balance rep. "The CEO wore size 9-and-a-half shoes, so they made all prototypes in his size," he says. "I probably bought 20 of them at $8 a pair."
Settle once found an orchid viewer at an estate sale. "I didn't know what it was when I bought it. It looked like a birdcage," he says. "During the Victorian era, you'd put an orchid in there, and it had a revolving magnifying glass. I bought it for $15." He used it for one of his art pieces, but when he looked it up online, it was priced at over $200.
Bonk has had luck finding musical instruments and sports equipment in yard sales all over Myers Park. "A lot of abandoned New Year's resolutions," she says. "It's fun for kids because they can try things out at a lesser risk, and you don't have to invest so much in a hockey stick or guitar."
And just last month, Nichols found a book of poetry by William Christopher Stevens that included the author's signature. "I Googled it, and found out it was the pen name of (talk show host) Steve Allen, but he signed it with his real name. It's worth a couple hundred dollars, and I paid a quarter for it."
***
THE PAYOFF
FOR SETTLE, shopping garage sales is as much a social activity as a treasure hunt. For Nichols, it's architectural voyeurism. "I love seeing the insides of those older homes," he says. "They built this life, and you see all the hobbies they had. It's a privilege to buy that stuff because it was really special to somebody."
For Bonk, it's about reducing her carbon footprint. "I'm a big believer in not buying new stuff," she says. "People assume it's a cheapskate thing, but I'll always be the first to say, 'I got this at Goodwill.' I want to normalize it a bit more. It's OK to reuse things."
And for me, it's fortuitous. On a recent Saturday morning at Starbucks, I mentioned to Mr. Marty that I was looking for a secondhand booster seat for my son. Two hours later, he showed up on my doorstep and handed me a booster seat that he'd found for five dollars at a garage sale around the corner. He said it was divine intervention.
I said I owed him a coffee.
Garage Sale vs. Estate Sale: What's the Difference?
Garage Sale: Also called a yard sale, rummage sale, or tag sale, it's an informal sale in the homeowner's yard or garage with used clothes, toys, books, furniture, and other household items. Sellers post signs around the neighborhood with the time and location of the event, and some advertise in the newspaper or online.
Estate Sale: Sometimes called a liquidation, an estate sale typically happens inside a home over the course of a weekend—most commonly when a homeowner dies but sometimes when a homeowner prepares to move to an assisted living facility or in the event of a divorce or foreclosure. A professional firm or a liquidator with experience pricing big-ticket items like furniture, art, and jewelry generally handles this type of sale, which limits the number of people who come through. Some estate sales have a sign-up sheet and only allow a few customers in at a time.