An Outsider Moves to the Inside: Michael Zytkow
He made a name for himself a few years ago as the face of Occupy Charlotte. The movement has ended, but the 29-year-old remains involved in local politics. In fact, he's closer than ever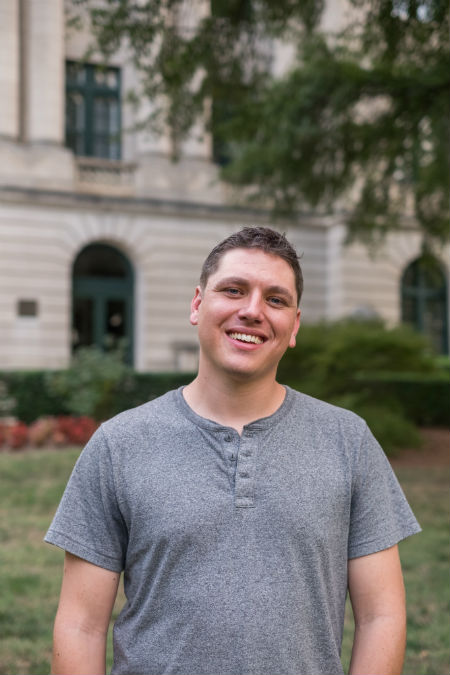 THE CANDIDATES for mayor and city council mingle as they arrive at Little Rock AME Zion church in uptown charlotte for an NAACP-sponsored forum on this steamy August evening. Primary voting begins in less than a month, and it seems most everyone in the room has an agenda.
Including Michael Zytkow. He hangs behind the pews in the back of the room, shaking hands and chatting with politicians and activists before the panel takes its place and the forum begins. He is as prepared as the candidates, a typed list of questions in hand.
Many know Zytkow by now. How could they possibly forget? He was the guy who raised his voice to then-mayor Anthony Foxx and the City Council during a public forum back in January 2012, protesting ordinances that would ban the nascent Occupy Charlotte encampment on Old City Hall grounds. He was the one cut off at the end and immediately escorted out of the council chamber and arrested. And it was Zytkow who then became the face of Occupy Charlotte, leading protests through the streets of Charlotte during the Democratic National Convention.
Three years later, Zytkow is still a protester. He is still an outsider, too, after coming up short in the 2013 City Council race when he ran in District 4.
But he shouts a lot less often these days, and in many ways that can't be seen, Zytkow quietly works to change Charlotte.
***
JUST OUTSIDE of the I-277 uptown loop, past the high-rise office buildings and new residential towers that flaunt Charlotte's growing affluence, there is an old warehouse in NoDa's less gentrified southern corridor repurposed into a hodgepodge collection of small business work spaces.
What Area 15, as it's called, lacks in polish, it makes up for in a gritty charm, from its graffiti walls to an urban prayer room and a vibe not meant for suits, ties, polo shirts, or khakis. It is the anti-uptown. So it is fitting, perhaps, that Area 15 was once a gathering place for Occupy Charlotte. And it is now Zytkow's office. He shares a powder-blue painted cinderblock room inside Area 15, where he works as a field organizer for Greenpeace, the organization known worldwide for its environmental activism.
This was not what Zytkow had planned when he graduated from Wake Forest in 2008 and joined the Teach for America program at Garinger High. But he left teaching and was drawn to the Occupy movement in 2011.
"I just wanted to do something bigger," Zytkow says. "You want to change the world, right? You want to spend your time on this Earth the best way you possibly can."
That's what he tries to do now. Which is why, one day this past August, Zytkow accompanied a group of representatives from the NAACP and members of the Moral Monday coalition from Charlotte to Raleigh to meet with members of the North Carolina Legislative Black Caucus.
Zytkow has been involved in Moral Monday protests. But on this day he was less interested in challenging politicians than in persuading them to support House Bill 245, better known as the Energy Freedom Act. The bill would legalize third-party energy sales in North Carolina, which backers believe will spur solar energy use in the state.
"He's quite the young leader. I think he's one of the most brilliant young organizers out there today." —Rodney Sadler, on Michael Zytkow
Call Zytkow a radical if you will, but the bill he was lobbying for was co-sponsored by 13 Republicans along with 17 Democrats and had the support of corporations from Lowe's to Walmart, as well as Tea Party advocates. He helped organize the day's meeting.
"He is quite the young leader," says Rodney S. Sadler, Jr., an associate professor at Union Presbyterian Seminary in Charlotte, ordained minister, and national vice chair of the Justice Action Mobilization Network. Sadler accompanied Zytkow to Raleigh that day. "I think he's one of the most brilliant young organizers out there today."
Much of his work is behind the scenes. Zytkow has met with Charlotte-Mecklenburg Schools officials on the Repower Our Schools program, trying to get the district to commit to 100 percent renewable electricity and lobby the legislature on behalf of incentives for solar energy. But he also still takes his environmentalism to the streets.
"One day I called him and he was down with his family picking up cigarette butts around the bus station uptown," says Shawn Greeson, the Mecklenburg Soil and Water Conservation district supervisor. "He just does stuff like that."
Most of that is done without cameras, protests, shouting, or controversy. But don't think Zytkow has suddenly gone soft. He was arrested in 2013 as part of the Moral Monday protests in Raleigh. Zytkow also protested outside of a Duke Energy company shareholders' meeting this past May—while his father-in-law worked at his job inside the Duke Energy building a block away.
When Zytkow and others tried to deliver letters and petitions on environmental policy to the Charlotte office of North Carolina Sen. Thom Tillis later the same month, a security guard threatened to call the police if they did not leave the premises immediately, according to those who were there. Zytkow left rather than risk another arrest.
He knows his activism could make a political career impossible. "Essentially, everything I'm doing is digging a hole deeper in not becoming an electable person," Zytkow says. "I'm sure that's the case."
Others are not so sure.
Charlotte City Council member John Autry met Zytkow in the heyday of the Occupy movement and saw something more than a malcontent. "I believe at the time I encouraged him to remain engaged because I did feel like he had a role to play," Autry says. "I think he has as much potential as anybody else to move the dial towards a more equitable, social justice-oriented society than what we have now. He's knowledgeable. He's highly intelligent. He's highly motivated, and he speaks with conviction and assuredness in sort of a way that inspires other people."
***
DESIREE ZYTKOW, who began dating Michael when they were seniors at Independence High, saw that potential in her husband years ago when they were freshmen at North Carolina State. Michael made a name during debates on campus. "Even outside the political realm," says Desiree, who is now a nurse, "he just has a very unique ability to connect with and move people."
Michael Zytkow wound up transferring to Wake Forest before his sophomore year and earned degrees in religion and political science with an emphasis in philosophy. He was once so devout, he practiced abstinence and wore suits and ties to classes. Now Zytkow considers himself an agnostic and wears T-shirts and jeans. He and Desiree live in the Commonwealth neighborhood with their two young children.
Michael is a video game geek, Pokémon expert, and Socrates fan. Sometimes he wears dog tags inscribed with his favorite quotes, such as, "The unexamined life is not worth living," and, "The only thing I know is that I know nothing."
But he has tried to learn. As a child, he used to accompany his mother when she volunteered at homeless shelters in Wichita, Kansas. At 21, he spent time in Calcutta, India, volunteering at Mother Teresa's Missionaries of Charity. Zytkow also studied working conditions for women in Nicaragua.
His interest in politics can be traced back to his family. His parents immigrated to the United states from Poland in 1982, and he grew up listening to stories about war and rebellion.
Zytkow's grandfather lost all of his siblings in World War II. His father, the late Jan Zytkow, had been a philosophy professor at the University of Warsaw and was instrumental in starting a chapter of Solidarity, the worker's movement that inspired social and political change in Poland. Jan Zytkow later taught computer science at Carnegie-Mellon, Wichita State, and the University of North Carolina at Charlotte.
When Jan Zytkow died of liver cancer in 2001 at age 56, it changed Michael.
"He suddenly started to think about religion," says Michael's mother, Malgorzata Zytkow, who still lives in the university area. "And always, he goes to kind of extreme. With everything. Sometimes he's kind of scary. He basically was looking for meaning of life."
At 14 years old?
"Believe me, a different kind of child," she says.
He is a different kind of adult, too, in part because of the experiences of his parents in Poland.
"[Jan] was so involved in solidarity that he was one of these persons that Polish government does not want in Poland," says Malgorzata Zytkow. "My husband was very brave and I was not shy, too. Basically what we gave our children—not to listen to authorities.
"Always question."
***
THAT'S WHAT Zytkow was trying to do that night in January 2012, when he spoke before Foxx and the City Council to protest the new ordinances that banned Occupy members from camping and carrying backpacks, among other restrictions.
He was loud and mocking in his two minutes at the podium. when his allotted time was up, Zytkow continued to talk. As he was about to be pulled away from the microphone, he left this last little gem: "On a final note, I am sure that Anthony [Foxx] will get a lovely opportunity to speak at the DNC. I've heard that does wonders for political careers. But I simply ask that you remember that the little people that made your cute little event possible."
He didn't get to finish his sentence as he was taken out of the chamber. Many in the audience cheered. Some were appalled.
"It's always very uncomfortable anytime anyone speaks out like he did," City Council member Patsy Kinsey says. "I was uncomfortable with the way he acted that day."
The notoriety Zytkow gained from his occupy days has receded with time, though. He has built a relationship with local police officials. During the DNC, he worked with city attorney Bob Hagemann to smooth relations between authorities and protesters.
Once the ultimate outsider, Zytkow is learning to work the inside now. He knows people. People know him. He even serves on the Keep Charlotte Beautiful commission—an appointment that is voted on by the City Council.
"What I've challenged him to do is to get involved," City Council member David Howard says. "I know people who've kind of screamed from the sideline. You can't get a lot done over there. You get a lot more done when you bring those ideas into the room and actually talk about it."
Zytkow considered running for City Council again this time along with a progressive slate of candidates. He hasn't ruled out a run in 2016 or '17. If he does, it might not be as a Democrat. He insists he is still an independent. when he ran for the City Council in 2013—he was defeated by Democrat Greg Phipps in District 4—Zytkow became the first independent ever to gather enough signatures to be placed on the ballot. But he considered the process to be among the most onerous in the country. That's part of the reason Zytkow started a nonprofit organization, Election Reform NC, which he uses as a platform to push for change to proportional voting and greater ballot access.
Occupy may have ended in 2012 when the DNC packed up and left Charlotte. But it would be a mistake to believe the movement failed and the discontent that inspired it simply dissipated after the convention.
"People think occupy is dead, but there were people who got involved—the core people who stuck around—and they are part of every organization you can imagine in North Carolina," Zytkow says.
James Tyson, who helped Bree Newsome take down the Confederate flag from South Carolina's statehouse grounds this past June, was a member of Occupy Charlotte. So was Matt Newton, now the chair of the Mecklenburg Democratic Party.
And of course there's Zytkow, sitting in the back of the candidate forum on that night in August at the Little Rock AME Zion Church with a list of questions already prepared. When it is Zytkow's turn to speak, he steps to the podium and his voice begins to rise.
Three years later, Zytkow is still occupied.
Viv Bernstein is a writer based in Charlotte and a regular contributor to The New York Times covering sports and news. You can follow her on Twitter @viv_bernstein.
---
This article appears in the November 2015 issue of Charlotte Magazine
Did you like what you read here? Subscribe to Charlotte Magazine »
---