Around Towns: An Evolving Winston-Salem
Camel City turns its eyes to art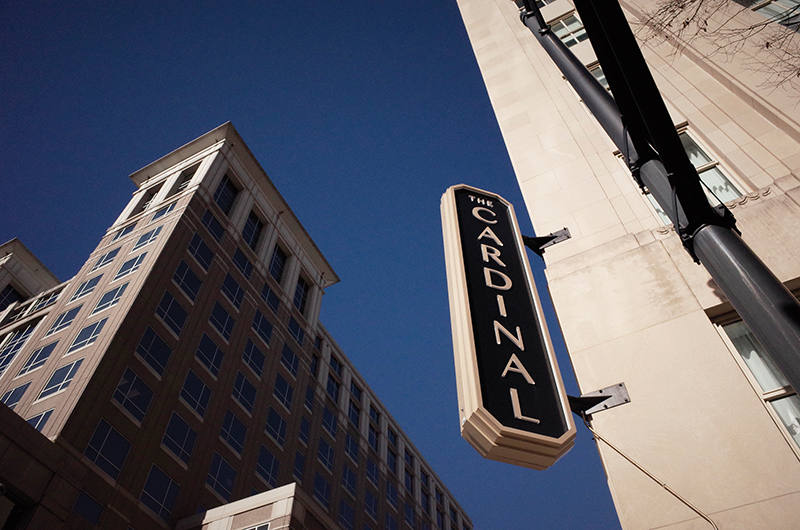 TOBACCO BUILT this town, tobacco and R.J. Reynolds. Between the time Reynolds arrived in Winston-Salem in 1875 and his death in 1918, this town grew 90-fold. His packaged cigarette and knack for advertising took Winston-Salem from a country town to Camel City.
When his heirs decided to turn the Reynolds home into a public space, they planned a museum honoring the story of tobacco in Winston-Salem. That plan changed on January 11, 1964, when the U.S. Surgeon General released a report so monumental that it was timed for a Saturday to minimize its effect on the stock market. It revealed proof that cigarettes could cause lung cancer, emphysema, heart disease, and, ultimately, death.
So much for the tobacco museum.
Later that year, the Reynolds estate established the family home, Reynolda House, as an educational facility honoring the family's love of art. The home is now a dual art and history museum, showcasing an impressive collection of American art while telling the Reynolds family story.
Winston-Salem would again pivot from tobacco to art.
***
KICKING A tobacco habit is rough. Winston-Salem knows all too well. But it's pulling off a transformation into a city of the New South, backed by a $1.5 billion public and private investment in its downtown. Forbes named it among the 14 best places to travel in the U.S. in 2019, along with places like New York City and Jackson Hole, Wyoming.
This may come as a surprise, not least to the residents of Winston-Salem who saw the hit their city took when its two big, traditional industries—tobacco and textiles—had largely left town by the turn of the century. The industries left a parting gift, however: decades of philanthropic contributions that built an outsized arts scene. The first local arts council in the country opened here in 1949. Textile executive R. Philip Hanes Jr. helped found and fund the University of North Carolina School of the Arts and donated to the North Carolina Dance Theater and Piedmont Opera Theater.
Arts organizations attract others. The National Black Theatre Festival hosts 60,000 people here. RiverRun International Film Festival, an Academy Award-qualifying event, brings nearly 17,000 film fans each spring.
But now, the trick. The city needs to maintain its arts scene without the big checks from tobacco and textile titans. It needs to grow as a city while holding onto its artists, a balance that many cities haven't managed. A city's success in the arts can become a lesson in irony: Artists help spur an economic boom that prices them out of town. See: Asheville. See also: NoDa.
The city has embarked on a curious experiment as it emerges as a New Southern city: not only inviting people to come to admire art, but to come here to create it. Will creating a city of artists bolster a city of allies who can keep the arts aligned with the economic climb? Can an arts town survive its own success?
***
TONIGHT IS the FIRST Friday Gallery Hop by DADA, the Downtown Arts District Association. Each first Friday of the month, the city closes several blocks to cars and opens them to families, friends, couples, and tail-wagging dogs. About 75 businesses participate, not just galleries, but restaurants, breweries, and stores, all showcasing local art on their walls. The mood is casual. Full-sleeve tattoos outnumber high heels, buskers provide the music, and empty pavement lures artists of all ages with nothing more than colored chalk.
Each gallery has its own energy, but none has more than the Studios at 625. It's where painter Rachel White set up her studio in 2017, leaving a home studio to join the arts renaissance downtown. (She had moved to another downtown location as of press time.)
"It's the month of dance and music!" White dances through the crowd. Neon body paint streaks across her cheeks and arms. "Let's dance! Let's have fun!"
As two men beat on drums, White's body pulses with the percussion. She has the confidence—the freedom—born of not giving a damn. She waves a ribbon wand, leaving a trail of color behind her, along with a throng of people who move their feet, hips, and heads to the music. She dances past a quiet woman at the crowd's periphery, and White slips the wand into her hand. Smiling, the woman dances a little and swirls the ribbon into the air. Steps away, in White's studio is a canvas, a palette of paints, and a sign that says, "Group painting – Join in the fun!"
White's not just an artist. She's an artistic evangelical out to convert the masses to the joy of dancing, the thrill of creating, and the fun of not giving a damn. This is about more than art. It's about what art is doing for her city.
"Look around," she says. "If you go to any city anywhere, and it's struggling and it doesn't have an arts community, it's dying. Artists are risk takers. We're doers. We're collaborators … Everyone wants to be here because we're here."
The city's betting on that. About 20 years ago, downtown Winston-Salem was mostly empty and increasingly dangerous. After tobacco and textile businesses left, crime arrived. The violent crime rate in 2000 was more than twice the state and national averages. The old R.J. Reynolds headquarters, the jewel of downtown that had inspired the architecture of the Empire State Building, sat vacant for five years. The public and private partners that invested in the resurrection of downtown reserved about $50 million of the total in arts and entertainment, counting on them to help lure people and businesses back.
"Twenty years ago, you didn't walk down Trade or Liberty (Streets) at night unless you wanted to catch a disease or lose your wallet," White says. "When no one wanted this, when tobacco and industry left, then the artists came and turned this space into something magical."
People on the street are laughing about how, years ago, they'd never have come downtown at night. Little kids kneel on the asphalt and decorate it with doodles. Couples stroll into and out of galleries and shops. Cigarette smoke, a remnant of Camel City, wafts from noisy restaurant patios.
Later, at about 10:00 p.m., galleries begin to empty. The buskers pack up guitars. Stubs of chalk lie on asphalt sketches. Yet a crowd remains in Studios at 625. White still dances in the front window. When people pass, she offers a wink and a wave of invitation, echoed by the city itself. Let's dance. Let's have fun.
***
THE ROOFLINE of the Sawtooth School for Visual Art inspired its name. Six gables form a jagged row against the sky, and angled skylights in the bays invite sunlight into the single-story structure. A century ago, textile workers labored under this roof; it opened in 1911 as the Shamrock Knitting Mills. People work at looms here still. Now, though, they also work at wood lathes, ceramic kilns, and easels. They create in a photography dark room, a metals studio, and digital media computer lab. The school attracts professionals who come for high-end equipment but has a special affinity for beginners willing to try something new.
"It's scary to hold a blow torch or a buzz saw for the first time, or even to sit at a pottery wheel," says Geoff Corbin, its president and CEO. "We make it accessible."
The school offers events for artistic newbies, like Taste of Art classes that introduce students—whether residents or visitors in town for a weekend getaway—to a form of art and teach them enough in a day to create an original piece, whether it's a ceramic berry bowl, a wood coat rack, or a dyed silk scarf.
Some of the art created in Sawtooth doesn't just go home with artists, but on the walls of DADA galleries and businesses just a few blocks away. This school offers emerging artists an education; DADA offers them a community of peers, advice from mentors, and a market of consumers. Owens Daniels began photography lessons at Sawtooth between his shifts as a security guard. He earned enough praise and sold enough photos to return to Sawtooth as a professional photographer, instructor, and resident artist.
"(Winston-Salem's) arts area is our lifeblood," Daniels says. "That gallery hop is a real thing. That local artist has an opportunity once a month to get work out there. I know it helped my career. It helped me get marketing, exposure. It gave me support from arts professionals. There's a huge community there, and everyone's invested in that area."
In the lobby of Sawtooth, as well as in dozens of restaurants, hotels, and businesses downtown, visitors can spot a relic not often seen today: a vintage cigarette vending machine. But these have been repainted—often brightly—and repurposed. They're no longer cigarette machines; they're Art-o-mats, an invention of local artist Clark Whittington.
Instead of dispensing cigarettes, Art-o-mats dispense pieces of original art, attached to pack-sized blocks of wood and signed by the artist. For five dollars and a pull of a knob, visitors can use a tool of the town's past to take home a piece of its future.
---
SEE
Reynolda House
Wander through rooms with original furnishings, peek into life as a 1920s one-percenter, and gawk at an impressive collection of American artists, from Gilbert Stuart to Alexander Calder. Explore the basement, which boasts a bar, bowling alley, shooting range, and a rubber floor that allowed Reynolds' guests to skate between them. (The combination
of guns, skates, and gin was a brave one.) 2250 Reynolda Rd., 888-663-1149.
STAY
Kimpton Cardinal
This was once the R.J. Reynolds headquarters, and now it's an elegant Art Deco hotel that balances original features—the lobby elevator bank is pure beauty—with fresh touches. Inspired by Reynolda House, upstairs floors are sophisticated while the basement is all fun: it offers guests bowling, ping-pong, basketball, and even a two-story slide. 401 N. Main St., 877-216-3448.
EAT
Within the Kimpton Cardinal, The Katharine Brasserie serves classic French brasserie fare in a stylish yet comfortable dining room. The cocktail list is impressive, as is the service. 336-761-0203.
For more casual Southern fare, try Sweet Potatoes. 607 Trade St., 336-727-4844.
Vegetarians and vegans shouldn't miss Camino Bakery. 310 W. 4th St., 336-721-9990.
---