Around Towns: Lexington
As a town lost its manufacturing jobs, a small festival gave birth to a tourism boom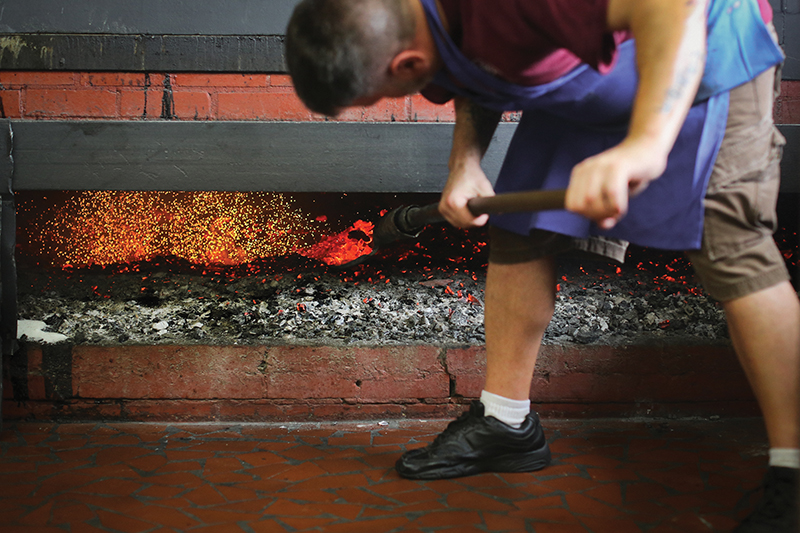 IT'S JUST BEFORE 4 p.m. on a Friday in uptown Lexington, North Carolina. First Street has been blocked off with cones near its intersection with Main Street, and the police chief lingers with other officers and the owner of Bull City Ciderworks, John Clowney. Around the corner, a crowd gathers. Bull City Ciderworks opened in Lexington this spring, and today, it's expanding, opening a cider house and restaurant on Main Street.
Like Charlotte, Lexington's city center is called uptown. Walking down Main Street, you'll find painted pigs. Local residents and businesses can "sponsor" the pigs as part of a fund-raising program for the city.
IF WE WERE LEXINGTON
Lexington, a town of about 19,000 people, has seven barbecue restaurants within its city limits. That's like cramming seven barbecue restaurants in an area with as many residents as Charlotte's uptown and half of South End. I
The crowd grows. The mayor, the city manager, a county commissioner, the mayor pro tem, and city council members are all here to celebrate the opening of a new restaurant. Bull City Ciderhouse is a street-level space in a historic building, formerly a hotel that locals believe Eleanor Roosevelt once stayed in.
It's go-time. The crowd now stretches the length of the restaurant, four or five people deep. The chamber of commerce chairwoman is the first to speak. Her hands move rapidly, as though they're holding excited puppets.
"This is the coolest city in North Carolina!" Jeanne Leonard says of her hometown, a city with almost 19,000 people, an hour north of Charlotte. The crowd around her cheers through a speech full of inside jokes the whole town is in on.
She hands the microphone over to the mayor, Newell Clark, who has a on Bull City T-shirt tucked into khaki pants.
"We were here the other night, and I was sitting down, there's John, there's Ryan right next to him, and I said, 'Guys, it's 9:30 on a Tuesday night and we're eating in uptown Lexington,' " he tells the crowd to laughter.
It's a point he's particularly proud of. A large part of his platform is creating a town that young men and women want to return to after graduating from college, with places to hang out, things to do, and amenities such as free Wi-Fi throughout uptown.
Standing next to me is Mark Gosselin, owner of Cafe 35. He and his wife, Linda, opened the restaurant in 2005 on the other side of First and Main streets from Bull City Ciderworks. They expanded to the building next door, and then the building next to that, and now the restaurant takes up almost half the block.
Gosselin claps and cheers with the rest of the crowd, and the mayor takes notice, thanking him for coming.
"That's one of the things, I think, that was so exciting to me the other night, was coming in here and seeing a restaurant right across the street coming in to support you guys," the mayor says before handing over the microphone to a Davidson County commissioner. "And that's what Lexington is. We are a family here, and we support each other."
***
WITHIN THAT Lexington family, there are a few families that everyone knows. You'll find them running the businesses that anchor Main Street's busiest blocks.
Down the hill, there are the Laniers and Lanier Hardware. The mayor comes from this family. The store opened in 1940, and now it's part hardware store, part department store. You'll find everything from popcorn machines to screws and pool floats, as well as clothing with local college and high school teams' logos, coffeepots, cookie cutters.
As the locals say, "If you can't find it at Lanier's, you didn't need it anyway."
When the store's founder, Ardell Lanier, passed away in 2014, his visitation was held at the hardware store. It's still owned by his descendants.
Up the hill from Bull City Ciderworks, you'll find Conrad & Hinkle, a small grocery and butcher store that makes some of the best pimento cheese in the state, with a recipe dating back to the 1930s. The store goes through 300 pounds in a day, and about 1,500 pounds per week. You'll often find Lee Hinkle working in the store, which his family has owned since 1919. Today, he's ringing up guests at the register while workers next to him shuck corn.
"We like to spoil our customers here," he says with a smile.
Not far from Conrad & Hinkle is The Candy Factory. Once the outlet store for the Piedmont Candy Company, known for mints and sugar sticks, The Candy Factory was opened by Robert and Frances Ebelein in 1978. The following year, the store moved into an 1890 home, and today, Ebelein's three daughters—all retired schoolteachers—own the store.
I've been in Lexington only since morning, but walking into the candy store, I already see a familiar face. Jeanne Leonard, the chamber of commerce chairwoman, is one of Ebelein's daughters, and after the ribbon cutting, she returned to her store up the street and hopped behind the counter.
Barrels and boxes of candy line the shelves, with fudges and chocolates waiting behind glass to melt between your fingers in the sun. The smell of sweets and chocolate and the sound of the creaking floors are transcendent.
"We sell nostalgia," Leonard says.
But you don't have to buy anything to find it.
***
YOU CAN'T TALK about the families that shaped Lexington without talking barbecue.
Cecil Conrad, co-owner of Barbecue Center on Main Street just outside of uptown, says barbecue got its start in Lexington just off Main Street. You'll find a road called Barbecue Alley just behind Conrad & Hinkle. In the early 1900s, the alley was home to a large barbecue pit and small restaurants similar to booths at a county fair.
"They would cook, and about midday, the judge at the courthouse would smell it and said he realized it was lunchtime," Conrad says. "And that's when he'd dismiss his court."
Conrad's recipes have trickled through time along the branches of that barbecue family tree. During a recent renovation at town hall, those original pits from Becks Barbecue, the first brick and mortar barbecue restaurant in Lexington, were unearthed. The town preserved the pit and created an educational video to play alongside it.
Conrad's father bought The Barbecue Center in the late 1960s. The restaurant was once called The Dairy Center, best known for its ice cream—and despite the name change, the place still serves ice cream, including a four-pound banana split.
We talk over a plate of pork, taken from the top of the pit, just under the coals, giving it a crispy, smoky bark. Conrad's college-age son is waiting tables nearby, but Conrad says he isn't putting pressure on him to stay.
Conrad left Lexington once himself. He went off to Guilford College, where he majored in sports medicine, and later earned a master's degree in teacher education at UNC Greensboro, but came back because he wanted to run the family business and raise his kids here. When he left Lexington in 1988, it wasn't the same place it is today. The town had been crushed by the loss of furniture and textile jobs. Main Street, once a thriving industrial strip, was quiet.
Around the same time, Stephanie Saintsing's mother, Kay, got a call from Joe Sink, publisher of the Lexington Dispatch, with the idea of starting a festival. They brainstormed, hosted focus groups, and decided that barbecue was the thing they had most worth celebrating. They held the first Lexington Barbecue Festival in 1984.
A little more than 30 years later, hundreds of thousands of hungry visitors come to Lexington in October each year to eat it—and come back throughout the year to do it again.
"We used to be a manufacturing town," Conrad says. "We took the barbecue and there were truck drivers and sales reps that would come through and it was kind of a regional, local-type flavor. When the festival came around in the early '80s, well, from that point on, it became regional to more national. We got the word out."
Thanks to a small festival that started with a single phone call, the town has become a barbecue mecca.
Lexington Barbecue, once briefly called Honeymonk's, welcomes visitors to the town from a small hill right off Interstate 85 Business. Smoke from white oak, red oak, and hickory billows from the pits. Lexington Barbecue has fed the famous, including Bruce Springsteen, Ronald Reagan, and Margaret Thatcher. Rick Monk runs the place now. His father, Wayne Monk, opened it back in 1962. The younger Monk cooks the barbecue just as his dad taught him, and he's grateful to be able to keep the tradition of North Carolina cooking alive. He likens it to clam chowder, for example, in New England—if you go there, you're going to eat it.
"Down here, it's about barbecue," he says. "It's part of our culture, it's part of our heritage around here and all, and I'm going to keep it going. I'm really, really proud of it."
Lexington locals are proud of it, too. As the town known for furniture and textiles lost those industries in the latter part of the 20th century, the people here lost one of the core pieces of their hometown's identity—Lexington had become a working town with no work. That phone call more than 30 years ago, though, pointed out that the town had something else worth celebrating: barbecue. And that celebration started at just the right time to save this town. Chopped pork sandwiches have jumpstarted tourism and brought life back to what could have been another dying industrial area. "We all support each other, we believe in each other, we all want each other to thrive," Monk says of his neighbors. "Let me tell you, if you don't thrive, I don't thrive. If you don't make a dollar, I don't make a dollar. We all have to live good to make each other live good."
Kristen Wile is senior editor of this magazine. Reach her at kristen.wile@charlottemagazine.com or on Twitter: @kristenwile.
---
SHOP
Lanier Hardware
Unless you need food, you'll find whatever you can possibly need here. 218 S. Main St., 336- 248-5935
The Candy Factory
Owner Jeanne Leonard is a retired schoolteacher and has hired other retired schoolteachers to work in her store. Don't expect to be scolded for eating sweets, though. Here, candy is encouraged for young and old. 15 N. Main St., 336-249- 6770
Bob Timberlake Gallery
The artist's realist paintings are on display in his home – town. You'll also find furniture, accessories, and textiles among Timberlake's designs. 1714 E. Center St. Ext., 336-249-4428
Conrad & Hinkle
Local produce, everyday needs, and a butcher counter send you back in time—and you'll come back to the present with your hands full. Be sure to try the homemade pimento cheese, gooey and rich and delicious. 6 N. Main St., 336-248-2341
EAT
Lexington Barbecue Festival
Amtrak schedules a special stop in Lexington for the festival, which takes place on Oct. 22 this year. The stop is a short walk from the festival, where you can enjoy barbecue and live music all day long. Uptown Lexington, 336-236- 4218
Barbecue Center
Once an ice cream shop, Barbecue Center serves four-pound banana splits, as well as pit barbecue that's been cooking for 10 hours. Expect the red slaw to be spicy and the hush puppies to be sweet. 900 N. Main St., 336-248-4633
Lexington Barbecue
This place is right on your way in and out of town. Order a chopped pork sandwich, a favorite because it holds more sauce, says owner Rick Monk. You'll probably find Monk somewhere in the restaurant. 100 Smokehouse Ln., 336-249-9814
DRINK
Bull City Ciderhouse
Owner John Clowney says cider pairs well with almost anything. The menu at his gastropub-inspired restaurant ranges from pizzas to ribs to burgers. 102 S. Main St., 336-843-4570
Sophie's Cork and Ale
A recent change to the local alcohol ordinance that separates beer and wine sales into their own alcohol license (apart from liquor) has allowed for casual drinking spots such as Sophie's to open in uptown. Just off Main Street, Sophie's took over an old bookstore, filling it with rustic furniture, good music, wine, and local beers. 23 W. 2nd Ave., 336- 300-7338
Junius Lindsay Vineyard
Owner Michael Zimmerman wanted to save his family's farm for his sons. A love of wine and time spent in France inspired him to plant Rhône Valley grapes. Enjoy bold reds, crisp whites, and a delicious rosé —all done in Old World styles. 385 Dr. Zimmerman Rd., 336-764-4050
Childress Vineyards
Winemaker Mark Friszolowski wants to make the Yadkin Valley a respected wine region, and he's on his way. Enjoy beautiful views and take a tour of the winery before sitting down to lunch overlooking the vineyards. 1000 Childress Vineyards Rd., 336- 236-9463
---
This article appears in the October 2016 issue of Charlotte Magazine
Did you like what you read here? Subscribe to Charlotte Magazine »
---