Around Towns: Matthews
Fresh food, fresh faces, and an old way of life preserved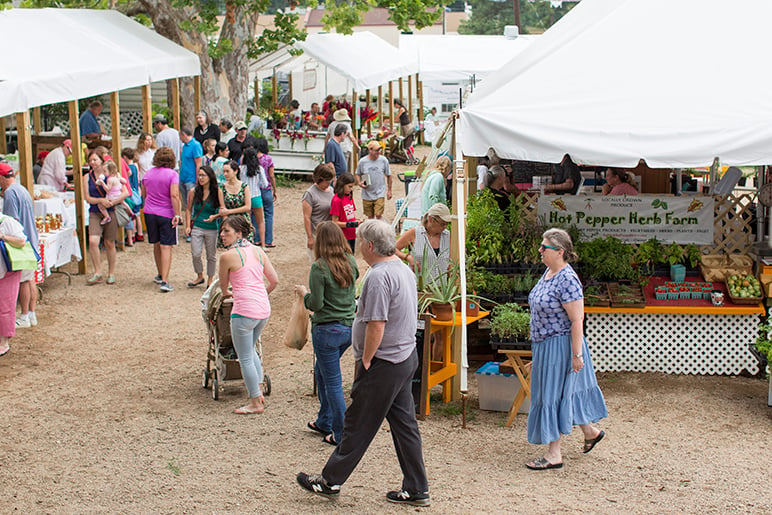 "Look around you," Bob Hudgins tells me.
I see many things as I scan the Matthews Community Farmers' Market: I see baskets brimming with greens, radishes, and other spring crops, all grown within 50 miles of this spot. I see MaMaw Shine, a woman wearing all pink except for her floppy straw hat, calling out, "Good morning, y'all!" and "Thank you, darlin'!" to customers from behind her stall of flowers. I see Hudgins' table of carnivorous plants, adding a sci-fi touch to this rural landscape. What Hudgins wants to show me, though, is not necessarily what's here, but what's not here. "No one here is on their cell phone," he says. "Nowhere else in town are you going to see that."
He's right.
The Matthews Community Farmers' Market was the first all-local, producer-only farmers' market in the Charlotte area, and it's still arguably the most popular, despite being 13 miles down Independence Boulevard from uptown. The market began 23 years ago to re-establish the links between farmers and consumers and to help strengthen the overall sense of community in the town. It worked. There's so much enthusiasm for the place that the Saturday market had to implement an 8 a.m. opening bell before allowing purchases. Yet as early as 7:30, shoppers are browsing tables and scoping options. When the bell rings on a recent Saturday, 27 people are queued before the New Town Farms stall. They hold coffee cups, babies, reusable totes.
And no phones.
It'd be easy to walk around the Matthews market and the surrounding downtown and believe that these faces are familiar to each other, that these families grew up together in an old-timey bliss.
Usually they're not, and they didn't.
Pat Saine, owner of Pat's Pickins Family Farm, first came to Matthews when he followed "a pretty little girl" to town in 1948. He and that pretty little girl went on to marry, raise their children and grandchildren here.
"When I first arrived, every car that came down the road, you knew who was in it," Saine says. "Now you're lucky if you know one in a hundred."
Although the market is part of a historic, intimate downtown, Matthews is as much a place of growth and reinvention as anywhere in the Charlotte area. Many of the downtown buildings look original but aren't. The town's history is full of fires, a downside of being far from a water source. One fire in 1918 changed the streetscape forever. A small house was destroyed and two prominent buildings, including the upscale hotel, lost their second story. Another fire in the mid-1950s took out the second story of the Bank of Matthews, and one in 1972 leveled the town's drug store, built at the turn of the century. "Fires have a way of changing your landscape rather quickly," says Paula Lester, president of the Matthews Historical Foundation.
Matthews has a town-funded Façade Grant Program, which gives money to businesses that would like to restore their buildings to their historic pasts. One of Mayor Jim Taylor's favorite examples of new imitating old is Planet Ballroom, a dance studio on the main downtown stretch.
"If you go over there now, it looks like it's 100 years old," Taylor says. "You'll be surprised to realize the whole front entrance of that building is new. It looks in very good condition, but it looks old."
I set out to find the ballroom. I pass an old building and keep looking, before turning around to realize that old building is the ballroom.
Other buildings haven't changed much on the outside over the years, but what's happened inside them reveals the history that Matthews wants to protect.
***
Some of the merchandise at Renfrow Hardware & General Merchandise hasn't changed much since the store opened in 1900; people still need to dig, to fix, to plant, to keep the damn deer out of their gardens. Space is so tight that in the summer items are stacked atop a pot-bellied stove, the same stove where farmers stood in a circle 100 years ago, drawn to the warmth and the company around it. The stove is still used in winter, and the building still has that old hardware store smell, the smell of wood and steel and soil. Occasionally, I hear a rooster crow out back.
I look up, and Renfrow Hardware offers a history lesson. Hanging from the rafters are items that were sold here over the last century: mule-drawn plows, a wood toboggan, a steel washboard. The bins holding seed and nails are the same bins that Thomas Jefferson Renfrow bought for the store's opening. Behind the building is Cotton Gin Alley, where four gins stayed busy in the early 20th century. Farmers lined up their wagons here, popping into the store for a snack of sardines, and waited for hours for their turn at a gin.
Across the street from Renfrow today, you'll find a gin of another kind—on the martini list at Santé. If you ask someone for the name of the best high-end restaurant in town, they'll immediately name this one. The chef, Adam Reed, is a familiar face at the farmers' market; his menu is driven by what he finds there. But long before Reed made this building Santé, it was Matthews Barber Shop.
Just as Saturday nights bring lines to Santé, they brought crowds to the barber years ago. In the 1920s, the shop often stayed open until 1 a.m. for farmers who came in for their Saturday night baths before church the next day. It became a social gathering. (The women had their own Saturday night bath ritual: at home with the kids.) Drawing a bath was so time-consuming—drawing water from a well, heating it on a wood stove, pouring it into the tub—that the same tub of water bathed several farmers. "You'd want to be first in line," Lester says now.
Across the street and around the corner, The Portrait Gallery of Matthews has walls full of the faces of the town today. But this building once held two people who'd become important faces in town history: Bud Potts and Manly Clyburn. From 1930 to 1955, Potts was the Matthews fishmonger. He used his pot-bellied stove to make fish sandwiches, and they became a town favorite. He gave space in his store to Clyburn, a friend, who set up shop as a barber. The fishmonger and the barber joined forces in this building to become what was probably the first successful African-American business in segregated Matthews.
***
Just as agriculture brought cotton farmers here a century ago, it now brings foodies here each Saturday. All food at the market must be local, sold by the person who grew it, raised it, or made it.
Although the market doesn't require organic certification, many growers pride themselves on sustainable and ethical growing, old methods fed by new trends.
"Twenty-three years ago, the words 'local' and 'organic' weren't yet buzz words," says Sammy Koenigsberg, a founding farmer of the market and the owner of New Town Farms, which supplies produce to several notable area restaurants, including Barrington's, Fork!, Rooster's, and Heritage. "We did a lot of educating," he says. Among the crowds shopping for dinner are chefs buying ingredients for some of Charlotte's priciest plates, making the market equal parts down-home and upscale.
The market is a product of this education. Cathy McCall of Hot Pepper Herb Farm stands in front of her stall that's overflowing with greens, all of which she picked during the past three days. Hudgins points to the fresh pork products from Grateful Growers Farm and says, "Everything there was walking last Sunday." The results of the market's eat-local education have gone beyond food and into community:
Customers know the names of the farmers, and they trade weekly picks for who has the best potatoes or the tastiest greens. For veggies this week? See Sammy. Pork? Natalie. Eggs? Carl's your man.
"I can come to the farmers, show them a picture of radicchio from my garden, and I can ask them, 'What's wrong with this?' And they'll tell me," resident Leanne Thurman says. "This is how it used to be in general stores, sitting around talking about what you'll do about the squirrels this year or whatever problems you're having with your garden."
***
The population of Matthews has more than doubled in the past 15 years. Mayor Taylor talks of the challenge of accommodating all the new people and their cars while maintaining a walkable and drivable downtown. It's a good problem for a mayor to have, but not an easy one to tackle.
"We are no longer a small town. We're a town of nearly 30,000 people," Taylor says. "People want to live here. People choose to live here."
When you ask many of the transplants why they chose Matthews, they mention some of the standard phrases: small-town feel, Southern charm. But not only is Matthews no longer a small town, it doesn't always feel like a Southern one, either. Many of these transplants aren't Carolinians looking for a new town; often, they're Northerners looking for a place that reminds them of home, but with warmer weather.
"I love Matthews. I'm from the Midwest, so I love the cute downtown areas," Thurman says. "When I drove to Matthews, I thought, 'This looks like home!' "
Even Lester—the president of the historical foundation and a woman who wrote a book on Matthews history—isn't from here. She moved here from Beaver, Pennsylvania, 20 years ago.
"This was the closest I could find [to Beaver]," she says.
"Every time I talk to a newcomer from the North—usually Ohio, New York, New Jersey—they talk about how history is an important part of those areas. And it's important to them. … It is Matthews' stock-in-trade. We work to keep that small-town, hometown feel."
Barbara Taylor is another transplant committed to collecting the town's stories. As director of the Matthews Heritage Museum, she sees a mix of visitors, ranging from newcomers to lifelong residents. "The museum is also for the local people. This is their history. Their museum.
People come in and laugh when they remember cashing a check at the bank's teller cage," she says, pointing toward the banking exhibit. Taylor has worked in bigger towns at larger museums, including the Smithsonian.
But it wasn't until she came to Matthews that she had people stop to tell her how much they appreciated it: "I've never heard so many people saying, 'Thank you for saving our history.'"
Jen Tota McGivney is a freelance writer in Charlotte. She can be reached at jennifer.mcgivney@gmail.com.