Around Towns: Saluda
A mountain town with a tune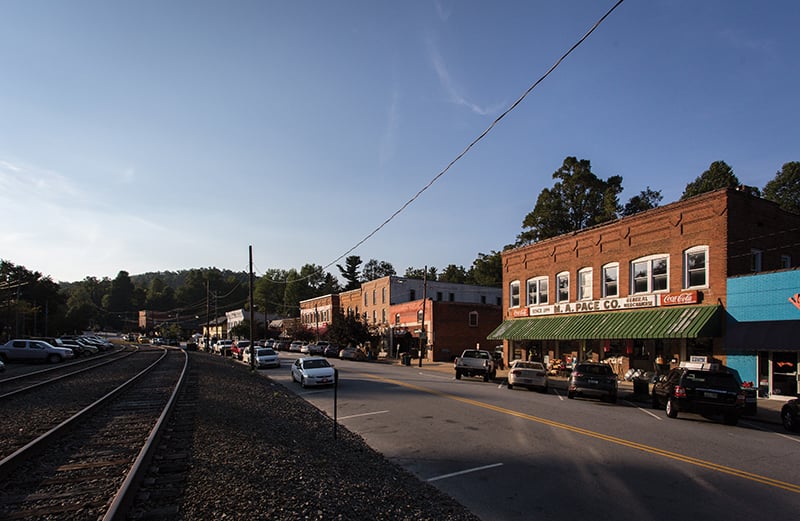 SALUDA IS NOT in the foothills of the Appalachians, and its locals are quick to correct me on that. If you're driving north from South Carolina, the town sits atop the first peak in the Blue Ridge range and is home to the steepest railroad grade in the country—or would be, if the trains were still running.
In 2001, freight trains stopped passing through Saluda. Now, the town leans on its musical traditions to build itself up as a hub for live music and local art. You might say Saluda traded in the sounds of whistling trains for strumming chords, and the people here want you to listen.
Debi Thomas remembers when Norfolk Southern suspended train activity through her town. "I was terrified of the impact," she says, hands covered in flour while she takes a quick break from baking. Thomas runs Wildflour Bakery on Main Street in downtown and has done so for 36 years. She could retire, but she's not ready.
I start my day with Thomas and a cup of coffee and a rosemary asiago bagel, made with flour Thomas ground. While I wait, I admire Wildflour's community bulletin board. There are some business cards—everything from piano lessons to plumbing—but mostly it's full of fliers advertising music festivals or art shows or local markets.
Fifteen years after Norfolk Southern cut the tracks that went through Saluda, the little town is still moving along. In 2013, the Green River Brew Depot opened with a long list of local craft beers and live performances. The Saluda Arts Festival celebrated its 13th year in May, and the Wildflour Bakery was set to host its seventh autumn arts market in early October. And I'm just getting started.
Next door to Wildflour is a place called Meanwhile, Back in Saluda. It's a wine shop and local goods market that opened three years ago. Mary Ann Asbill walks me through the store. She points to a collection of bar soap and tells me a 12-year-old in town made the bars, appropriately named Mother & Son Soap, by hand. There are rustic wooden signs made by an area college student and an expansive selection of wine and craft beer.
Asbill says she and the Wildflour Bakery often collaborate. If customers get thirsty during a meal here, they're encouraged to go next door and get a glass of wine or a can of beer. Thomas says the whole town operates that way. "If I ever run out of an ingredient, I know I can call the Purple Onion, for example, and they'll help me out," she says of the Main Street restaurant. Asbill makes a point to tell me that when I eat dinner in town tonight, I likely won't be eating alone.
For Saluda and the surrounding small mountain towns, including Tryon and Hendersonville, being a community is about more than proximity. When Duke Energy proposed what it called a Foothills Transmission Line to address the growing western Carolina population and energy demand last year, the town of Saluda was not thrilled—and no, not just because of the word "foothills."
The line would have cut right through the region, covering 45 miles from Campobello, South Carolina, to Asheville. Residents feared it would blemish their mountain views and flourishing tourism industry and pose environmental concerns.
Locals wanted an alternative. They recognized the need for more energy for growing Asheville, but did not want to sacrifice the area's beauty. Residents fought back. Cathy Jackson, a real estate agent in town and editor of Saluda Lifestyles, an online magazine and print newsletter, says, "Everyone in this town, from the farmers in overall jeans to the suit-and-tie types, wrote letters and fought."
They won. Duke scratched the transmission line and opted to build two combined-cycle power plants on the existing Asheville coal plant site instead.
***
THE STAGE IS NEVER EMPTY on a Thursday or Saturday evening at the Purple Onion. When drumsticks click together and a guitarist picks that first note, the dining room falls silent except for the sound of the restaurant's door swinging open with stragglers.
Sweet Claudette, a country-Motown quartet, is one of those bands. It's based in Asheville, but plays in Saluda at the Purple Onion every few months. While the group focuses primarily on its trademark four-part harmonies, the members regularly play an extensive collection of instruments, including the melodica, cello, banjo, and various types of hand percussion. The four bounce onstage as their pep flows through the mixed crowd of locals and tourists, old and young, all swaying and bouncing along.
I find myself in the Purple Onion on a quiet night. When Susan Casey and her sister opened the restaurant in 1998 with just six tables, they made music a priority. There's a stage in the corner of the dining room where bands such as Sweet Claudette perform. Andrew, my waiter, tells me he works the sound for some shows. Everyone plays a part in making the Purple Onion known not only as a hub of live music in the surrounding mountain towns, but also as a spot to get fresh, locally sourced dishes.
At the Purple Onion, all meats, fish, and produce are local. For lunch earlier in the day, I choose the Sunburst Mountain trout on a baguette and a pale ale from Pisgah Brewing Co. out of Black Mountain, about 45 miles north. The trout is flaky and fresh. It's topped with a kale and radish slaw, a tomato and caper dill remoulade. I squeeze a lemon slice, fold the crispy baguette over, and chow down.
That night, I end up sitting in the Purple Onion for at least two hours, watching as customers nod their head in satisfaction with each bite. The porch is full, buzzing with old friends catching up or people like me—tourists escaping the heat of the "low country" and loving every minute.
***
I'M FROM DELAWARE, so mountains are still new to me. At an elevation of about 2,100 feet, Saluda soars above my hometown by about 2,000 feet. To work off some of my lunch, I decide to go on a hike up to Pearson's Falls and explore. The hike starts about two-and-a-half miles from the center of town.
This trail is relatively easy, with a clearly marked path and benches along the way. Saluda, though, is no slouch when it comes to adventure. Through Green River Adventures and the Gorge Zip Line, visitors can rappel down a waterfall or raft down the river's rapids.
But for flip-flop-wearing me, the hike to Pearson's Falls is ideal, with a cleared path and well-defined steps. After a quarter mile, I reach the waterfall. It's bigger than I thought—at about 90 feet tall. I take a minute to sit on a nearby bench and enjoy the music of my surroundings. Water rushes down a steep decline, crashing into a shallow and rocky pool only to be whisked farther down a narrow stream, gurgling the whole way down. Crickets chirp and leaves crunch under my tapping feet.
"Music is the thread that runs through our community," Jackson told me earlier that day. From the people to the surroundings waterfalls, it's true.
Even with all this talk of music and Saluda's thriving arts scene, the town hasn't abandoned its railroad heritage.
A few community members helped form a nonprofit that bought the Saluda Historic Depot and Museum building this year and turned it into a train and heritage museum. The building now sits on Main Street, after being moved in 2015 from its original spot on U.S. Route 176.
Jackson is on the museum's board, and so is Judy Ward, who co-owns Thompson's Store. Even though Thomas reminds me that everything in town runs on a slower "Saluda time," these women are busy. Jackson, for instance, runs the online magazine, a realty company, serves as vice-chair of the Historic Depot, and still found time to fight the Duke Energy proposal last year.
After my own busy day in this packed small town, I decide to go back to Wildflour for its twice-weekly pizza night.
I find a table in the corner where I can collect my notes and get ready to head home. That doesn't last long. In the time it takes me to open my notebook, I'm quickly reminded of what Asbill told me earlier in the day. An older couple comes up and asks if I'd like to join them for dinner. I do, of course. We talk about how the town has changed and how it hasn't, but mostly we talk about desserts. Somehow by the end of dinner I walk away with three different types—a sticky bun, a "mystery" blond brownie, and a scone.
I take my leftover pizza and desserts to go and walk around the town one more time before my 90-minute drive home to Charlotte. As I walk across the train tracks, I look left and right. I know no trains are coming, no more whistle, no more hum of a train struggling up the steep Saluda grade, but I still check. It's mostly quiet, except for the sound of distant chatter on a backdrop of folk music—banjo and all.
Emma Way is a freelance journalist based in Charlotte and a recent graduate of Washington College.
---
EAT
The Purple Onion
With a focus on simple and healthy Mediterranean cuisine (not to mention decadent desserts), the Purple Onion has more than food. It's also home to live music every Thursday and Saturday, a sprawling patio, and mostly locally sourced ingredients. 16 Main St., 828-749-1179
Wildflour Bakery
All of Wildflour's treats are baked by Debi Thomas, who's been grinding flour by hand for 36 years. Enjoy pizza night every Wednesday and Friday from 5 to 8 p.m. 173 E. Main St., 828-749-3356
Green River BBQ
Green River focuses on Southern favorites for its crowd of locals, tourists, and dogs. 131 U.S. 176, 828-749-9892
Somewhere in Time
Have a scoop or two at Somewhere in Time's ice cream parlor and chat with the Morgan family, which owns it. They've been in Saluda forever, running the M.A. Pace General store, too, and no one ever wants to leave. "Why would we?" Leon Morgan jokes. 70 Main St., 828-749-1514
SHOP
Heartwood Gallery
For 32 years, Shelley DeKay has run the Heartwood Gallery, showing off art from locals and people across the continent. There's a wide variety of handmade art with a contemporary feel, all for sale. 21 Main St., 828-749-9365
Meanwhile, Back in Saluda
This place has an extensive selection of wine, craft beer, and handmade goods, and the owner, Mary Ann Asbill, is always good for conversation. Everything in the store is local and made by hand. Hospitality doesn't stop there, though. Asbill and her family also rent out cabins and host workshops for their guests. 171 E. Main St., 828-749-9463
DO
Coon Dog Day
A smorgasbord of fun includes a 5K run (or walk), parade, dog show, Southern-style cooking, and, of course, live music. Next July will mark the town's 54th year celebrating this special breed of dog. Crowds often swell to more than 10,000.
---
This article appears in the November 2016 issue of Charlotte Magazine
Did you like what you read here? Subscribe to Charlotte Magazine »
---