As Fate Would Have It: Realtor Finds Home in Plaza Midwood
Sometimes a house is meant to be one's home. Just ask Ellen Kelly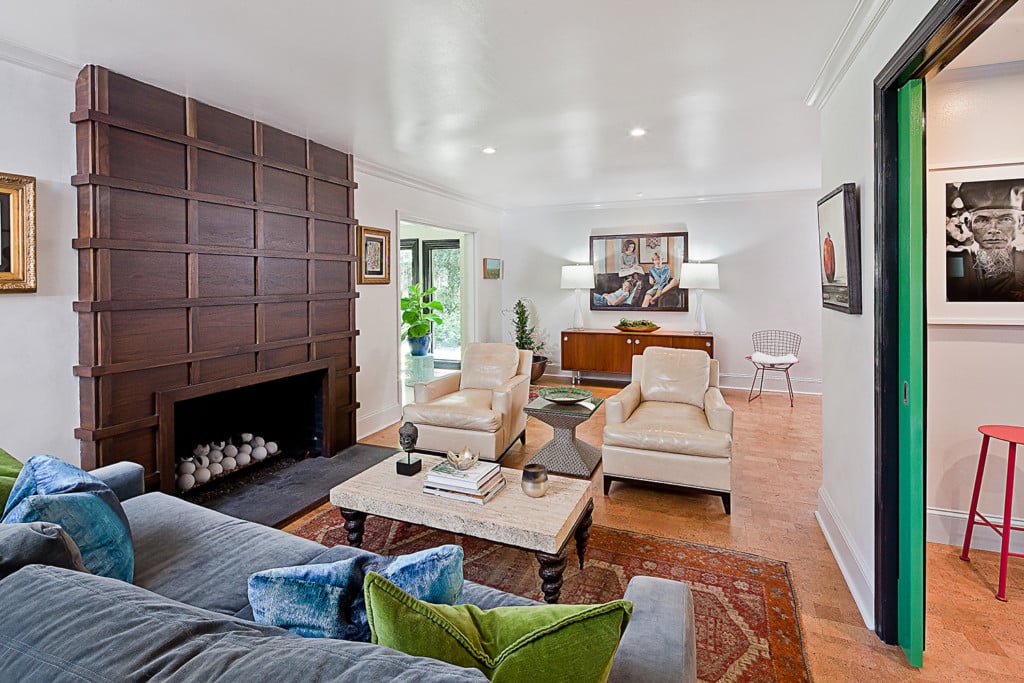 ELLEN KELLY hadn't been looking for a home. But she is a realtor, and homes constantly cross her path. When the ranch on a quiet street in Plaza Midwood, just around the corner from Charlotte Country Club, popped up on the market in 2013, she felt a nudge inside her. "I was so happy in my home in Dilworth," she says. "It was a fantastic home, fantastic neighborhood. But when I saw this home, my gut told me it had to be mine."
Kelly made an appointment to tour the house. Though it was built in the late 1970s, it boasted midcentury modern architectural details. "I took my parents with me to see the home, and every room we went in, it just kept getting better and better," she says. "There was something inside me saying that this home was meant for me." Within a day or so, Kelly made an offer with a contingency that she would need to sell her Dilworth home first. If only life were that simple. After months of waiting, she had to retract her offer and watch as another couple quickly purchased the Plaza Midwood home. "It was heartbreaking," she recalls, "to see it slip through my hands."
But Kelly couldn't erase the home from her mind. "I'd drive by all the time, imagining it was my home," she says. Finally, after three years, Kelly and her wife, Grace Morales, got the nerve to approach the new homeowners about potentially selling the house. As luck would have it, they were interested. After nearly nine months of negotiations, the keys to the ranch belonged to Kelly and Morales.
Though it had been updated here and there, Kelly wanted to add her own personality to the 3,300-square-foot home and play up its midcentury modern details through the use of color, artwork, and an eclectic mix of antiques and contemporary furnishings and accessories. "I'm not a designer, but I know what I love," she says of the decor. "It never occurred to me to hire an interior designer, not because I'm so great at decorating, but because my house is my creative outlet, and I want it to reflect my personality. I wish I was an artist and creative that way, but my house is an ongoing project of creativity, another reason I never buy a painting for a specific wall. I love switching it up and making my art or a room brand new."
The couple's appreciation for artwork was the true inspiration for nearly all of the interior design choices. To highlight the artwork and brighten the once-dark interiors, Kelly painted the walls throughout a neutral hue, resulting in the rooms appearing larger. "Artwork and paint are the biggest ways I decorate," she says. "It's just so fun to switch up the art and see how it changes the whole dynamic and feel of a room." One of Kelly's most beloved pieces is by the late artist Rob Beckett, who painted a portrait for Kelly of her three children. Other artwork was purchased locally from galleries such as Hidell Brooks.
To complement her impressive art collection, Kelly mixed heirloom antiques and furniture with more modern lines. "Our main goal is to decorate around the midcentury style of the house without going too kitschy," she explains. "We're trying to maintain our taste, while keeping with the integrity and feel of the house." A recent overhaul of the façade, for example, included painting the home a neutral white, but adding a pop of kelly green, inspired by a Kelley Wearstler project in Los Angeles, to the front door. Just inside, the foyer is painted in a dramatic, high-gloss, navy blue, an ideal accent to the artwork by David Wilson from the McColl Center for Art + Innovation, and a flush-mount light fixture from J. Landon in South End.
Just off the foyer, the den includes the home's original wood fireplace surround, which Kelly opted not to touch. "It's one of those architectural details that gives this home personality," she says. Cork flooring throughout the kitchen, dining room, den, and lower level family/sunroom feels vintage yet modern, while the stone flooring in the foyer adds another midcentury modern touch. In the family/sunroom, Kelly added a linen sectional from Restoration Hardware, with an adjacent pair of chairs from Slate Interiors, while a rug from Invaluable.com complements the high-pitched ceilings and wood detailing.
The backyard is an extension of the interior, a beautifully manicured oasis on nearly half an acre, which the couple constantly tweaks. "It's one of the most serene and peaceful places," Kelly says of the private backyard. "You'd never know you were in the heart of Plaza Midwood—or the city, for that matter."
Though Kelly says they're still not finished with the interiors—renovating their master bathroom is high on the couple's priority list—they love that they can constantly change the look of the home with a quick switch of artwork and a bucket of paint. "It's ever evolving," she says. "It was just meant to be."