As Optimist Park's Massive Food Hall Opens, Residents Brace for More Change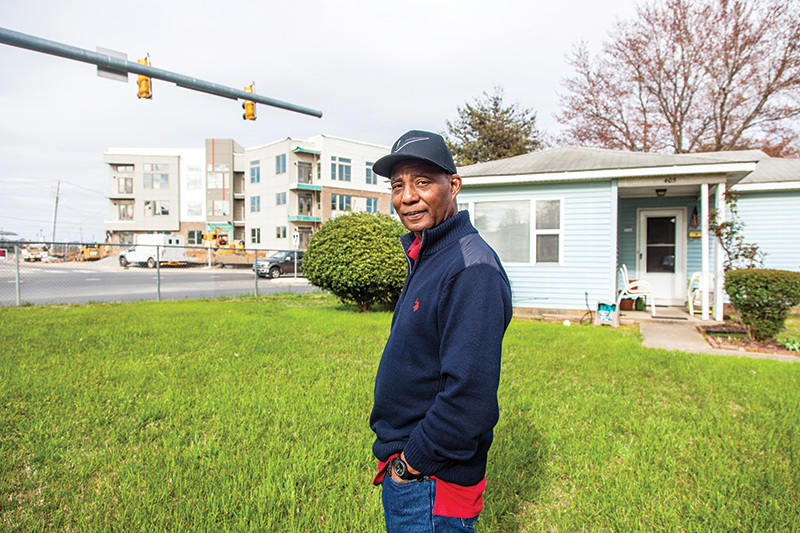 ON NORTH DAVIDSON STREET, Birdsong Brewing pours pints of IPAs for four dollars. A half-mile north, millennials sip on housemade sodas at Abari, a hip bar arcade. In between, an eviction notice hangs on the door of a one-story, pale yellow home with boarded windows.
"You can look on one side and see the prosperity of it all, and then look on the other side and see who is forgotten and left out," says Bishop Wade Ferguson of 15th Street Church of God. Since he became pastor in 2003, Ferguson has witnessed the change in the Optimist Park neighborhood. He's even taken part. The church bought the building of a former convenience store next to the church's parking lot and now rents it to a Pelican's Snoballs and Burney's bakery. Ferguson says the shops fit in better with the "new area."
Although he and many of his church's 125 members have welcomed those businesses, any change brings concerns: rising property values, racial tension, and code enforcement for nuisances, like overgrown grass, that might have been ignored when land was less valuable.
"Why do we see all this attention given to this area now," Ferguson asks, "when for years it was overlooked?"
Despite the substantial growth that surrounds the neighborhood, developers until recently bypassed Optimist Park, a strip of land that hugs North Davidson between uptown and NoDa. That was until the Parkwood station opened last year on the city's Blue Line light rail extension, in the center of the neighborhood.
The proximity to the light rail line drew more development, like Optimist Hall, a $60 million renovation of a former textile mill on East 16th Street that holds Duke Energy offices, a massive food hall and, unsurprisingly, another brewery. The project opens on August 1, and the announcement alone brought in more developers to build luxury apartments than the light rail had. Now, townhomes sell for as high as $500,000 when, just four years ago, the average Optimist Park home sold at $180,556—and this is all happening within blocks of Habitat for Humanity homes built for low-income residents.
Fourteen homes on East 19th Street and Julia Mauldin Place and one on Parkwood Avenue date back to 1987, when Jimmy Carter chose Charlotte as the fourth site of a week-long Habitat work project that coincided with the founding of Habitat's Charlotte chapter. The Washington Post reported that the former president traveled "to a hot and sticky inner-city slum."
In 2000, the historically African-American neighborhood was only 3.9 percent white, but the most recent data from 2016 show that number is nearing 50 percent. James Atkinson, the Optimist Park Community Association president, fully realized gentrification was coming when, about five years ago, he saw a group of African-American men make way for a white woman as she jogged down the street. "That was just like, 'Whoa,'" he says.
Atkinson, 64, helped build his mother's Habitat home in the 1980s. Today, he lives in that one-story, light-blue house and watches from his back yard as the light rail trains go by every seven minutes during rush hour. He says his neighbors, having seen the gentrification for years in nearby Belmont and Villa Heights, are prepared for change but fear Optimist Park will lose its history and identity.
"They are the 'new' Villa Heights and the 'new' Belmont," Atkinson says. "As far as the historical value and the significance that has been given to help it build, it's gone. The only way you're going to be able to know about it is if you go to the museum."
By attending city programs, Atkinson thinks he knows what happened. North Charlotte communities, and areas like South End and Wilmore, have traditionally lacked strong African-American representation on neighborhood boards. He wants more longtime residents to join the Community Association board so newcomers won't dominate it—although, he adds, new residents are still welcome.
The association asks developers to attend meetings to explain how their projects might integrate with the neighborhood. The growth hasn't been all bad, Atkinson says: Optimist Hall has helped establish the boundaries of the neighborhood, which in the past has been confused with Belmont.
However, Atkinson and Ferguson say some neighbors feel a sense of hopelessness because they have no control over what's happening; Atkinson tells me most residents won't talk to me because they're worried developers would read this story and target them and their homes. The Community Association has a real estate agent residents can consult if they want to sell, but he hopes they have at least a few years to make choices they're comfortable with.
Still, he advises them to be aware. "If you have 10 years, don't think that 10 years is a long time," he says, "not with all this happening."