Ashley Boyd to Begin Overseeing Heritage Dessert Menu
300 East pastry chef Ashley Boyd will split time, talent between Charlotte, Waxhaw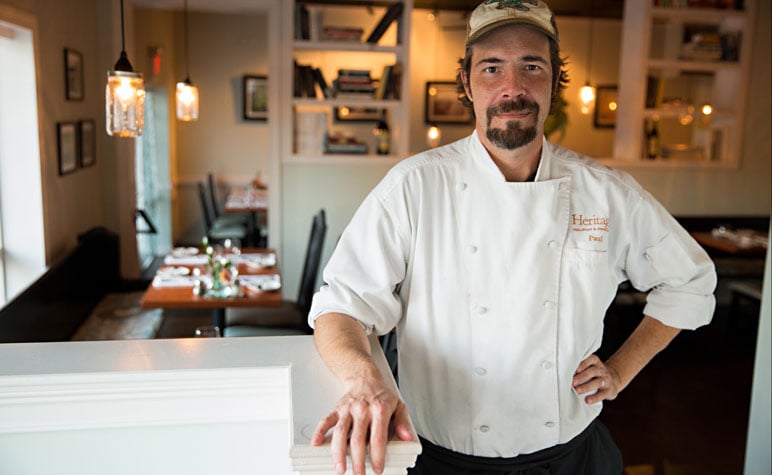 Expect the desserts at Heritage in Waxhaw to start getting a little more buzz. Chef/owner Paul Verica's entrees have always stood out as creative, clean, and flavorful. Starting today (Friday), though, pastry chef Ashley Boyd will be in charge of the restaurant's dessert menu, and her dishes always demand attention.
If you love 300 East, don't worry—she'll still be working as pastry chef there, too. She'll just be working double, spending time in Waxhaw a few days a week, prepping her dessert creations in the kitchen at Heritage. During service, they'll be executed and plated by the younger Chef Verica, Paul's son Alex. Boyd will talk through some of the dishes with Verica, but for the most part, will have the freedom to dream up (and bake) what she wants.
"She's so freaking talented that I'm just like, 'Hey, great, cool. Just go with it," Verica says.
The pairing is beneficial to both sides: Verica will have one of the city's best pastry chefs creating his restaurant's desserts, and Boyd will have a mentor teaching her the nuances of the modern food techniques (Verica dislikes the term gastronomy) that make Heritage's dishes stand out.
"I feel like our desserts are good, but I don't feel like they match the rest of what we do," Verica says. "And I can only take it to a certain point. I'm not a pastry chef, I'm just a cook."
That's certainly an understatement. Here's what's on the menu for Boyd's debut:
Honey, dark chocolate, peanut, marshmallow, peanut butter anglaise
Acorn squash, sorghum, ginger, caramelized chocolate, brittle
Apples, brown butter, sea salt, sage, cider
Fromage blanc, honey graham crackers, muscadines X 3
Butterscotch pudding, bourbon, whipped cream
We'll take one of each.