'Asian Cajun' Defined and 9 Other Questions for Wu's Owner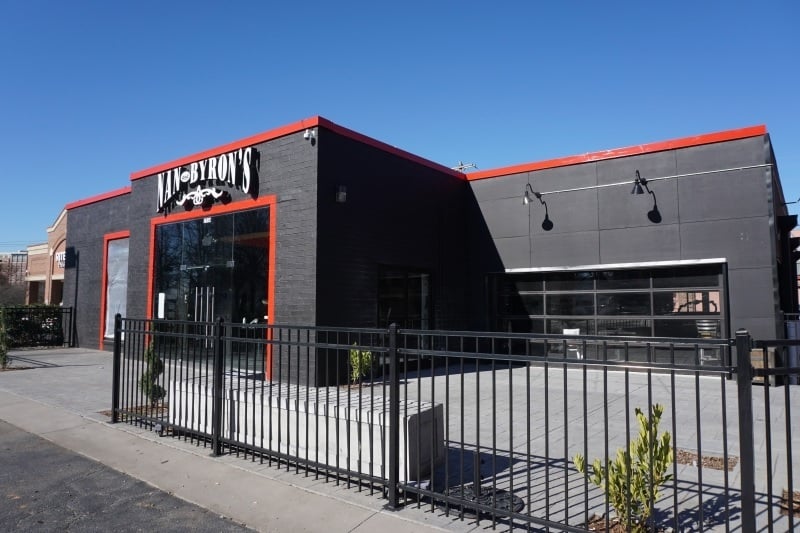 THINGS HAVE BEEN CHANGING rapidly for Bottle Cap Group, which currently has 14 restaurants, including Brazwell's, Whiskey Warehouse, Hot Taco, and All-American Pub. That will grow to 17 by the end of this year. One of the newest concepts for the group is a Cajun and Asian fusion seafood restaurant on South Boulevard called Wu's Cajun Seafood. The owners aren't sure on a specific opening date, but won't begin service until the Charleston location of Ink 'n Ivy and a 24-hour diner in Greenville are both open in the coming weeks. The menu will center around a Cajun boil, in which guests can select their seafood from options such as crab, shrimp, or oysters, and eat them on a paper-lined table with their hands. "You put your bib on, go to town, expect a mess," Bottle Cap Group owner Britton McCorkle says. The boils will come seasoned to order with your desired spice level using Asian-inspired flavors, though there will also be some Lowcountry classics on the menu. The drink list will have beer, sake bombs, and hurricanes. We sat down with McCorkle and designer Scott Carpenter to learn about the new restaurant and how it came about. Edited for clarity.
Charlotte magazine: How did you decide to open here?
Britton McCorkle: I knew the previous owners (of Nan and Byron's). They were doing other stuff, and we're all in that same business, you get to know each other. We started talking about it between them, and they figured "Hey, why not?" I had history here, so it just made sense.
CM: What is that history?
BM: I used to run the restaurant that was here years ago. It was Vinnie's Sardine—that's like, 1993, I think. I ran it for a while and then I left, and my partners had it towards the end. I was here for a long time. That's why we got to wanting to be here. We had a lot going on, a lot of other places. This was not in the plans, but it worked out.
CM: The concept is Wu's Cajun Seafood. Can you explain that?
BM: It's kind of a twist on when I was here before; we did a lot of seafood. (Vinnie's) was more beachy-themed; a lot of Lowcountry-style seafood, simple menu, inexpensive beer—cheap beer is the way they referred to it—and it was fun. … We felt like when we got back here, seafood was still something that can be done in the area, still needs to be done, but with a different twist, something different and more fun.
CM: How did you come up with the name Wu's?
BM: It started with more or less with the seafood, the concept itself, working with (the not-yet-announced) chef, ideas, and trying to marry the overall understanding of how to do the preparation of the food. (Wu's) came up and it was a name that stuck. … It works, it was fun, it was short. Asian Cajun. It'd be easy to remember and it fit right in.
CM: What's the thought behind the design?
Scott Carpenter: Sticking with the reds, golds, and blacks, which work for New Orleans and it certainly works for the Asian flair. All of our seating will be red; tables will be black. We're going to have some murals on the outside. … We're going to have some voodoo feel here and there, some neon—it's going to be one of the stops that it will catch you from outside.
CM: Any structural changes?
BM: No structural changes. The building has been the same forever. The inside changed a little bit. We want to use the patio more than they did here before. It needs to be fun.
CM: Will you be open for lunch and dinner?
BM: Lunch and dinner, yes. We'll be doing brunches. Then again, too, we like to do what we do and we like to stick to that. So there will be brunch menus but it will be targeted around what we do. We're definitely going to be here when they're here. That's our Bottle Cap philosophy. We're here. If it's nice, we're outside. Rooftops are open if the weather is above 55. We try to keep that same thing flowing no matter where we are.
CM: Will there be any throwbacks to Vinne's Sardine on the menu?
BM: There were certain things we did then that I think will just fit. Some things have never changed. We had specials and we did all-you-can-eat crab legs one night. … Some of the items will be the things you saw on the other menu, just in a different setting. It hasn't changed much at all. We'd do oyster roasts and things like that, so I think the events will fall right into play.
CM: What was the first concept you opened?
BM: Brazwell's on Montford was first with Bottle Cap, and that was in 2009. I just wanted one. … Then Whiskey Warehouse came along. My uncle owned the restaurant there before and they wanted out. Plaza Midwood was a great area. My friend owned Thomas Street behind there. I was like, aw, it'll be fun—we'll just do one more. I don't even know what happened after that.
CM: Is it getting harder now to open concepts with the market being more saturated than it used to be?
BM: I think right now the market isn't terrible. The customers are there, so it makes it easier to open. Locations are popping up everywhere, it definitely becomes picking the right ones. Maybe me being here for a long time lets me pick them a little more at ease and not try to go out too far, be a little more realistic. Not always though; we make mistakes just like everybody else.