Ask the Experts: Cluck Design Collaborative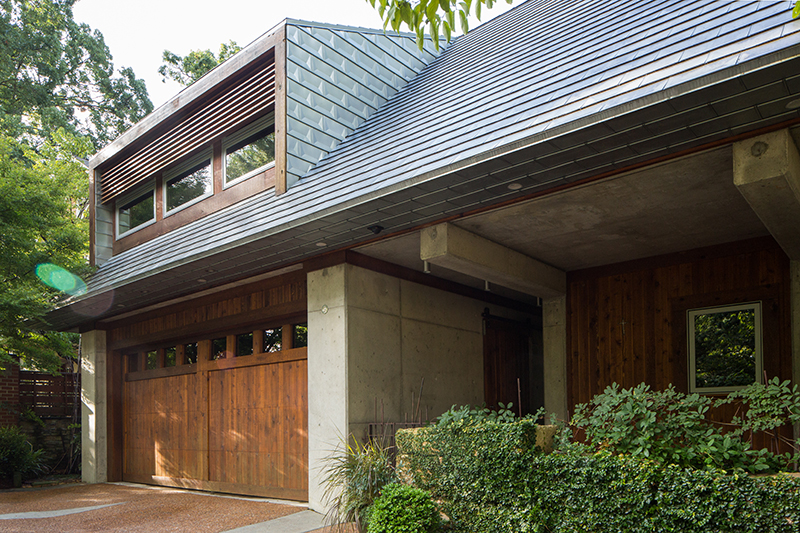 MODERN DESIGN is a term many people use to describe a certain interior aesthetic, one that incorporates metals, natural wood, and glass to create a clean, uncluttered interior. But its roots are in the early 20th century—and it's more than just a "style," says Kevin Kennedy, AIA, principal of architecture and design firm Cluck Design Collaborative (along with Chris Scorsone).
Charlotte Home + Garden: Can you better define modern design and architecture?
Kevin Kennedy: Historically speaking, modern architecture began in the early part of the 20th century, with the pioneers Mies van de Rohe and Le Corbusier, who used expansive windows, natural light and views of the outdoors as a radical opposition to popular decorative movements of the early 19th century. Maybe modern design can best be described as forwardlooking. It's not just a style; it may be asking what tools do we have at this moment to create custom spaces that are affordable to everyone?
CH+G: What are the tools that are now available to create modern furnishings and interiors?
KK: For us, the greatest new tool for mass customization is digital fabrication [computer numerical controlled (CNC) machine tools can convert a digital design into an object, making the production process completely automated]. For example, we're working on a skateboard for a client, to be used as an interior design piece that is custom-made using digital fabrication to create a unique, laser-cut design on the skateboard. It used to be that custom-designed pieces were too costly for many people, but digital fabrication is changing that.
CH+G: How can business owners and homeowners incorporate modern design elements in their spaces?
KK: We encourage clients to go to design websites like Houzz and Pinterest to search for examples of rooms with modern designs they like. This starts a 'visual conversation.' We then discuss the different elements that make up the room, and use those preferences as a springboard to develop the design. We also like pieces from Ikea and Crate and Barrel (but not the particle board pieces that you'll have to replace). We've taken furniture from those stores, flipped the pieces over, and created new, modern ways to use them.
CH+G: Any other advice for people who want to create a more modern interior?
KK: Don't let a certain style define you. Style can box you in and keep you from being open to many different elements in design. For example, if you have 100 really cool, old-school chairs that you want incorporated in your new bar or restaurant, then don't let the idea of a 'modern' interior keep you from repurposing things that are meaningful to you just because they aren't new.
CH+G: By starting The Spoke Easy, a bike shop/bar/new concept yoga studio in the same space as your firm, you're representing a modern concept of work combined with leisure.
KK: Both Chris and I are avid riders, and we wanted our business to combine our love of architecture and biking, while also being a place people could gather for a beer after a ride and a yoga class (donations accepted) once a week with all benefits going to the medical clinic in Haiti that Cluck is designing. We want to create a community here. Bike mechanics also have a lot of the same skills that architects do, so it was natural fit for us.