Ask the Experts: The Comfortable Couch Company
The owner of COCOCO Home on how he came to sell couches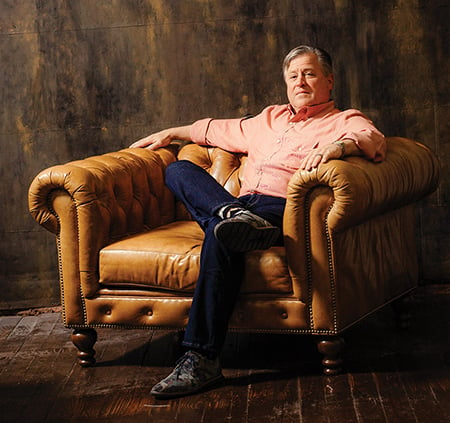 STEVE AND Danielle Sechrest never intended to make a living by selling couches. In fact, Steve refers to The Comfortable Couch Company (often called COCOCO Home) as "sort of an accidental furniture company." Alongside their business partner, Gary Mangione, and daughter, Lilli—who oversees the Atlanta showroom—the Sechrests churn out handcrafted sofas, sectionals, chairs, and more from a factory just outside of Hickory. What started as a strictly e-commerce venture just a few years ago quickly flourished into a successful operation with brick-and-mortar stores in Cornelius, Atlanta, and Brooklyn. The gorgeously tufted couches can now be found in homes across the country, as well as in commercial spaces, such as The Wit Hotel in Chicago and Paramour Bar in San Antonio. Steve Sechrest explains the foundation of COCOCO Home as giving people a comfortable place to sit, all while keeping a close eye on design.
How did you get into making furniture?
I used to be in finance and we went through some hard times and were kind of wiped out and lost everything. In reinventing myself, I actually started a company making replacement slipcovers for furniture sold by Pottery Barn and Restoration Hardware and companies like that. As part of that, I met people in Hickory who made furniture and, just trying to survive, I asked them, 'Hey, would you mind if I tried to sell your furniture online?' I started selling the furniture online and had some success with it and came up with a good name, The Comfortable Couch Company, and it just sort of grew organically. People would call us and say 'Hey, can you make this?' and I think that's part of our success. We're very customer-driven. Every piece and every style of furniture we make, we make because some customer somewhere asked if we could make it. I think that gives us a huge advantage over companies that try to come up with a style and hope people like it.
Every COCOCO Home piece is made in America. What's your reasoning for making furniture here?
It's the only thing we know. It's who we are. We live in North Carolina—which is sort of the ancestral home of furniture making in America—and so it would never occur to us, frankly, to buy furniture made somewhere else. That's one of our big selling points, because a lot of the bigger box stores, like Restoration Hardware, make their furniture in China. They just don't offer the quality we do and they can't offer the options we do.
What makes you different from the conventional furniture retailer?
Everything we do can be done in fabric or leather. We don't offer any, for a lack of better words, crappy leathers. Everything we do is done in high-quality leather. We have several great suppliers who we buy leather from. At our showroom in Cornelius, we literally have over a thousand different leathers a customer could choose from. It's the ability to offer an extraordinary selection that sets us apart. We don't have to say, 'This season we're running these five colors,' because that's just not the way we work. So, we can offer a really broad spectrum of both color and style of leathers or fabrics. On the fabric side, we really focus on ultra-high-performance fabrics by Bella Dura and Sunbrella, which are effectively stain-proof. And you know, for a family, that's become a game-changer, because you can buy a fabric couch and always get it clean.
What inspires your collections?
We try to keep our finger on the pulse as much as possible, but we don't go to High Point and go around looking at furniture. We have lots and lots of great customers who are looking at trends for us, because they're the ones that call and say, 'Here's what I like.' And, there's a lot of personalization in our furniture. There's a lot of ability for a customer to call us and say, 'I like that style, but can you make it with a tight back instead of pillows?' Or, 'Can you add nails in to it?' Or, 'Can I do it in four different colors of leather?' Whatever it is, we have the ability to do it (if it makes sense).
How often do you create new collections?
Again, that's one thing that separates us. We can be light on our feet. We can create a new style when a customer comes to us and brings us something that they're interested in having us make. If we like it and if we think other people will like it, then we add it. We're limited because we're small. We're not going to add five new styles every year, but every few months, we'll look at something new and say, 'Hey, let's make this.'
What's the secret to crafting a comfortable couch?
The fundamental thing is we're willing to make some small sacrifices on appearance to make sure that it's comfortable. I think the comfort comes first. And, that's really a function of material. It's using high-quality springs, well-designed frames, and highquality foams. Foam is expensive, and that's one of the first places where companies cut corners. Well, you get what you pay for, and because we're making hundreds of couches and not thousands of couches, we just don't have the incentive to say, 'Wow, we can save five dollars by using a cheaper cushion.' We use the right stuff.