Atlanta Chef Ford Fry on Bringing Tex-Mex to Charlotte
Superica will open in South End in late May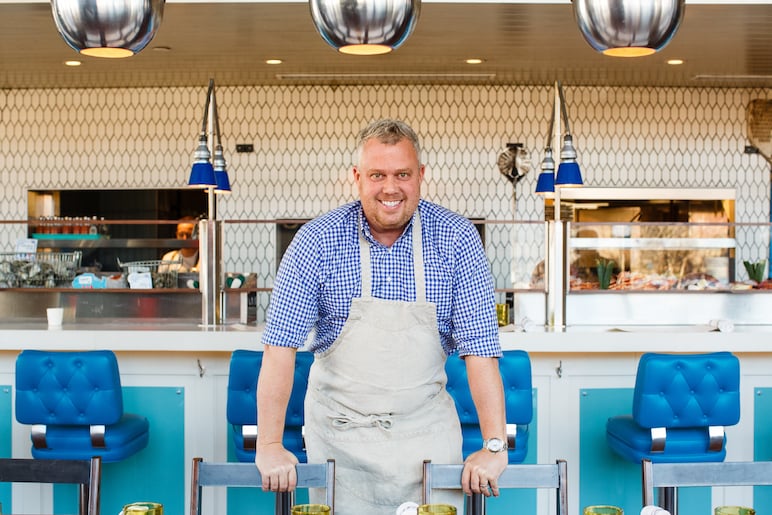 This story has been updated with the latest information on the restaurant.
Atlanta-based chef Ford Fry is bringing his Tex-Mex concept, Superica, to Charlotte, but he's no stranger to the city. It will be part of the revamped Design Center in South End, and is will open on Monday, May 21. The 7,000-square-foot space will have a large dining room, seating about 160 to 180 people, and a patio with a lounge and communal tables, as well as regular dining tables.
"I think it will be a really good complement to all the cool restaurants that are already in Charlotte," Fry says.
There are two Superica locations already in Atlanta, a combination of the Spanish words "very" and "good" or "rich." The restaurants are known for serving several varieties of queso—including one that's made with chorizo—and classic Tex-Mex dishes Fry ate as a kid. One fan favorite is a carnitas taco with a guava glaze.
"Growing up in Texas, Tex-Mex, the way I know it and see it, I didn't really see that much in the Southeast."
So he decided to see what other cities could use a solid Tex-Mex restaurant, and began looking to expand. Charlotte was one of those cities, and he's also planning a location in Nashville, Tennessee.
"It's a food that I'm passionate about, too, so it's not like I'm sitting here doing this for the money," he says, though the money certainly will be good in Charlotte with such little Tex-Mex. "It's not about that at all, I just love it. I can eat it numerous times a week."
Fry says he's always excited by the idea of having restaurants in older, repurposed buildings. He saw the Design Center space and was hooked. He's also a fan of Price's Chicken Coop down the street—specifically the landmark's fried fish sandwich, which means he's tried more of the menu than this food editor at Charlotte magazine, who already gets the quarter-dark.
The restaurant will be casual, drawing inspiration from Austin, Texas restaurants. Tortillas and margaritas will be made in house, and the Atlanta locations are known for a high-energy environment and live music. Don't expect TVs, however.
The restaurant's head chef will likely be hired locally, with corporate chef Kevin Maxey spending time here to help Superica open.
Fry is quite familiar with Charlotte; he's visited the city many times to see a friend who moved here from Atlanta, and has spent days wakeboarding at Badin Lake.
"We use him for his boat and house," Fry jokes. "It's such an awesome area of the South."