Bar Cart Basics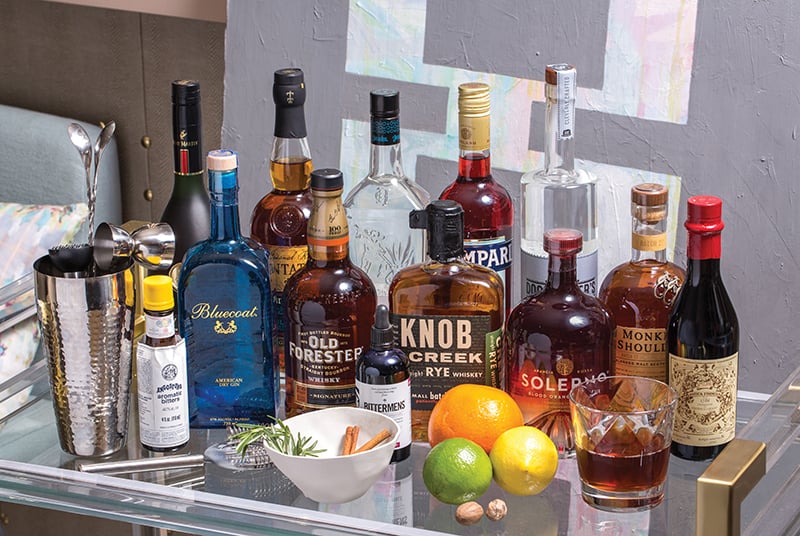 BAR CARTS TURN your liquor collection into a decorative piece for any room, but with so many bottles at the liquor store, how do you choose what goes on it? Ron Oleksa, the man behind the bar at The Cellar at Duckworth's in uptown, put together this list of bartender basics and a few upgrades to get you started. Oleksa recommends checking out cocktailkingdom.com for the best supplies; visit Assorted Table Wine Shop in 7th Street Public Market for your bitters and vermouth. Be sure to keep a basic recipe book on hand, too.
THE BASICS:
Bluecoat Gin
Old Forester 100 Proof
El Jimador Blanco Tequila
Doc Porter's Vodka
Plantation Rum
Carpano Antica Vermouth
Remy Martin VSOP Cognac
BOTTLE UPGRADES:
Knob Creek Rye
Amaro Montenegro
Campari
Solerno Blood Orange Liqueur
Monkey Shoulder Scotch
COCKTAIL EXTRAS:
Bitters: Peychaud's, Angostura, Bittermens' Xocolatl Mole, grapefruit, and Boston
Fruit: Lemons, limes, and, oranges
Herbs & spices: Mint, rosemary, nutmeg, fine sea salt, and demerara sugar
---
RON SAYS:
Old Forester: "It's a great mixing bourbon. It's a higher proof and it carries well with almost anything else you put in it."
El JimAdor Blanco: "A blanco tequila gives you more of that true agave flavor without mellowing it out with any of the oak."
Plantation Rum: "You can go the three- or five-year, but the five-year-old Plantation Rum from Barbados is excellent and it's less than $30 a bottle."
Carpano Antica: "It's the best sweet vermouth around; you can get it at any wine shop."
Amaro Montenegro: "This can also sub in for Benedictine if you're doing a classic cocktail like a vieux carré."
---
MAKE YOUR OWN SIMPLE SYRUPS
Cardamom simple syrup
Try it in an old fashioned
1. Combine one-and-a-half parts sugar to one part water.
2. Add two parts smashed cardamom pods to one part allspice and one part smashed cinnamon sticks.
3. Simmer two hours and refrigerate overnight, then strain out spices.
Jalapeño simple syrup
Try it in a margarita
1. Combine one-and-a-half parts sugar to one part water.
2. Cut jalapeño into rings with seeds.
3. Simmer with sugar and water until jalapeño is translucent, then strain.
---
Drinks you can make:
Margarita, Vieux Carré, Negroni , Boulevardier, Manhattan, Old Fashioned, Gimlet, Gibson, Mojito, and Daiquiri
Tools:
Yarai cut mixing glass
Boston shakers
Hawthorne strainer
Julep strainer
Fine mesh strainer
Bar spoon
Jiggers (preferably Japanese style)
Y Peeler
Matches
Large ice molds