Beat the Heat: Keeping guests cool at your outdoor wedding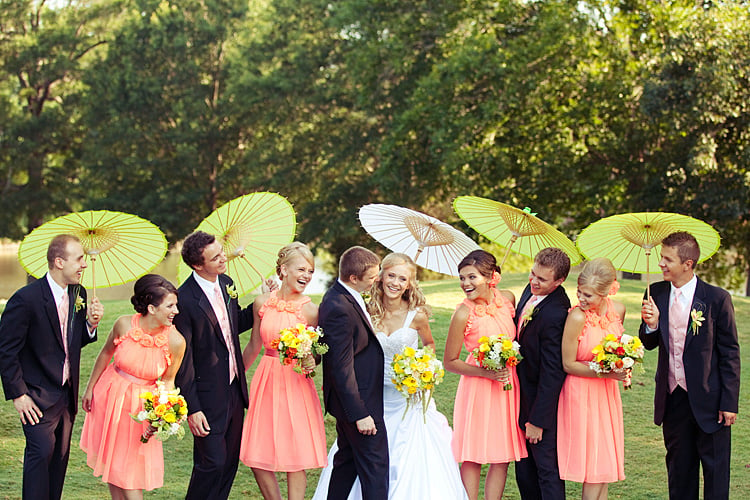 I attended my first wedding when I was 6-years-old. It was an outdoor, afternoon affair in the middle of July and though the Black-Eyed Susans and Queen Anne's Lace made for a beautiful backdrop, the record-high 100 degree temperatures made sweat and sunburns the unwelcome party favors.
There's no question that summer weddings hold a certain allure but if you're gearing up for an outdoor soiree in the next few months, make sure you prepare for North Carolina's temperamental weather. There are plenty of fun and creative ways to keep guests cool apart from the traditional wedding program fan. We've gathered up a few of our favorite ideas to beat the heat so guests are sure to stay until the very last song.
Cool cocktail hour
After the ceremony, give guests a chance to cool off by serving freeze-pops or snow cones. These icy treats will have much more of an appeal than hors devour trays overflowing with crab cakes and sliders. Don't forget to pass around mojitos and hibiscus iced tea.


Aaron Watson Photo
Towel off
As guests enter your reception, have attendants ready to offer chilled Oshibori towels. These cool, luxury hand towels often come pre-scented with lavender or lemon peel and are a great way to have guests cool off, freshen up and rejuvenate before a big meal and night of dancing.
Party favor fix
Wedding favors are a great place to incorporate ways to beat the heat. Don't wait until the party is over to start offering out plastic wayfarer sunglasses, mini bottles of sunscreen and portable fans. Guests will appreciate your attentiveness and you can add your own flair by personalizing the labels.
Dinner is served
Love the idea of serving BBQ at your reception? Can't get enough of homemade mac-n-cheese? This might be an area where you need to rethink your dinner choices. When it's a blistering 90 degrees out, no one wants to sit down to a hot, hearty meal. Instead, opt for lighter options like grilled tilapia with a baby greens and watermelon salad or cilantro-lime chicken with tomato and goat cheese salad.
Cooling stations
Set up an area in the corner of your reception facility where guests can go to cool off. Have canisters of cucumber water and lemonade readily available along with paper fans (don't forget to monogram these and add your wedding date), mini spray bottles and chilled towels. Go the extra mile to keep guests cool by setting up a mist cooling system.