Beauty spotlight: Wedding-ready skin
We've gathered insider tips from the Spa at Ballantyne and Toccare Spa to make sure your skin is looking its best for your big day.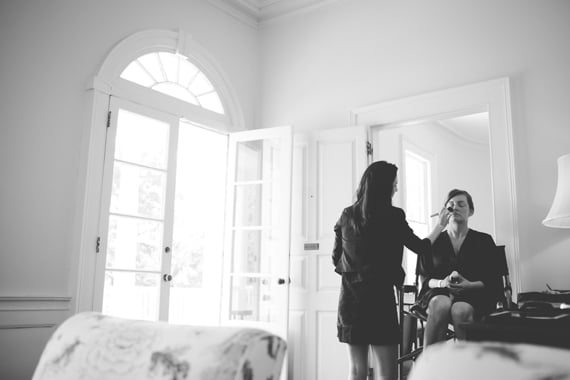 The best way to get your skin wedding-ready is to start early. Preparation and planning is key if you want your skin to be glowing, soft and blemish free for your wedding day.
One of the perks of living in a thriving, Southern metropolis like Charlotte is the unlimited access to some of the country's best day spas and estheticians. We've taken advantage of these skin-loving superstars and gathered a few trade secrets to make sure your skin is in optimal condition when you say, "I Do."
Rosie Bastida, lead esthetician at The Spa at Ballantyne on short-term skin preperation:
Exfoliate the body with sugar scrub the day before the wedding to remove all dead skin cells.
Use a hydrating mask on the face the night before that doesn't contain chemicals. Avoid alpha-hydroxys, glycolic and lactic acid, salicylic acid.
Use chilled cucumbers over the eyelids the morning of your wedding to reduce puffiness.
When it comes to visiting a spa for treatments, Rosie recommended brides and their bridal parties schedule any appointments at least 10 days out from the wedding to avoid any unwanted skin reactions or redness.
The Spa at Ballantyne
10000 Ballantyne Commons Pkwy
Charlotte, NC 28277
866-248-4824
Caci Thompson Dirusso, lead esthetician at Toccare Spa on long-term skin preparation:
Get started with a facial routine early. Try and work in at least three facials six months out from your wedding. This will help your esthetician figure out exactly what your skin needs.
Find a skincare product that works with your skin type. Someone with dry skin will exfoliate a few times a week and incorporate a hydrating mask whereas someone with sensitive skin will limit products. See a professional to determine exactly what your skin needs.
When it comes to facial waxing, don't wax the day before or day of. If you're a regular waxer, have your eyebrows and lip done the Wednesday or Thursday before your wedding. If you're new to waxing, get in a routine as soon as possible so your skin will have time to adjust.
"The best advice I can give is hydration," Dirusso said. "Start drinking lots of water as soon as you're engaged. I always tell my brides, 'From here on, drink as much water as possible.' It will help your skin get a natural glow."
Toccare Spa
715 Providence Rd
Charlotte, NC 28207
704-562-1912