Before + After: A Home Overlooking Carmel Country Club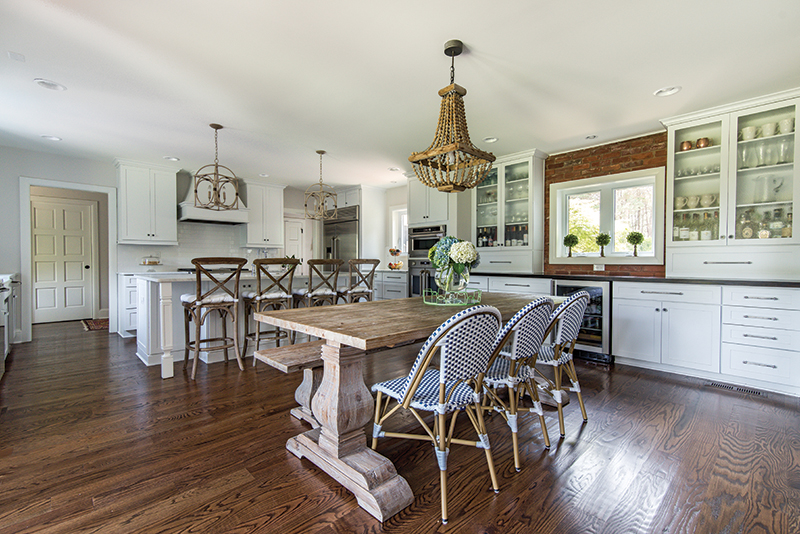 ASHLEY MANNING WAS PREGNANT when she and her husband decided to purchase and renovate a home in south Charlotte. The home overlooks Carmel Country Club, but with a design stuck in the 1970s, it needed some serious updating to become the place the Mannings wanted to raise their children. Shea Custom helped to reconfigure the space, and one result was an award-winning kitchen: The project was honored by the National Association of the Remodeling Industry in 2016. Its biggest fans, however, remain the homeowners.
FLOORPLAN
Before the renovation, the kitchen felt disjointed, opening into a dining space with starkly different design details. The renovation led to a more open floorplan. Glass-front cabinets that mimic the ones in the rest of the kitchen hold the couple's wine, liquor, and glassware, and help unify the spaces.
BLACK TO WHITE
The black countertops on white cabinets in the original design made the room feel small. The new kitchen island is topped with white marble with streaks of gray, giving a brightness to the kitchen that it lacked before.
TEXTURE
The original dining area had wooden cabinets and exposed brick, in contrast to the black-and-white kitchen. Exposed brick still surrounds one window as a throwback to the original space, while natural textures on the chairs and light fixtures give the room a comforting vibe.