Before + After: A Kitchen Catch-Up
Melanie Crabtree saves a kitchen from the '90s.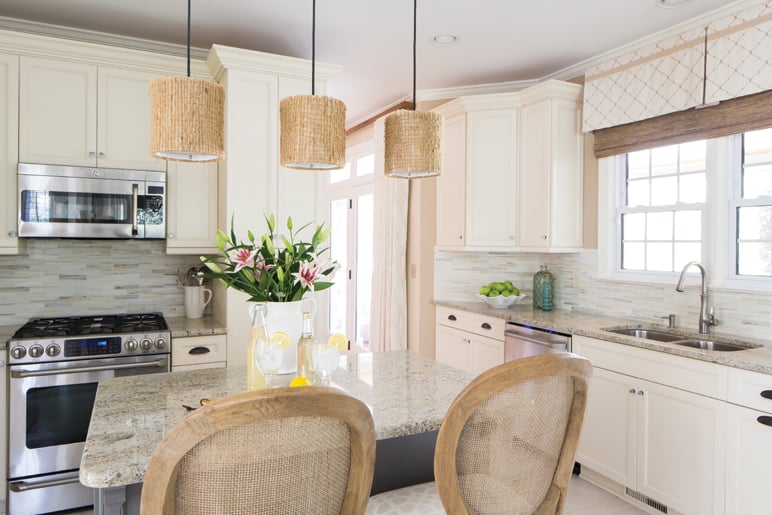 WHEN DESIGNER Melanie Crabtree of Interiors by ReDesign began updating the house in Park Crossing, her clients were looking for a change—but not quite ready to take on the work involved in updating their kitchen. Georgeann and Gary had bought the house nearly 20 years ago as a new build. At the time, they worked to make sure their home had everything they wanted. Now, it was dated. Crabtree started on common areas like the living room. Once most of the home had been redesigned, the kitchen's old look stuck out even more. Her clients called her back, and Crabtree began creating a kitchen that could last another 20 years or more—and endure the high energy of five grandchildren.
TEXTURE
"Kitchens can be sterile sometimes because there are so many smooth surfaces: the countertops, the backsplash, the floors," Crabtree says. "I like to use texture as much as possible." She added more interest to the kitchen using natural fabrics, with jute string covering the light fixtures above the island, rattan fabric on the chair backs, and jute embroidery on the window treatments. The beach influence flows into the breakfast room, which houses a table that looks as though it were made of driftwood with a chandelier wrapped in hemp rope above it.
TIMELESSNESS
Since her clients realized how quickly the kitchen became dated the first time around, Crabtree stayed with neutral colors and classic cabinetry: "The things that did have pops of color are things that are easily changed, like accessories." The most difficult piece to find was the backsplash. After combing through samples that just weren't right for both designer and owner, Crabtree found the perfect one, a marble tile from Walker Zanger's Helsinki collection. The play on traditional subway tile complements the neutral granite countertop and won't fall out of fashion.
EFFICIENCY
There can always be more storage space in a kitchen. After picking out the painted maple cabinetry, Crabtree took advantage of the nine-foot ceilings to make the cabinets taller. Every space is easily accessible, thanks to organizational tricks such as pullout drawers and shelves and dividers to better store cookware. Crabtree turned a decorative cabinet into a home for the couple's wine glasses, and the pantry includes some shallower shelves for smaller items such as spices, as well as its own pullout shelves.