Before + After: A World of Difference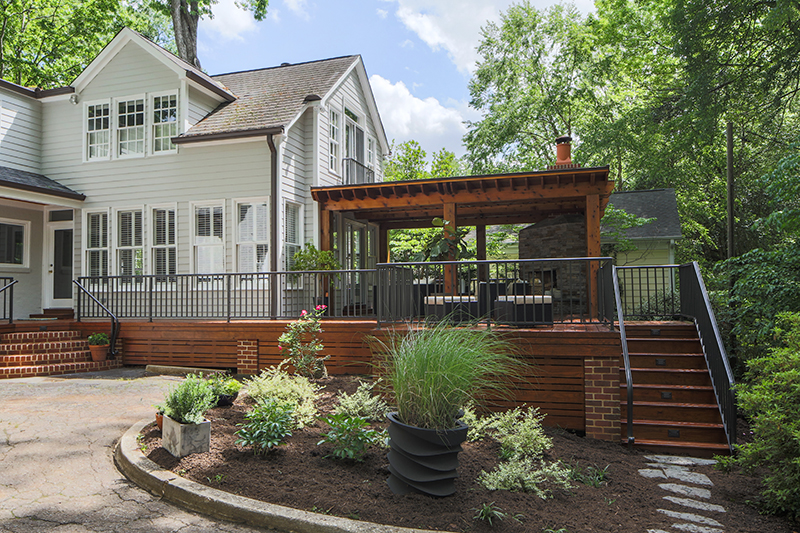 DENISE AND PHIL POLEY are health care consultants with no kids, a thirst for travel, and a passion for entertaining. To fit the couple's lifestyle, the patio and sunroom in their 1950 Eastover home needed to be updated with layouts and furnishings that can accommodate guests. After R+R Design completed the construction, local interior designer Catherine Boardman combined the couple's travel keepsakes with tasteful design to create the ultimate gathering areas.
BACKYARD
Friends and family know the Poleys throw a rockin' Kentucky Derby party every year, so the Poleys needed a setup to accommodate such occasions. Before they built it out, the patio was nonexistent. Now, it's a cozy, covered area. Pavers were added to where the driveway meets the backyard deck, and many of the home's windows and doors were updated, too. Lush planters below the patio spruce up the style, and two new patio stairways welcome guests to move about freely.
SUNROOM
The Poleys' bedroom used to be connected to the sunroom via an extra staircase that blocked the back windows. They desired a "master retreat" upstairs, so the sunroom staircase was removed, leaving just one near the front of the home. Then, the sunroom's walls were painted lighter for added brightness. A neutral color base leaves room for potential future renovations, and the navy, velvet sofa becomes a focal point among other updated furnishings and the figurines and tchotchkes the Poleys brought back from Morocco and other travels.
PATIO
Denise and Phil's travels served as a foundation for Boardman when she was decorating. To infuse the couple's character into the patio, Boardman used the Poleys' Moroccan pouf and lanterns. Accompanied by deep, cool brown and off-white lounge furniture, a grand, stone fireplace, a brass tray coffee table, and other quirky finds, the patio accessories mesh to exude an eclectic yet warm flair.