Before + After: Stencil or Stain?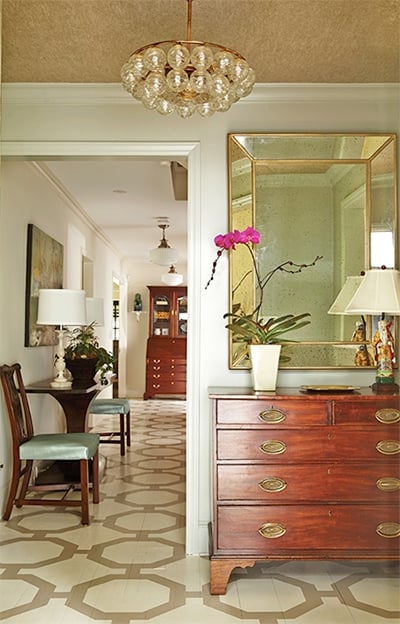 WHEN HER clients brought her to see their future home in Myers Park, Caroline Brackett of CBB Interiors was surprised by a wooden floor that had been painted over in black and white diamonds along the foyer and hallway.
"Usually, that's marble when it's black and white," she says. "We knew it was either going to be painted solid or stained." After considering antique runners, which would have been both costly and more traditional than the young couple that owned the house, they decided to go with an update to the painted floor.
COLOR:
Brackett says she saw a similar geometric design and was inspired to use her own version for the floors. A traditional painted floor updated with a pattern was perfect for the homeowners.
"They are refined, but definitely have a little bit of edge to them," she says. To give the design contrast that wasn't too heavy, Brackett used "Anew Grey" paint by Sherwin Williams to create the pattern, with "Linen White" by Benjamin Moore surrounding the shapes. Both color choices will stand up to changing trends, making the floor a longtime investment.
THE PROCESS:
To ensure the white painted floors would last, Brackett worked with decorative painter Lana Rubright. Brackett drew out the pattern she wanted and gave it to Rubright, who had the stencils ordered in the correct size. Rubright then sanded the old paint off, added a base coat, painted the pattern, and filled in the negative space with white. A polyurethane coat helps keep the white paint white, and the floors require no more cleaning than a usual hardwood floor.
FIRST LOOK:
As the first room you see when you walk in the house, the foyer gives a preview of the family that lives there. Mirrored paper on the ceiling and a chandelier from Slate Interiors—the first item Brackett bought for the home—paired with the patterned floor give a new twist to a traditional home. "That space packs [in] a lot of good first impressions when you walk in," Brackett says.