Behind the Bar With DiSean Burns
Manager of Drink at Marriott City Center; President of the Charlotte Bartenders' Guild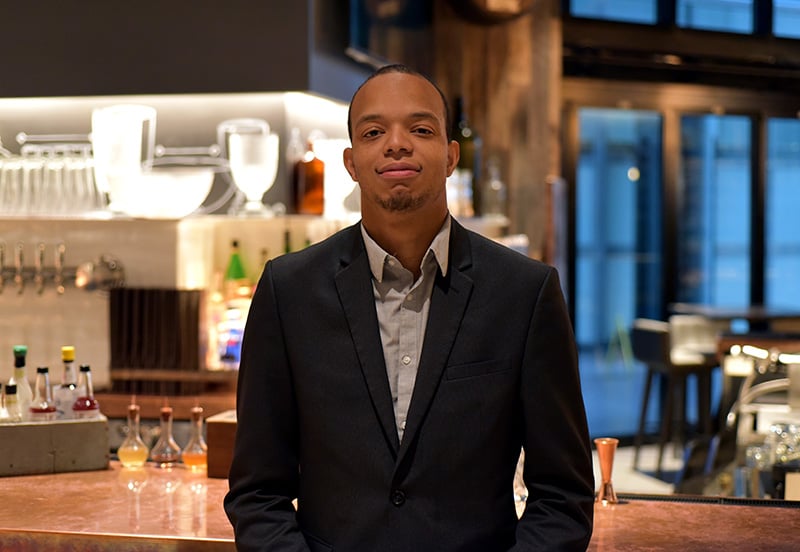 You might know him from: 204 North, The Ballantyne Hotel
Hometown: Las Vegas, Nevada
In Charlotte since: Summer 2012
Neighborhood: North Charlotte
Family Status: Wife, Jenne, and kids Morgan, two, and Harrison, one
Pets: Stitch, a Jack Russell terrier/Chihuahua mix
Sports teams: Oakland Raiders, Orlando Magic, Charlotte Hornets, USA and Real Madrid soccer
How did you get into bartending?
By accident, really. I was in school for marketing and automotive tech—I wanted to own my own auto shop. That was another passion of mine, working on cars. While I was in school, I got a job as a server at, of all places, an Applebee's. Working my way up there, I saw how much money the bartenders were making. I started at that Applebee's when I was 19, and by the time I turned 21, I wanted to get behind the bar, because it looked like it was better money. They didn't give me the opportunity, so I ended up finding an opportunity with another bar across town.
How did you turn that into craft drinks?
The bars I was working at in Columbia (South Carolina), a lot of them were high-volume bars, college sports bars, Gamecock bars. And after a few years I got burnt out on the industry, you know, getting home at 4 o'clock every morning and slinging Miller Lites and Jagerbombs all night long. I went into sales after that, worked my way into some management positions, and a company that I was working for moved me to Charlotte. Within nine months of moving me to Charlotte, they went under. I had gotten a part-time job working at e2 Emeril's Eatery after that, working under Miki Nikolic and a few other individuals there. It was around that time that I met Stefan Huebner from Heist Brewery. He inspired me to really take my craft seriously and really hone my ability.
How so?
Myself and a few coworkers were out celebrating a coworker's birthday. … We sit down, and he's getting drinks for everybody, and he's like, 'What will you have?' And I'm like, 'You know what? I'm an old-fashioned kind of guy, I'll take an old-fashioned.' And I had three old-fashioneds that night, all with different base spirits, all deconstructed in different ways. I was blown away.
How did you start applying that to your career?
I was splitting time between e2 Emeril's Eatery and a bar in the EpiCentre, which used to be Mez. It's now Studio Movie Grill, very much like nightlife, dine-in, movie theater concepts. I just started bringing my own products in. Like, 'Oh, you don't want to order bitters? That's fine, I've got my own.' Reading everything I possibly could. Getting my hands on whatever books, whatever knowledge was out there, and starting to pick the brains of individuals and seek out those opportunities.
What's your favorite drink?
I am a firm believer that every day, every time, calls for something different. That might be a gin martini straight up one evening; it may be a cocktail created for you by the mixologist behind the bar; it might be a Jack and Coke on Sunday at Tilt on Trade. It really just depends.
What do you think the Charlotte cocktail scene needs?
We have some phenomenal bartenders in this city that I would go to war with (against) people from other cities. Honestly? Colleen Hughes (Haberdish) is doing some amazing things, and Stefan, Bob (Peters of the Punch Room), Ron (Oleksa) with Cellar at Duckworth's, Brian Lorusso at Dogwood, Kel Minton of Soul Gastrolounge, the list goes on. I don't think that the bar industry was as close-knit as it should've been, which is something we've made great strides in this last year with the bartenders' guild.
How often do you get behind the bar here at Stoke (at Marriott City Center)?
My job here is to be more of a coach than it is to be a player. Even when my guys get really busy, I'll help out with some service during periods of high volume, I'll be their bar-back (assistant), I'll clean up their glassware, I'll get them fresh garnishes, I'll re-batch certain things. But my job is to impart what I know to these guys, continue learning more myself, and raise the overall program. If I'm constantly behind the bar making drinks, then I don't have time to teach or train.
Bartenders in Charlotte are mostly white men. Do you see that changing?
I think we're getting better, but that's not just a Charlotte thing. That's an industry-wide thing. I had a photographer come in and do some shoots while I was down at Ballantyne, and he was an African-American photographer, and he's like, 'We need to keep in touch because, you know, I don't mean this to offend anyone, but there's not a lot of African-American mixologists out there.' When you talk about female bartenders, when you talk about minority bartenders that are doing great things, I think of the Colleen Hugheses, I think of Amanda Britton over at 204 North, I think of the Frances Joneses of the city. The Justin Hazeltons over at 5Church, who is doing some pretty amazing stuff.
What can we expect from you at Stoke?
I'm influenced by the classics, the traditional cocktails, so you'll definitely be seeing some variations and riffs on some favorites. You'll also be seeing some things that you probably have not seen before. I'm a big fan of deconstructing what made a classic cocktail great, and then putting my own variation on it. Why was (the classic cocktail) The Last Word such an amazing cocktail? What was it about the chartreuse, about the gin, about the lime that melded so beautifully? What can I do to put my own spin on that?
What else?
We're going to start a new barrel-aged cocktail program here, keeping in line with maximizing our opportunity with our draft cocktail system. … Barrel-aging a cocktail rounds out some of the edges in an otherwise harsh environment. So if you think your negroni—or my favorite variation of the negroni, the boulevardier, which is a whiskey negroni, instead of gin—that Campari can be a little brash for some people. If you barrel-age that boulevardier, you're softening some of that, you're rounding out the edges, you're blending the flavors in a little bit more. —Kristen Wile
---
Three More New Bars in Uptown
Lucky's Bar and Arcade
300 N. College St., Ste. 104, 704-342-2557
Whether your game of choice is pinball or Mario Kart 64, you'll find entertainment in the form of arcade games and old video game systems here. Grab a beer and remember another decade. Games not your thing? Head next door to sister bar Flight for a craft brew.
Murphy's Kitchen & Tap
445 W. Trade St., 704-332-0557
A drink list of local beers and craft cocktails makes this place a home-run stop before a Knights game. Classic Irish dishes, including fish and chips and hand pies, will make you want to grab a bite.
Ink N Invy
222 S. Church St., 704-332-5424
The hip vibe from the owners of Brazwell's, Whiskey Warehouse, and several other spots draws a dressed-up, late-night crowd, but sunset is the best time to enjoy the massive patio here.