Beneath These Stones: Charlotte's Hebrew Cemetery
It's more than a burial ground. It's where we find a crucial part of the city's history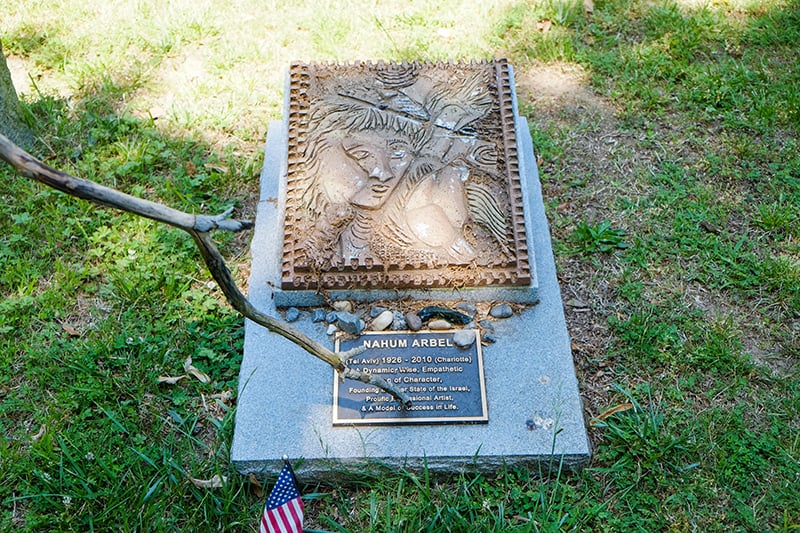 AS A GROUP OF VOLUNTEERS prepares to enter the cemetery, Brian Yesowitch offers some advice: "Make sure you drink lots of fluids," he says. "Don't kill yourselves out there. The cemetery is for people who are already dead. We don't want to add to it today."
It's a muggy 86 degrees on Mitzvah Day, a modern Jewish holiday that encourages people to do charitable works in the community. Congregants from Temple Beth El, a 72-year-old center in south Charlotte, chose to serve the city's Hebrew Cemetery. They won't make it across the entire 16-acre property on Statesville Avenue just north of uptown. But they'll clean as many gravestones as they can. Yesowitch is the president of the Hebrew Cemetery Association and a Temple Beth El member. He plays the role of tour guide today for the 145-year-old graveyard.
"Now this an interesting story," he says. "Here's Mayor Pro Tem Rousso, also a councilman, kind of like what Michael Barnes is now. He was a well-liked man. Big figure in the Jewish community. When long-time Charlotteans come through, they say, 'Hey, look, it's Mayor Al.' "
As Yesowitch points out past political figures and titans of Charlotte industries, he helps his wife and kids scrub stones along the way. They seem to know the process, carefully removing rocks from the tops of the gravestones to scrub beneath them. (Jewish burials call for rocks at gravesites, rather than flowers. Flowers die, while stones represent legacy.) Yesowitch goes on to explain the symbols on some of the markers—Stars of David for men and menorahs for women. He reads Hebrew inscribed on others.
Most of the adult volunteers have follow-up questions, but the children keep scrubbing and spraying. "We tend to think of cemeteries as a scary place," says Jill Lipson, head of the volunteer project at the cemetery. "I try to encourage kids to come here and understand that it's a peaceful resting place. This is about life and death, and to really honor those who have passed on. We want to make sure [the kids are] comfortable here when they have to come for a situation that's more unfortunate."
Before the banks and the skyscrapers, before Charlotte's population topped four figures, the Hebrew Cemetery gave its Jewish citizens a place to bury their dead. The graveyard includes members of the city's most prominent families. There are children who died at a time when young lives were often threatened by disease, and there are family members of the volunteers who maintain these stones. This cemetery is a place of grief for visitors who lost relatives. But it also reveals a part of the city's history that is often overlooked—even unexpected.
Among the winding paths of the Hebrew Cemetery, there are gravestones marked with Confederate battle flags.
***
PRIVATE LOUIS LEON dug a lot of holes, and he passed the time by playing cards and chess.
We know this because of a Civil War diary published in 1913. Of all the personal accounts published from the era, Leon's is popular because he was a member of the Confederate rank and file, not one of the officers whose journals were written with hopes of being quoted in history books. Before a white supremacist massacred nine people in a Charleston church and ignited debates about Confederate symbols, Leon's story was simply a compelling piece of history. It offered a rare glimpse into the lives of soldiers during that era.
He waded through rivers without pants and shoes; he ate crackers that contained worms. He watched his friends die. One year, General Robert E. Lee granted him and other Jewish officers furlough during the High Holidays. Leon didn't take it.
When the war ended, he reluctantly signed a loyalty oath required for prisoners of war who had defected from the United States. Charlotte was just two years from getting its first Jewish organization, the place where Leon would be buried.
In 1867, a handful of Jews who were members of the Hebrew Benevolent Society purchased 11 acres north of uptown to establish this cemetery. At the time, the city's population was only 4,500. "When Jews come to any new area, the first thing they build, before a school or a synagogue, is a cemetery," says Sandra Goldman, the cemetery's current director. "Our cemetery is the oldest Jewish organization here in Charlotte. It's older than the temples."
Leon was buried there in 1919. As Charlotte's population grew, so did its Jewish community, and so did the cemetery. That initial 11-acre parcel is now considered the historic section, where you'll find veterans of the country's earliest wars and the highest concentration of child graves. Jacob Rintels, an entrepreneur who died in 1876, is remembered for his funeral procession, in which mourners took three hours to walk from his home near the intersection of Trade and Tryon nearly two miles to the cemetery. Near Rintels' resting place in a neighboring section, you'll find David "Lebo" Lebovitz, the man who started Lebo's, a chain of apparel stores that began as a footwear shop uptown. Not far away, you'll meet one-time Mayor Pro Tem Al Rousso.
Surnames such as Blumenthal and Levine, which adorn Charlotte buildings and major arts organizations, are scattered throughout the graveyard. Each section offers more clues about how the Jewish population of Charlotte has evolved.
"Look at the diversity," says Rabbi Judy Schindler, who regularly presides over ceremonies in the cemetery. "We now have an Orthodox section, to show the Orthodox [Jewish] community has increased. We have an interfaith section, because the reality is, in the world, a good percentage of Jews are marrying outside [the] faith, so we want a place where these families can be buried and be in the community in which they lived their life. Every synagogue is diverse, and the cemetery reflects that diverse population."
A $1.6 million expansion, which began several years ago, will increase the number of available plots and has already added a memorial building and garden. "The body is sacred; it houses our soul," Schindler says. "Just like the ark in our sanctuary houses the Torah."
The expansion, she adds, will provide a resting place for members of the Jewish community for the next 80 years.
***
BEFORE BRIAN YESOWITCH became president of the Hebrew Cemetery Association—and before he moved to Charlotte—he read about the city's Jewish cemetery in a book he purchased in the Milwaukee airport in 2003. Harry Golden's For Two Cents Plain is a collection of stories from the The Carolina Israelite, a newspaper Golden published here from the 1940s to the 1960s. The journalist wrote about race relations, civil rights, growing up in New York City, and his life in the Carolinas. A few times, he mentioned the inhabitants of the cemetery, such as Elizabeth Cohen's family, who moved here a year after the Revolutionary War ended.
When he lived in Daytona Beach, Florida, Yesowitch's work as a video producer for the International Speedway Corporation frequently brought him to the Charlotte area. He moved here full-time in 2007. Eventually, he became Temple Beth El's representative of the cemetery, then the association's vice president, and, in, 2013, its leader. There's one reason he began his relationship with the cemetery, but he rarely discusses it.
"Oh, you know, it's a sad story," he says, politely suggesting that he would like to change the subject. "My son died of cancer. So it's a very sad, sad story."
In 2006, Yesowitch's oldest child was diagnosed with stage one pediatric medulloblastoma, a condition marked by a cancerous brain tumor. He passed away in December of that year, at three-and-a-half years old.
Yesowitch has written openly about his family's loss online. But it's not something he shares with groups on tours. "It's not a very Jewish principle to dwell on death," he says later.
When the group stops by Golden's grave, Yesowitch reminds the volunteers of the journalist's contribution to their temple. He taught at Temple Beth El, wrote its constitution, and 40 years after moving to Charlotte, was buried in the Hebrew Cemetery.
***
AFTER TOURING THE new memorial building, Yesowitch gives the volunteers a gracious send-off. Because of their work and their donations, he says, the cemetery has enough land for the next generation. Yesowitch thanks them for their service today, and the crowd disperses.
In a final stroll through the cemetery's renovated walkways, Yesowitch speaks about his legacy.
"I have two charges," he says. "One is to remind the community to be responsible and be compassionate toward those who we've lost and their remaining families. But at the same time, I'm trying to demonstrate to people that there's more to cemeteries than just our dead relatives. There's a spirit of community service. There's a spirit of patriotism. There's a spirit of ecology. There is a spirit of religious tradition, that we complement other Jewish institutions, as the first one here."
He stops and turns toward a grave piled with rocks and children's toys. "There's my son, by the way."
The moment is brief, filled with Yesowitch's characteristic warmth and honesty. But he does not indulge in self-pity. Instead, he quickly turns the conversation back to a business owner buried nearby. A smile returns to his face. "Oh, now there's an interesting story," he says.
This story has been updated from the print version.
---
This article appears in the October 2015 issue of Charlotte Magazine
Did you like what you read here? Subscribe to Charlotte Magazine »
---