Best Classic Cocktails
With the help of vintage recipes, herbal spirits, fresh ingredients, and innovative methods, bartenders are bringing drinks of another era to the modern bar. Here are four of our favorites.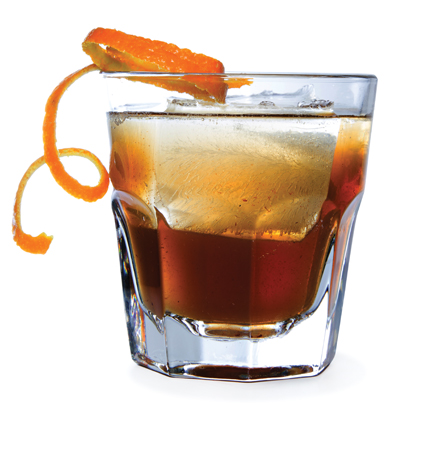 Barrel Aged Deshler at Soul Gastrolounge
"The Deshler is a World War I-era variation of a Manhattan that has kind of been forgotten, but is a sweeter, floral, citrusy version of a boozy, whiskey-based cocktail," says Soul's bar manager, Billy Romano. It's made with rye whiskey, Dubonnet, bitters, Cointreau, and the peels of orange and lemon. Romano uses Bonal Gentiane Quina, a slightly different fortified wine, in place of Dubonnet. It's the two months of aging in Heaven Hill bourbon barrels that transforms the drink into a balanced, incredibly easy-to-drink concoction with layers of flavor.
1500 Central Ave. 704-348-1848.
soulgastrolounge.com
---
Heirloom Old Fashioned at Heirloom
Heirloom reinvented the iconic old-fashioned, usually bourbon-based, using Cardinal Barrel Rested Gin, which beverage director Chase Woodall says "picks up enough characteristics of the barrel to pass as a brown spirit." Though it may look like the classic, gin gives the drink an herbaceous update with notes of juniper. In place of Angostura, Heirloom uses house-made bitters crafted with wild plums, a house-made Demerara simple syrup, and a few spices. As with any Old Fashioned, two large cubes of quality ice are essential to the drink's presentation and taste, while orange peel gives the rim of the glass an aromatic finish.
8470 Bellhaven Blvd. 704-595-7710.
heirloomrestaurantnc.com
---
The Sherry Widow at Pint Central
Pint Central's bartender, Henry Schmulling, took the original Merry Widow recipe from his grandfather's World War II-era cocktail book and updated it. "Originally, it was made with a London dry gin and Dubonnet Rouge: a wine-based aperitif from France, a dash of orange bitters, and lemon juice served over cracked ice," Schmulling says. The classic concoction is modernized with the help of a Cardinal Barrel Rested Gin from Kings Mountain, N.C., and a medium dry sherry. The gin imparts a charred, oaky quality—much like a whiskey—while the sherry balances it out.
1226 Central Ave., Suite A. 980-237-9108.
pint-central.com
---
Carbonated Aviation at The Punch Room
The Aviation is the classic, lavender-hued drink that appeared in the iconic Savoy Cocktail Book, published in 1930. Served straight up with Cardinal gin, lemon juice, Luxardo Maraschino Liqueur, and a few dashes of Crème de Violette, it's a delicate blend of taste and visual appeal. Bob Peters, bar manager of The Ritz-Carlton's Punch Room, stirs up the traditional Aviation by using a carbonation system to create a slight effervescence. The bubbles are unique, but the flavor profile stays true to the original taste.
The Ritz-Carlton, Level 15, 201 East Trade St. 704-547-2244.