Best Places to Watch Panthers vs. Patriots Monday Night Football Game – Nov. 18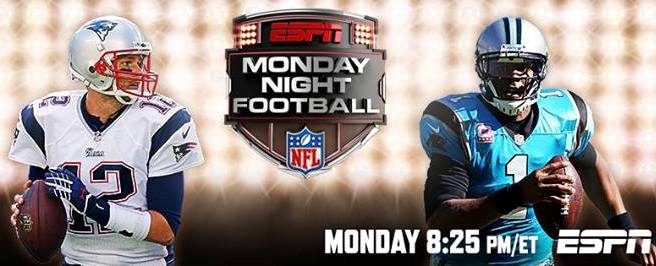 It's been a long time since we've reached the middle of November and still had reasons to be excited about the Carolina Panthers. Expect that excitement to reach a crescendo on Monday when the Panthers (6-3) play the New England Patriots (7-2) for
Monday Night Football
. If you're not among the fortunate ones to have scored a ticket to this home game at Bank of America Stadium, you're in luck: I've put together this list of great places around the city where you can watch the game and be amongst fellow fans.
ESPN's coverage of the nationally televised game begins at 6:30 p.m. with the Monday Night Countdown show. The game begins at 8:30 p.m. and will be broadcast on ESPN as well as WSOC-TV (Charlotte's ABC affiliate). Here's to the Panthers extending their current five-game winning streak!
Listed in alphabetical order by venue.
All American Pub
Known as Cans:Recycled, this viewing party and after-party takes place for each Panthers home game. The game will be shown on big screens with sound. DJ Matt Bolick will play before the game and DJ Jarrett Gray after the game. 5 p.m. All American Pub, 200 E. Bland St.,
allamericanpubclt.com
,
facebook.com/TheCansRecycled
.
Bikinis Sports Bar & Grill
Watch the game on plenty of TVs, surrounded by cold beer, burgers, wings, and the Bikini Babes. Bikinis Sports Bar & Grill, 520 University Center Blvd.,
facebook.com/BikinisCharlotte
.
Buffalo Wild Wings (Uptown)
MNF
is celebrated here each week as part of the Mainstream Mondays event put on by Eddietainment. The game is shown on dozens of TVs with sound. 8 p.m. Buffalo Wild Wings, at NASCAR Hall of Fame, 400 E. Martin Luther King Blvd.,
buffalowildwings.com
,
eddietainment.com
.
Cinebarre
Dilworth Neighborhood Grille
This is a great place to pre-game, as this neighborhood bar offers a free shuttle to every Panthers home game. Or stay and watch it here and enjoy food and drink specials. Dilworth Neighborhood Grille, 911 E. Morehead St.,
dilworthgrille.com
.
The Doghouse
It's a big tailgate party in the shadows of the stadium, featuring a full bar, food from local restaurants, indoor seating, live music on an outdoor stage, a live WFNZ broadcast, and several flatscreen TVs. 4 p.m. The WFNZ/CPI Security Doghouse, 401 W. Morehead St.,
facebook.com/cbsradiodoghouse
.
Hickory Tavern (Metropolitan)
Panthers fans flock to several of the Hickory Tavern locations around town, but this is the hippest of them all. Drink specials include $2 Miller Lite and Bud Light. Hickory Tavern, at The Metropolitan, 1100 Metropolitan Ave.,
facebook.com/HT.Metropolitan
.
Icehouse South End
With TVs everywhere, there's not a bad seat in the house. And there's great food and drinks to boot. Icehouse South End, 2100 South Blvd.,
icehousesouthend-hub.com
.
StrikeCity
Watch the Panthers game here on more TVs than likely anywhere else around. Full food and drink menus available. StrikeCity, at EpiCentre, 210 E. Trade St.,
strikecitycharlotte.com
.
The Tavern
Come out to this recently reopened neighborhood pub (formerly known as Morehead Street Tavern), and enjoy food and drink specials while watching the game. 5 p.m. The Tavern, 300 E. Morehead St.,
taverncharlotte.com
.
Tilt
This Uptown bar is getting in on the tailgating fun. Enjoy a complimentary wing buffet and drink specials including $1.50 draft beers, $3 liquor drinks, and $4 shots. Live music from Kenny Floyd (6:30-8:30 p.m.). 4 p.m. $5 cover charge. Tilt, 127 W. Trade St.,
tiltontrade.com
.
For Patriots Fans
Beantown Tavern
It's a Boston-themed
bahr
, so you know the Patriots are celebrated here. Enjoy select $2 beers, $4 vodka drinks, and half-price wings. Beantown Tavern, 130 Matthews Station St., Matthews,
beantowntavern.com
.
Prohibition
This Pro-Pats bar is actually celebrating the Patriots all weekend, capping off on Monday, when it will feature live music before the game and a DJ after the game. Drink specials all day. 2 p.m. Prohibition, 200 N. Tryon St.,
prohibitionclt.com
.
Verify dates, times, prices, and other info at the web addresses listed for each event.
Be sure to bookmark www.charlottemagazine.com/Blogs/Dusk-Till-Dawn to stay plugged into Charlotte's nightlife and social scene. Follow me on Twitter @HollidayInk; email me at jarvish@grownpeopletalking.com.