Block & Grinder Hires First Pastry Chef
Jossie Perlmutter will oversee and expand dessert program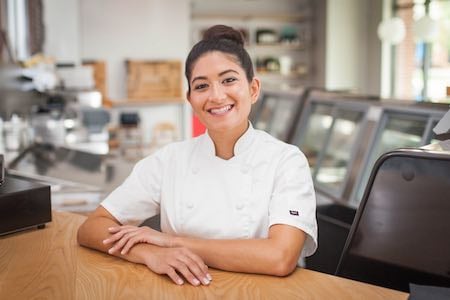 Block & Grinder opened its new location in Langtree, near Lake Norman, earlier this summer, but the beloved butcher shop and restaurant is expanding in more than just space. Jossie Perlmutter, formerly of The Asbury in the Dunhill Hotel, joined Block & Grinder in July to be a sous chef and pastry chef. As she integrates into Block & Grinder's kitchen, she'll slowly take over the dessert program.
We loved her desserts at the Asbury, which were always creative, delicately plated, and, of course, delicious. Her last day in the Asbury kitchen was July 1. She took a week off to fill in teaching cooking classes at Project 658, a local, faith-based nonprofit that looks to holistically help those in poverty that Perlmutter supports. (She hosted a dessert-only tasting menu benefit dinner there with local pastry chefs earlier this year). Executive Chef Matthew Krenz has taken over management of the sweet stuff back at The Asbury.
The move to a smaller-production kitchen will let Perlmutter double as a savory and sweet chef. At The Asbury, the need to provide pastries for breakfasts, banquets, and dinners kept her more than busy. In her new role, she'll be the morning sous chef as well as pastry chef.
"Right now, I'm working nights and [chef Ben Philpott] is having me work all the stations, which is going to really help me be a lot more well-rounded in the kitchen—which, in the end, will make me a better pastry chef," she says.
That rotation around the kitchen includes cooking on the line, where the bulk of the work is done in a restaurant. It will help her get familiar with the restaurant's style, and once she learns the Block & Grinder way, Perlmutter will start overseeing the desserts. It's important to her that she know the restaurant she's representing before putting out a dish.
"The dessert is the last thing you have, it's the end of the meal, it's the last note, it's the last thing you remember," Perlmutter says. "I think it's really important to maintain the style and integrity of the restaurant."
An example of what to expect is a blueberry shortcake, served with some extravagance: buttermilk thyme panna cotta, a thyme biscuit, diplomat cream, and a blueberry and white wine compote.
She calls it a summer classic, with her own twist—a method in line with Block & Grinder's menu.
"That's what they do with their food," she says. "They take a classic and put their own spin and elevate it, so you are getting the Southern food that maybe [chef] Ben's grandmother made for him growing up, but it's going to be presented in a different way."
Expect Perlmutter's influence to start gradually taking over the dessert menu at Langtree. And, Cotswold fans, Chef Philpott says eventually both locations will be serving Chef Perlmutter's creations.
In the meantime, you can always hire her separate artisan dessert catering business, Sweet Affairs, for your own events.