BLT Steak's Bar Has $5 Food Specials and Awesome Kombucha Cocktails
Lenny Boy Brewing Co. kombucha adds new twist to classic cocktails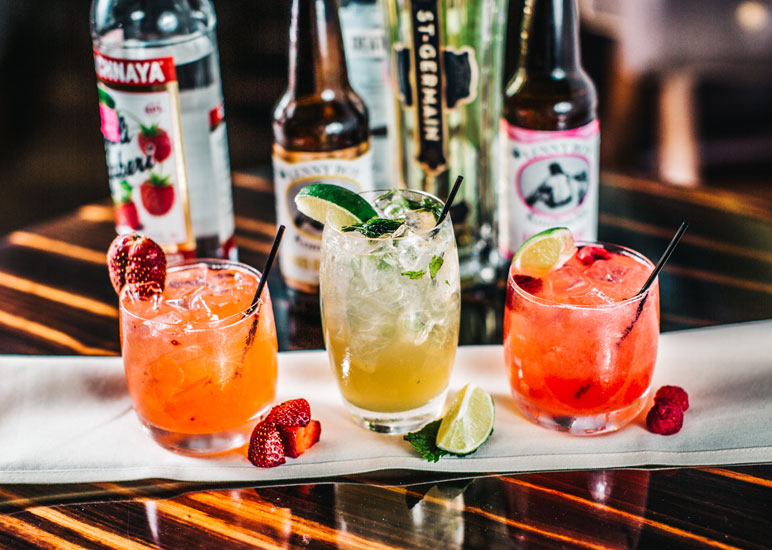 BLT Steak's bar has some tough in-house competition since Bob Peters came to open the The Punch Room on the 15th floor of their host hotel, The Ritz-Carlton. Peters' talents are widely known, and this city loves his punches. BLT Steak is creating its own buzz-worthy drink menu, though, with the introduction of kombucha cocktails. A $5 happy hour appetizer menu is an additional big draw for uptown after-work crowds.
Using local brewery Lenny Boy Brewing Co.'s bottled kombuchas, BLT Steak has three new drinks on the menu, refreshingly crisp plays on classic drinks. Kombucha is a fermented tea that has been growing in popularity in the past few years.
The Kombucha RazMule, a vodka drink, uses Lenny Boy's Good Ol' Ginger, paired with raspberry and lime. It's a vivid pink in color, with a nose of raspberries and a flavor of ginger. The Thorned Strawberry, which is gin-based, is made with St. Germaine, lime, strawberries, basil, and Lenny Boy's Lost Rose. The sweetness of the strawberries is complemented by the coolness of the muddles basil. The Kombucha Mojito is like the classic cocktail with the addition of Lenny Boy's Mint Condition. They'll remain on the drink list, with rotating flavors, until August.
Though familiar on the surface, the tart flavors of the kombuchas add a new dimension to the drinks. It's easy to stay and try them all, too, with the $5 bar menu from 5 p.m. to 7 p.m. each night. They're no small plates, either. Options include the Kobe hot dog, which is piled with so much slaw, jalapenos, and mustard. The sweet potato fries are seasoned with rosemary with an aged blue cheese dipping sauce. See the whole list of $5 happy hour food specials here.
Punch Room regulars: You may have a new spot to wait for your table upstairs. And you might just want to stay—at least until happy hour is over.