Bob Peters behind the bar at Punch Room
Charlotte mixologist moves from Pisces to 15th-floor bar at the Ritz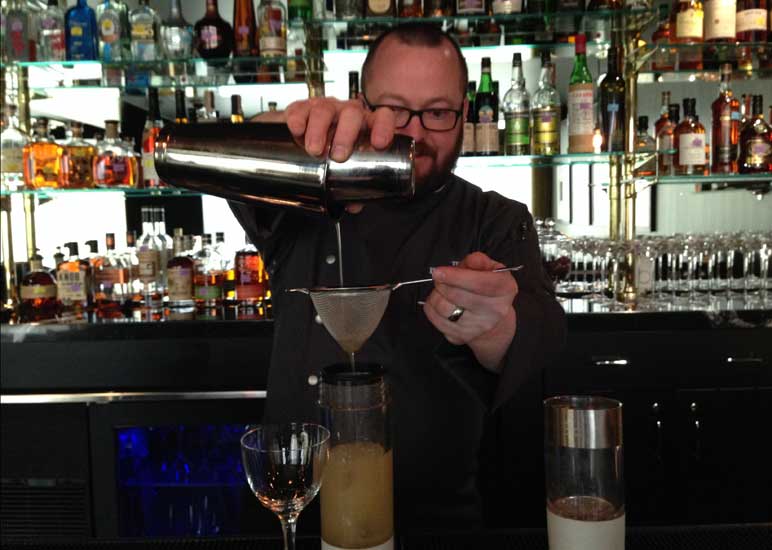 Bob Peters has more than 13,000 Instagram followers, most of them eager to keep up with the latest cocktails the mixologist has created. He's earned nationwide recognition for his talent behind the bar. It wouldn't have been a surprise if one of Charlotte's biggest names in the bar scene decided to move from Pisces to a bigger city. This is Peters' city, though, and instead of heading to New York or Chicago, he moved uptown to the Ritz-Carlton.
"I really love Charlotte. I think that if everybody who is good at their job moves to a different city then we won't have that stuff," Peters says. "It's a combination of love and obligation, I guess."
His new home is The Punch Room, which replaced the Ritz's Urban Sip. It opened this past weekend on the 15th floor of the hotel. Decorated with luxe fabrics in black and gold with a view of Charlotte, the latest iteration of the lounge is more sultry than the wine bar before it. There's enough seating for only 37 people, which means those who are waiting for a seat will queue up in the Ritz lobby until patrons leave. That will keep The Punch Room from becoming too crowded, and it will give Peters the time to craft each cocktail. Meanwhile, a "punchologist" will create the punch bowls (although Peters says he will taste and approve each one).
Peters' drink menu opens with four namesake punches, which are served for two, four, or six. At around $25 for a serving that pours enough for two, the drinks are similar to any other craft cocktail. By-the-glass cocktails, like the Smoked Honey, made with Krupnikas, a Polish liquor recreated by two brothers in Durham, cost $15-$17.
In the spring, Peters plans to build a rooftop garden with the herbs he uses most often in his cocktails. He says that's one of the reasons he came to the Ritz—the freedom to try new things and to try to make the best bar possible. The beverage and food menus will change seasonally.
The Punch Room's dining options are small plates, running from $6 for potato chips to $80 for an ounce of caviar, with most of the dishes, like foie gras or duck sliders, falling between $15 to $18. Peters recommends pairing the Kusshi Oysters, served with a kimchi puree, sweet potato pearls and picked apples, with the fiesta punch, made of sauza blue, cilantro, jalapeno, and beet ginger kombucha.
The Punch Room is open Wednesday and Thursday from 5 p.m. to 11 p.m. and Friday and Saturday 6 p.m. to 1 a.m.