Bottoms up: Signature drinks for summer weddings
Pop one of these fabulous drinks into the hands of your guests as they arrive to your reception and you'll be sure that hot temperatures don't affect the heat of the party.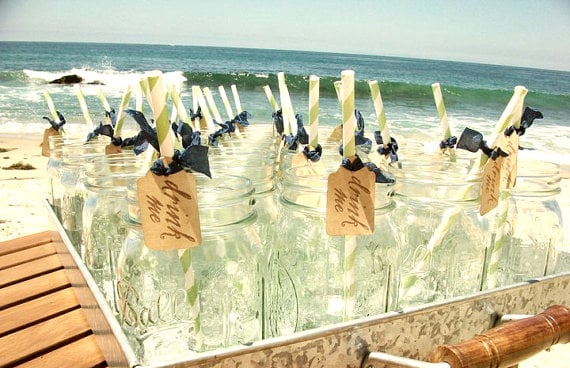 We love a great outdoor wedding, especially in the summer. But when temperatures rise it's crucial that you keep your guests cool. This is a perfect opportunity for you and your husband-to-be to create a signature cocktail to set the tone for the evening. Get your cocktail shaker out and try a few of our favorites featured below.
Blushing Lady
1 ounce pomegranate liqueur
2 ounces vodka
1 ounce pink grapefruit juice
lemon or lime wedge
coarse sugar, for garnish
Rub lemon wedge around the rim of a cocktail glass and dip into sugar. Set aside. Pour remaining ingredients into cocktail shaker with ice. Strain into prepared glass. Garnish with lemon or lime wedge.

Cranberry Kiss
1.5 ounce cranberry vodka
1.5 ounce simple sugar
2 ounce cranberry juice
3 lime wedges
8 mint leaves
Muddle lime wedges and mint leaves into cocktail shaker. Add in other ingredients. Shake well and strain into martini glass. Garnish with floating mint leaves.

Sparkling Punch
1 12 ounce can frozen pink lemonade concentrate, thawed
4 cups white cranberry juice cocktail
1 qt club soda
mint springs
Stir together frozen pink lemonade concentrate and white cranberry juice cocktail in a large pitcher. Cover, chill for up to 24 hours. Stir in chilled club soda just before serving. Garnish with fresh mint springs.

Watermelon Margerhita
½ cup sugar
½ cup water
3 wide strips orange zest
12 ounces watermelon cubes
¼ cup lime juice
¾ cup white or silver tequila
lime wedge
Bring sugar, water and orange zest to a boil in a small saucepan over high heat. Reduce to a simmer and cook until sugar dissolves, about 3 minutes. Let syrup cool in a bowl. In a blender, puree watermelon cubes until smooth. Strain through sieve into pitcher. Stir in syrup, lime juice and tequila. Fill salt-rimmed glasses with ice and pour mixture over. Garnish with lime wedge.