Breakfast Pies at Home
A recipe for the Tupelo Honey Cafe staple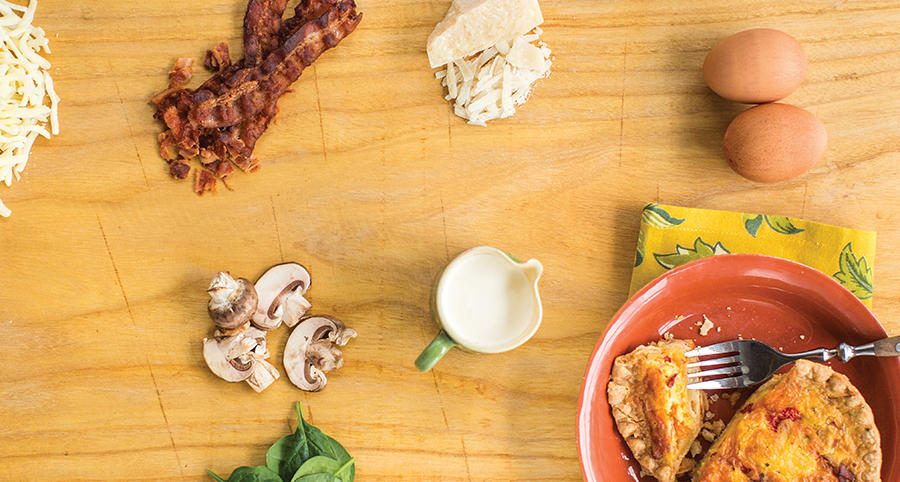 Executive Chef Brian Sonoskus and a friend coined the term "breakfast pie" to describe a staple on Tupelo Honey Cafe's menu: quiche. A savory pie with a made-from-scratch butter crust, it's served all day at the South End restaurant. "I learned how to make quiche in college," Sonoskus says, "from a Frenchman." His training at Johnson & Wales University in Rhode Island marked the beginning of experimentation with a classic—the result is an egg-rich, cheesy dish worthy of center stage at any Southern brunch. It debuts this spring in his second cookbook co-authored with Elizabeth Sims, Tupelo Honey Cafe: New Southern Flavors from the Blue Ridge Mountains.
***
Breakfast Pie
1 Basic Tupelo Pie Crust, partially baked
6 eggs
1 cup heavy cream
1 teaspoon salt
1 teaspoon freshly ground black pepper
1 ½ cups (6 ounces) shredded cheese
(one or any combination of these: cheddar, Monterey Jack, Gruyère, or Swiss)
2 tablespoons (1 ounce) grated Parmesan cheese
1 1/2 cups cooked filling, well drained
Filling 1
½ cup chopped cooked bacon, ½ cup finely chopped onion, and ½ cup of either sautéed mushrooms or chopped roasted red bell peppers
Filling 2
½ cup cooked spinach (squeezed dry), ½ cup finely chopped onion, ½ cup
sautéed mushrooms, and ½ cup of either diced ham or chopped cooked bacon
Preheat the oven to 350°F. Place the pastry shell on a baking sheet for easier handling. Beat the eggs in a large bowl with a wire whisk, whisking in the cream, salt, and pepper.
Sprinkle the shredded and grated cheeses into the bottom of the pastry shell and top with the filling of your choice. Carefully pour the egg mixture evenly over the filling, allowing it to soak into the layers. Bake until puffed, set, and lightly browned, 55 to 60 minutes.
Tips:
* Use large eggs from cage-free hens. Local eggs ensure freshness, a sure boost to flavor. Reid's Fine Foods and 7th Street Public Market sell eggs from area farms.
* Don't mix everything together, but build layers. Sprinkle cheese over the bottom of the crust, and then spoon the filling over the cheese. Gently pour in the egg and cream mixture. Grate fresh Parmesan cheese over the top for a rich, brown crust.
* If making pie crust intimidates you, don't worry. Acceptable alternatives include Whole Foods' store brand (365 Everyday Value) or Marie Callender's Deep Dish Pie Shells, both in the frozen foods section.
* Quiche recipes often call for whole milk, but the Tupelo breakfast pie opts for cream. Don't substitute this rich and luscious ingredient.
* Cook bacon until crisp, and then combine it with the other filling ingredients.
* For a delicious filling, sauté mushrooms and combine them with fresh spinach, chopped onion, and bacon or ham.
* With cheese, you can't go wrong as long as there's plenty of it. For one pie you'll need six ounces. Try cheddar, Monterey Jack, Gruyère, or Swiss. You can use just one or create your own combination.
***
Basic Tupelo Pie Crust
Makes 2 (9-inch) crusts
2 ½ cups all-purpose flour
1 teaspoon sea salt
1 teaspoon sugar
1 cup cold unsalted butter, cut into pieces
1/2 cup ice water
Combine the flour, salt, and sugar in a food processor. Add the butter and pulse until the mixture resembles coarse meal, about 15 pulses. Add the ice water in a slow stream, pulsing until the dough starts to clump together, 12 to 15 pulses. Remove the dough from the processor and gather into a mass. Divide the dough in half and flatten each half into a disk. Wrap each disk in plastic wrap and refrigerate for at least 1 hour.
When ready to use, roll out each disk on a floured surface, using a floured rolling pin. Fit the disk into a pie plate and turn the edges under and crimp with a fork. To partially bake, preheat the oven to 350°F. Place the pie plate filled with dough in the freezer for 15 minutes. Tear off a sheet of aluminum foil large enough to fit in the pie plate and coat one side of the foil with cooking spray. Fit the foil, coated side down, on the pie dough and fill the pie with pie weights, uncooked rice, or dried beans. Bake for 15 minutes. Remove from the oven and lift off the foil and pie weights before returning to the oven and baking for an additional 10 minutes, or until the crust appears dry. If the pie crust puffs up, press it back down with the back of a spoon. Let cool completely on a wire rack before filling.
From Tupelo Honey Cafe: New Southern Flavors from the Blue Ridge Mountains by Elizabeth Sims with Chef Brian Sonoskus, Andrews McMeel Publishing.