Brewing a Cure: Redemption Brew Works
Treating illnesses became a business for Gretchen Newkirk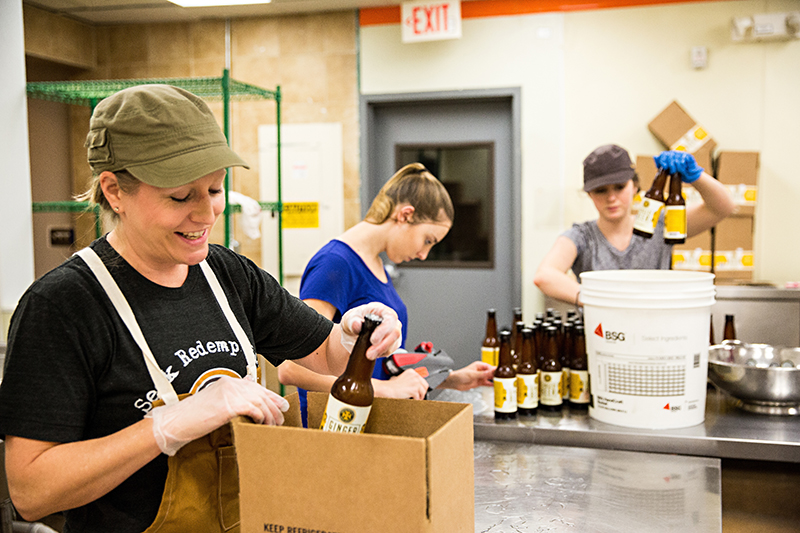 ON A SUNDAY AFTERNOON in November, a silver Mercedes SUV pulls into the parking lot of the City Kitch, a shared commercial kitchen space in University City. The vehicle's doors swing open, and the Newkirk tribe pours out. Gretchen Newkirk, the "boss mom," as she's known to her family, exits the driver side.
Her jeans are tucked into tall boots, and her blond ponytail hangs from the back of an olive-green cap. Out of both back doors, her 16-year old daughters, Eliana and Anne, emerge. They all wear the same grey t-shirt with the word "I" followed by two symbols: a heart and a Queen City crown. The back hatch opens, and the littlest Newkirk, John Mark, 8, hops out, bright-eyed and energetic. Inside the commercial kitchen, Gretchen's 17-year old son, Daniel, and food scientist husband, Kyle, are busy at work.
It's bottling day at City Kitch for Gretchen's beverage business, Redemption Brew Works.
The company serves a lineup of soda-like drinks made with live cultures, including a refreshing and spicy ginger beer; a flavor-packed lemongrass brew made with galangal (a citrusy root that looks like ginger, used frequently in Thai, Indonesian, and Malaysian cooking), fresh turmeric, ginger, and lime; and a fizzy gingerberry beverage made with fresh ginger, blueberries, strawberries, and raspberries. She calls them non-alcoholic probiotic brews.
Newkirk, a mother of five, started the business in 2014. Almost everyone in her clan suffers, in varying extremes, from autoimmune disorders and food allergies. Her own troubles began showing up in her early 20s in the form of acne, ear infections, and mononucleosis. When she had her first child, Seth, at age 25, Newkirk developed a severe, rare autoimmune condition called idiopathic thrombocytopenic purpura, or ITP, in which the immune system destroys blood platelets in the body. She would find out that Seth—and later, daughter Eliana—could not tolerate gluten. But it was the birth of her youngest, John Mark, that put Newkirk on a mission for wellness.
John Mark was born with Fragile X, a genetic condition that exists along the autism spectrum, though Newkirk did not receive the diagnosis until he was a toddler. Early on, he had trouble breathing, and as he grew into a toddler, there were signs that he was not progressing along the standard developmental stages for a child his age. For one, he had yet to speak a single word, and he had itchy red rashes on his legs. Newkirk sought out the best doctors, but a firm diagnosis was elusive. She took to alternative methods of health education.
A friend recommended that she look up gluten-free diets. Desperate for answers, she ventured into the gluten-free rabbit hole. She scoured the internet and read medical papers on gluten and its effects on the body, and she joined a gluten intolerance group. At first, she simply substituted gluten-free products for the real thing. Even with the elementary transition, her family experienced drastic results. Two days into the transition, John Mark spoke for the first time. He was three.
"He said, 'I love you Mommy,'" Newkirk recalls. And the persistent rash on his legs? Well, that cleared up, too. Newkirk's daughter Eliana, who has dyslexia, experienced a change as well. Without gluten, she could read with less difficulty.
Dr. Sheila Kilbane, an integrative pediatrician with a practice in Dilworth, is not surprised at the results. She regularly works with children who suffer from common illnesses ranging from chronic ear infections, constipation, and eczema to more severe conditions such as ulcerative colitis and thyroid conditions. Her work focuses on treating the root causes of symptoms, and often involves a change in diet, usually removing gluten and dairy.
"I've seen kids after a month off gluten and dairy who become more calm, experience better articulation, improved eye contact, better bowel movements, and less gastrointestinal issues," Kilbane says.
Newkirk's personal experience, she says, encouraged her to think differently when it comes to her family's health. "I learned about healing the gut with probiotics and fermented foods, and discovered that it's essential for good health," Newkirk says.
She went on a fermented foods tear and keyed into a "real foods" lifestyle. She made sauerkraut, kombucha, and began ordering live cultures from online stores. One of her fermenting experiments was a ginger beer. One night, while having dinner at home with friends, she shared her latest experiment.
"They were like, 'Oh my gosh, we have to have this, can we buy this from you?'" Newkirk says. She began making the coveted ginger beer at her Concord home in 2013 and gave it to friends. In 2014, she decided to get serious and make a business out of it.
"The whole family sat around and threw out ideas for a name," Newkirk says. "It was an all-family discussion on what it should look like."
Redemption Brew Works is now sold in more than 80 local stores, including Common Market in Plaza Midwood, Queen City Pantry, the Broken Spoke, and Rhino Market, as well as restaurants such as Rooster's Wood-Fired Kitchen, Dogwood Southern Table + Bar, Sabor, and Heirloom Restaurant.
Back at the City Kitch, four of Newkirk's five children (Seth is in college now) gather with their parents to bottle 50 cases of Redemption Brew. The boys roll the brew tank into the kitchen space, and the girls set up the assembly line of bottles, boxes, and caps.
"Once we get started," Eliana says, "we need everybody. It takes all of us."
Keia Mastrianni is a freelance writer, oral historian, and sometimes-photographer who lives in Shelby. Once upon a time she lived in Charlotte, until she met the farmer of her dreams. Follow her on Instagram or Twitter: @keiaishungry.