Bridal Fashion: J.Crew Spring Preview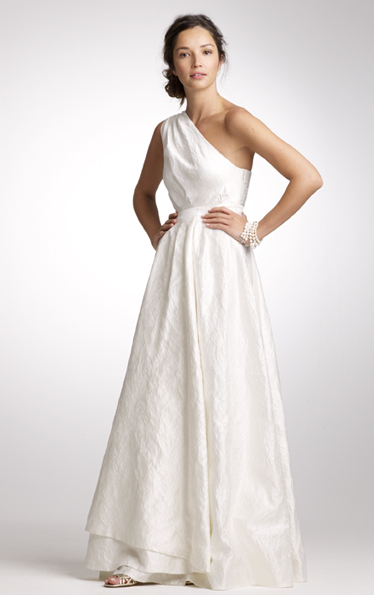 As far as we're concerned, J. Crew tends to do everything right. And its Spring 2010 Weddings and Parties collection is just perfect. With gowns perfect for brides planning a formal church affair, a beachside ceremony, a garden party, or for those tying the knot in their parents' backyard, it's hard not to find a beautiful (and quite affordable) gown.
Luxe silk taffeta and silk chiffon couple with saturated colors like tropical aqua and caspian blue complement simple strapless silhouettes. The unique bow and ruffle details make us smile! We can't find a single thing in the collection we don't like so there's no need to fear putting your 'maids in a less than flattering or fashionable bridesmaid dress. (And when you tell them that they can wear it again, you will really mean it!)
With bridal experts like Ashley on call at 800-205-3877 (or ashley@jcrew.com) you'll have someone to walk you through finding a dress, corresponding looks, and even honeymoon clothing for your week of newlywed bliss.
Preview the 2010 Spring Collection here or under the wedding tab at jcrew.com.