Bridal Gown Consignment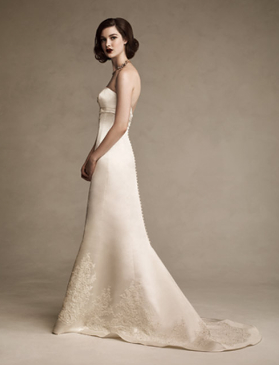 I wear my grandmother's wedding band on my right ring finger at all times. It never comes off. I'm beyond sentimental and if something has even the slightest bit of value for the sake of memories or family history, I'm the one who will keep it.
Naturally, I am in awe of brides who don't keep their wedding dress. It's a big, important day, a pivotal event in your life! How could you not keep the one tangible item that represents it all? What if you have a daughter one day and she wants to wear your dress? (For someone who's never been married, I've obviously thought about this a lot, no?)
I'm certain that the soon-to-be-Mrs. with bridal couture taste on a budget look at said brides with glee as they are no longer forced to walk the aisle in a less than gorgeous gown. Enter bridal consignment boutiques and Web sites designed to offer up previously worn dresses at a fraction of the price and prevent gorgeous designer gowns from a preserved life in a big, white box at the back of someone's closet.
Want to scoop up your very own discounted bridal gown? Here are just a few of our favorite places to do just that.
Recently opened in downtown Matthews, E.G. Couture, is the consignment outpost of Charlotte's own J. Major's Bridal Boutique. It's filled with samples and gently-worn designer gowns from the likes of Judd Waddell, Priscilla of Boston, Romona Keveza, and Anne Barge.
E.G. Couture, 131 Matthews Station Street, Ste. 1C, Matthews, 704-443-2988, egcouture.com
Online source oncewed.com offers up a gallery of images of gowns from bridal designers such as Monique Lhuillier and Claire Pettibone. (The site is also a great resource for inspiration from other real weddings and easy, do-it-yourself bridal ideas.)
Fabulous Frocks, the little sister to Belle Couture Bridal in Mt. Pleasant, S.C., is set to open Monday, February 1 and will carry gowns from designers like Amsale, Modern Trousseau, and Christos.
Fabulous Frocks, 47 1/2 Spring Street, Charleston, S.C., 843-754-1855, fabulousfrocksofcharleston.com