Bride Idea: For your bridesmaids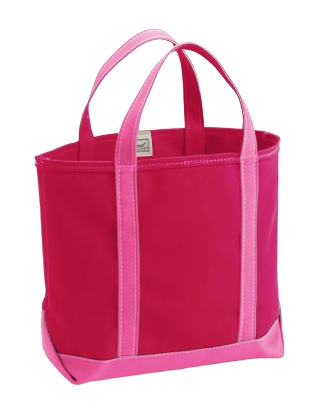 Over the weekend I met with a bride who's asked me to help her with accessories for her bridal look and for her bridesmaids. During our conversation (over a delicious Caribou coffee caramel high rise) she mentioned that another item on her to-do list was to figure out bridesmaid gifts. I perked up immediately and started giving her ideas based on what I knew so far: a May wedding at the beach in Florida, wedding colors of apple green and fuschia, and a bridal party of seven (so it couldn't be anything too expensive).
I'll begin by completely skipping the usual suspects: a monogrammed make-up bag, the jewelry that the bridesmaids will be wearing in the ceremony, purchasing their bridesmaids dresses, or any trinket that says bridesmaid in sequins or crystals (ladies, please don't).
The bride mentioned that she really liked the idea of an L.L. Bean Boat and Tote Bag (which is great because they are quite useful and can be customized by size, shape, and color) and I suggested filling it with fun items that her maids would like and use, especially for the wedding weekend at the beach — a cute cover-up, sunscreen, flip-flops, waterproof mascara, beachy earrings, and a pretty pink nail polish.
Got any great ideas you've used or seen for bridesmaid gifts? We'd love to hear about them in the comments below.