Building the perfect welcome bag for traveling guests
After you've blocked off a few rooms at hotels near your venue, it's time to start thinking about welcome bags for your guests that will be traveling.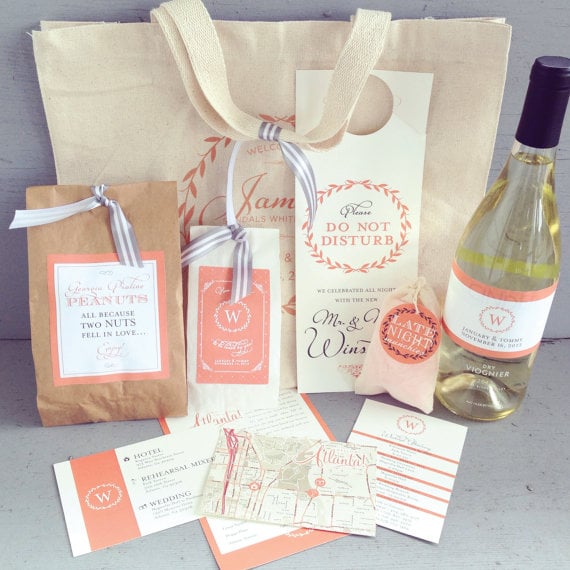 With only about 40 percent of Charlotte residents born in the Tar Heel State, it's likely that you'll have plenty of out-of-town guests coming in for your big day. Make sure you give them a proper greeting by constructing a thoughtful, elegant welcome bag. Most hotels will offer to ensure welcome bags are waiting for your guests when they check in at the hotel or enter their room. It's a great way for you to welcome your guests to Charlotte for the weekend and demonstrate your gratitude and hospitality.
Struggling with what to put in your welcome bag? Don't waste money on candy bars and tea bags. Instead, get creative with items that represent the Queen City, as well as you and your husband-to-be.
Start with a grocery tote
We're obsessed with these North Carolina tote bags that highlight everything our great state has to offer, from the Biltmore House to Cape Hatteras. It's a great place to start if you're looking to fill a goodie bag for your overnight guests.
Add the necessities
Water, snacks and a copy of Charlotte Magazine. After a long day of traveling, make sure your guests have plenty to munch on so they don't have to resort to an overpriced mini-fridge. Toss in some caramel popcorn from Dean & Deluca, a bottle of Cheerwine (born and bred in the Carolinas) and a few freshly ground, hand-blended herbs and spices from Savory Spice Shop.

Don't forget the bubbly
Nothing marks the start of a celebration like popping open a bottle of champagne. Perrier-Jouet NV Grand Brut comes in split bottles (187 mL) as does Korbel Brut, perfect for stuffing inside a goodie back.
Make it your own
This weekend is about you and your groom so embrace this opportunity to add a little something that represents the two of you. Are you huge Wolfpack fans? Add a 24-ounce N.C. State cup, as low as $5 for a pack of four on Oriental Trading. Do you spend your Friday nights concert hopping? Toss in a mixed CD featuring your favorite artists.
Always say thank-you
Nothing says 'thank-you' quite like a personalized, hand written note. Express to your guests just how thankful you are that they're sharing in your big day and make sure to add a thoughtful note on how they've influenced and supported you over the years.