Bully at the Pulpit
While Greater Salem Church went $5 million in the hole and the building itself began to crumble, its pastor, Anthony L. Jinwright, and his wife, Harriet, were accepting hundreds of thousands of dollars in salary and bonuses per year and insisting everything was fine. The congregation believed their leaders, and they are still suffering for their faith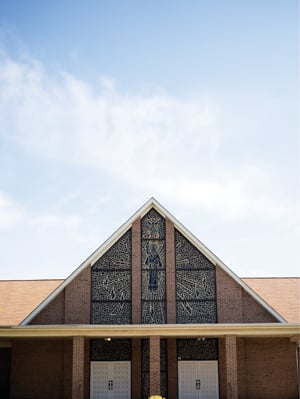 Bishop Anthony Jinwright is barely five feet tall, but that diminished neither the power nor the length of his sermons. Sometimes he dressed in casual clothes with a gold chain and hand-size bejeweled cross hanging down to his navel, sometimes in a tailored suit, sometimes in a minister's robe. It didn't matter; his audiences hung on his every singsong word. He'd dance or stomp behind his clear glass pulpit at Greater Salem Church, raising his hands to the beat of his message and increasing his volume to fire up the congregation. They'd mimic his gestures, and sometimes dress in matching T-shirts purchased to support one of the church's many ministries. Often, his wife, Harriet, would take a turn at the pulpit, practically screaming her interpretation of the day's theme.
Musicians added dramatic undertones to their words and backed the choir's hymns, many of which were written in-house to mirror the sermon. When things really got going, the sanctuary floor would shake. Occasionally someone would "catch the spirit" and flail around or speak in tongues. Toward the end of his reign, the bishop's sermons ran as long as it took for a predetermined dollar figure to be raised. At times, he would instruct people to line up according to the amount of money they were giving.
The pressure to tithe was so great that it wasn't unusual for the church's staff to discover empty envelopes or bad checks in the day's donations, and sometimes people stopped payment on good checks. That infuriated Anthony, who complained to the church's board, "When someone in the church is not tithing, the whole house is cursed." As for the cash, that often went home uncounted with him and Harriet.
Meanwhile, the church, located on Charlotte's west side across Brookshire Boulevard from a water-treatment plant, was bouncing its own checks. Anthony later testified in federal court that, during that time, the congregation wasn't tithing faithfully enough and the church's financial staff was clueless. The church's bind, he believed, had nothing to do with the Jinwrights' insistence that they each be paid six-figure salaries in addition to other monthly payments, including a five-figure housing allowance and lease payments for luxury cars, which were paid on top of a monthly auto allowance.
The Jinwrights also received monetary "gifts" from all of the church's accounts for both of their birthdays, for their wedding anniversary, Mother's Day and Father's Day, his pastoral anniversary, his retirement (which he was supposed to invest but rarely did), his daughter's college tuition, for vacations, Louis Vuitton luggage, jewelry … and the list goes on.
While congregants voted on the church's budget, most were unaware of exactly how much money the Jinwrights received because the line item for church salaries included the entire staffs' and the gifts weren't included. And, because he owned two funeral homes, was hawking a self-published book, and had established a for-profit ministry, there seemed to be no reason why he shouldn't appear successful, especially since his sermons were in such demand that he had to travel around the country and to South Africa, the Bahamas, and Jamaica to preach at other churches.
Congregants were also unaware that the church often picked up the tab for those trips or that it paid the funeral homes' cellphone bill. Nor did they realize that the church's staff often performed work for Anthony's other companies on the church's time and using its supplies. Meanwhile, his businesses' tax returns made it seem as though they were barely scraping by, despite the fact that, through the years, the bereaved could ride to their loved ones' grave sites in one of the funeral homes' Rolls-Royces, Cadillac limousines, or, for a time, a Maybach—a nearly half-million-dollar car so exclusive only sixty-three were sold last year.
Even as the church's building began falling apart and its balance sheet sunk into the red, most in the congregation continued to have faith in their charismatic leader and his wife, whom he named copastor. Not even the couple's indictments on federal tax evasion charges—which later earned them convictions and multiyear prison sentences—shook the most faithful "saints."
But when the sheriff came looking for the church's used vans, a few members of its board of directors decided they had to try to make things right. Their objections weren't well received, says Larry Gandy, a former member of the board of directors and the budget committee. Faced with dissension, he testified during the trial that Anthony asked the board, "Why do you want to take food out of my mouth?"
Greater Salem Church was founded by freed slaves as Salem Baptist Church in 1857. It was one of two African American churches in Mecklenburg County. The original members met in a simple building with no plumbing. A wood stove provided heat and baptisms were held in a nearby stream.
Traditionally, Sundays were the only day slaves were allowed to really express themselves, which they often did through songs laced with code words, spreading messages their masters wouldn't understand. Since most of them couldn't read or write, biblical lessons were passed on through stories from the pulpit. It's not uncommon for a pastor to minister at one church for his entire career, often until death. But a few, like the pastor Anthony replaced, leave for other churches 
or vocations.
On February 12, 1981, according to an archived version of the church's website, Anthony became the church's thirteenth pastor. His bride, Harriet, a Charlotte native who is two years younger than him, was by his side. The couple met during choir rehearsal while attending school in Salisbury, she at Livingstone College and he at Hood Theological Seminary. They married in the summer of 1980 and welcomed their only child, Anthonae, less than two years later.
Soon after graduation, he took the reins at Salem Baptist Church for a few hundred dollars a month and, at age twenty-three, was the youngest minister in the church's history. On his college application, submitted three years prior, Anthony was asked, "What are your future plans for your church?" He responded, in part, "I feel it will enlighten me as to how a church must function with the minister as the leader." He would further define that vision in 2002 when he wrote in his book, "Believers shouldn't be given too much authority. It's to protect them against pride—one of the most subtle, and most deadly, of the enemy's traps."
Isaiah Roberson, now in his eighties, is proud to tell anyone that his family has a century-old connection with the church. He remembers when the Jinwrights arrived at Greater Salem, saying of Anthony, "He came to the church walking. He didn't have no car, he didn't have anything." On the stand during his trial, Anthony described how he thought the church was "relatively small, but it was filled with great joy and people who were very proud of their heritage and their faith."
One of nine children born to Samuel and Joneita, a foreman and domestic worker, respectively, Anthony was raised in Wrightsville Beach, on the coast, just east of Wilmington. There he worked his way through high school doing odd jobs, though his favorite was at a funeral home. On Sundays, he sometimes attended his cousin's Pentecostal church, where he says he first spoke in tongues. Scholarships helped pay for college, and he continued working in the funeral home business, even after taking the helm at Greater Salem. In the fall of 1984, he wrote in his book, Rise Up, that he lost consciousness while giving a sermon. He called his collapse a "massive nervous breakdown" and said he spent a week in intensive care, where he was so delirious he was unable to recognize anyone, even his then two-year-old daughter.
While in the hospital, Anthony says he had a conversation with Jesus—who anointed him, infusing him, he thought, with Christ-like powers. It was that conversation, Anthony wrote, that made him realize he could no longer handle the stress of working two jobs. He describes it as a crushing revelation, because the ministers he knew were poor and he was really a businessperson at heart. "That day I chose to serve the Lord, even if it meant limping financially for the rest of my life." When he wrote those words, he was making more than a half-million dollars a year—though he reported making less than $200,000 to the IRS—and riding around Charlotte in a new Mercedes S430V.
After Anthony recovered from his breakdown, he returned to school, eventually earning two master's degrees and a doctorate. In 1989, while still in school and preaching full time, he incorporated his own funeral-home business. A decade later, he started a for-profit ministry. Both businesses were named A. L. Jinwright.
Around the same time as his 1984 breakdown, Anthony became disillusioned with the Baptists' international governing body. He found the denomination too restrictive spiritually and resented the idea of being regulated by any authority higher than himself, with the exception of the Lord. By the mid-1980s, Salem Baptist Church had severed its ties with the Baptists and renamed itself Greater Salem, rebranding itself as nondenominational. In 1987, the church moved into a $1.6 million building on Salem Church Road in an industrial area of west Charlotte and took out a thirty-year, $800,000 mortgage. The loan was paid off in seven years thanks to donations from the working-class congregation. The church's website bragged that it was "debt free."
Meanwhile, congregants, many of whom had joined the church when it was Baptist, were leaving, tired of Anthony's Pentecostal style, which included healings conducted with a forehead smack. 
A younger crowd that enjoyed the energetic services filled their seats. In the 
mid-1990s, he was declared a bishop by one of his pastoral peers, most likely at Ralph Dennis's College of Bishops in Maryland, an institution to which Greater Salem Church made financial contributions. Around the same time, the church, with Anthony's handpicked board of directors, who eventually signed confidentiality agreements, ratified a new set of rules.
To become a member of the church, and thus be able to vote on church business, congregants had to take a class in which they may have been informed of the church's bylaws. Filed with the state in 1997, those bylaws gave church leaders the right to chastise any dissenting members from the pulpit, whether their alleged infraction was public or private. Dissenters were given two weeks' written notice of the coming fire, ample time, in the board's mind, to repent or move on.
Larry Gandy and his family 
became members the same year the bylaws were enacted. By 2000, Anthony had appointed him to several church committees. Gandy testified that the church's board of directors was so powerless that Anthony wouldn't even allow them to keep meeting notes and he regularly reminded them that they "were not a ruling party." Gandy and the board first learned of the church's "significant financial problems" the week before Labor Day in 2004. That's when the sheriff attempted to repossess the church's vans.
Once Gandy realized what was going on, he testified, he tried to fix things but said his suggestions—including cutting the Jinwrights' pay and issuing 1099s to visiting ministers—"weren't well received" by Anthony. A few weeks later, Gandy resigned from his official duties, though he planned to remain a member of the congregation.
The Sunday after his resignation, as Gandy and his family arrived a few minutes late to the weekly service, he heard Anthony's voice through the speakers in the church's foyer. He testified that Anthony told the congregation that "he wasn't worried about the IRS and that God could fix it where the IRS owed you money." The message felt like a personal attack—retribution for daring to stand up to the bishop, so Gandy and his family left and never returned.
For the most part, though, the congregation obeyed the Jinwrights without question, treating them more like royalty than clergy. The church's congregation was growing, and members felt a profound sense of gratitude for the increased attendance. By then, though many in the congregation didn't realize it, the church was already in the habit of paying for the Jinwrights' personal expenses. In one example, the church paid $45,000 in 1991 as a down payment for a new home that was in the Jinwrights' name, not the church's. It was labeled a "bonus" in the mortgage paperwork.
By the late 2000s, as the various bonuses and love offerings and honorariums to the Jinwrights spiraled out of control, $45,000 would seem like a deal.
In 2008, the academic Robert Smith Jr. wrote that there are three "steel rods that hold the concrete of African American spirituality together," singing, an omnipresent God, and preachers who acted "as if they had just spoken with the biblical authors." Smith likened such sermons to improvisational jazz acts, citing the preacher's use of "call and response"—a means by which they play off their audience in an attempt to keep their attention and include them in the praise service. ("Can I get an amen?")
The belief that Jesus speaks through such anointed pastors fits in well with the modern-day "prosperity gospel." It is also often associated with Pentecostal-style services in which parishioners are known as "saints" or "soldiers," pastors are "empire builders" instilled with Christ-like powers, the devil is "the enemy," and, according to Anthony Jinwright, being in debt is the same thing as being held "hostage."
The idea behind the prosperity gospel is simple: if you have faith and tithe, God will make you successful. Donations can return to believers 100-fold—if they don't, they merely need to believe harder and give more.
The prosperity gospel is a theological 
subculture promoting "health and wealth," but mostly the wealth of 
evangelists, both black and white. Six of the most famous ones—Benny Hinn, Creflo Dollar, Kenneth Copeland, Eddie Long, Joyce Meyer, and Paula White—were investigated by the U.S. Senate's Finance Committee. Sen. Chuck Grassley, a Republican from Iowa, launched the investigation in November 2007. He ended it in January of this year, saying he hoped churches would learn to regulate themselves.
Also in November 2007, on an ordinary fall afternoon, Special Agent Tyiesha Nixon of the Internal Revenue Service's Criminal Division dropped by unannounced at the Beatties Ford branch of A.L. Jinwright Funeral Services. She had a few questions for its namesake.
Unannounced visits are a customary practice, Agent Nixon explains, "so we can get their unprepared testimony." She says Jinwright was cordial and welcoming during their initial interview, though their conversation lasted for hours and his attorneys later accused her of brandishing a weapon and disrupting the Jinwrights' business. (She says she didn't do either, though she does carry a concealed weapon.)
By the time of Agent Nixon's visit, she'd already been investigating the Jinwrights for months; an anonymous letter, dated May 1, 2006, had tipped off the IRS. Even now, it's unclear who wrote the letter, though it's obvious that it was written by someone with intimate knowledge of the church's financial affairs. Perhaps it was one of the many former employees who had stood up to the Jinwrights, only to be fired and then scapegoated as the cause of the church's mounting fiscal troubles. Maybe it was one of the many third-party 
advisers who had been warning the Jinwrights for years that they weren't claiming their entire income on their taxes. Only the letter writer and maybe the government know for sure.
The IRS received the letter during its investigation of another local pastor, John Walker of Macedonia Baptist Church in west Charlotte. He was accused of many of the same crimes as the Jinwrights. (Walker, whom Anthony later claimed was a confidant and his "spiritual son," pleaded guilty to tax evasion in 2006 and is also serving time in prison.) The letter writer taunted the government, calling Walker "a very small player in the game that is being played throughout many churches." The writer continued, "Dr. Anthony L. Jinwright of Greater Salem Church has taken greed and deceit to a new level."
But instead of learning from Walker's ordeal with the IRS, the Jinwrights increased their take from Greater Salem Church. According to court documents, in January and February 2007 alone, Anthony received nearly $200,000 in payments from the church, including a $50,000 anniversary bonus, a $50,000 pay raise for the prior year, a $7,000 honorarium for preaching at his own church, a $15,000 housing allowance, a $4,166 car allowance, $525 "for checks written to GSC," $1,500 in spending money for a conference, another $50,000 reimbursement for undisclosed payments purportedly made by A. L. Jinwright Ministries Inc. on behalf of the church, a newly leased S-Class Mercedes, a $3,500 signet ring, an all-expenses-paid trip (with spending cash, too) to Las Vegas, and a $2,500 gift certificate to Bruce Julian clothiers. All this was in addition to his monthly salary of $25,200 and thousands of dollars in reimbursements for donations he'd made to other ministers, including Walker, who he'd given $1,000 in cash.
Those outlays don't include the $100,000 party the church threw the Jinwrights for the twenty-sixth anniversary of their arrival at the church at the Westin that February—held three months after Walker pleaded guilty to tax evasion. Nor does it include the travel expenses and honorariums—some as much as $5,000—the church paid many of the attendees.
By the time Agent Nixon and Anthony first met, she already possessed evidence that the Jinwrights were intentionally defrauding the government. Because such actions constitute criminal behavior, the formality of an audit was skipped in lieu of pursuing indictments from a federal grand jury. The indictments came in April 2008 for Anthony and five months later for Harriet.
From behind his glass pulpit, Anthony Jinwright proclaimed his innocence to his congregation.
While the Jinwrights were living it up, things worsened for their church. Its financial crisis reached a fever pitch in the fall of 2004 and is only now beginning to settle down. Creditors were calling, payroll checks were bouncing, and church personnel frantically transferred money between accounts to keep things afloat. The church itself was beginning to fall apart; tiled hallways had unnatural waves, termites chowed down, the roof was giving way, and mold was growing. Most of the congregation was unaware of how their tithes were being spent, though Linda "Regina" Childs, a former church and board member, testified in court that while the Jinwrights enjoyed a lavish church-sponsored lifestyle, the church itself "didn't have enough money to always cover the bills."
For years, the church's budget included little, if anything, for pest control, maintenance, or repairs. Loans and a second mortgage on the church were acquired to cover overdue bills, like those for the church's used vans. In the frenzy, a relatively new secretary started writing checks on church accounts to the Jinwrights at their behest. She was not authorized to do so by the church or the bank and accepted a plea deal on forgery charges in exchange for her testimony.
During his three-day testimony on the stand in 2010, Anthony testified he was too busy to involve himself with the church's financial affairs; he was traveling around the country and planning another mission trip to South Africa, which the church bankrolled, for the Jinwrights and several of their friends. It was Harriet who dealt with the tax accountants. She made lists of potential deductions—including donations the church had reimbursed. However, year after year she failed to get the necessary documents, which she stuffed into shopping bags, to the accountant's office in time to meet even the extended filing deadline of October 15.
During his trial, Anthony told the judge he had no idea if he'd received 1099s for all of the contributions or "love gifts" he'd accepted at outside speaking engagements, or if Harriet had supplied them to their accountants. He also argued that those payments were gifts, not income. His testimony fit his defense, a common one in cases like these: the U.S. Tax Code is too complicated for a financial layman to comprehend, so he shouldn't be held accountable for not knowing its finer details. For example, he claimed not to know that the income he received from his funeral homes, book, for-profit ministry, and a lot of other job-related perks wasn't tax exempt.
In the end, the IRS estimates the Jinwrights received more than $5 million in compensation from Greater Salem Church between 2001 and 2007, roughly the same amount of the loan the church took out just before the couple's fall from grace.
The Jinwrights' trial began on April 6, 2010 in United States Federal Court on West Trade Street uptown. They arrived separately, having been ordered to live apart by Judge Frank Whitney a month before. Each had their own driver, he for his Lexus SUV and she for her Cadillac SUV. Anthony was flanked by an all-male entourage, including his attorneys from James McElroy and Diehl, and looked through anyone he didn't want to see. Harriet, who had been declared indigent, was represented by court-appointed attorneys.
He wore his notorious $5,000 suits with colorful silk ties and pocket handkerchiefs, staring straight ahead or scribbling on a notepad as witness after witness discussed the couple's domination of Greater Salem, inspiring sermons, and fiscal minutia. During his testimony, Anthony rebutted witnesses' claims that contradicted his own, effectively calling them liars.
Harriet, who is no taller than her husband, wore tailored dresses or pantsuits. If her spending history is any indicator, they were likely purchased at a St. John boutique or a custom clothier. Depending on who was on the stand, she would try to make eye contact with supporters, jury members, or the media. She'd smile, then try to catch someone else's eye and smile again. Sometimes she would rest her face in her hands or appear to be talking to herself. Every once in a while she would pass a note to one of her court-appointed attorneys or giggle, and she often greeted supporters in the court's white marble halls during recesses, huddling with them when things were intense to pray or sing.
The couple exchanged few words and barely looked at each other, though they and their entourages went to lunch 
together each day.
Supporters attended in waves, trickling in on the more boring days and packing the wooden pews on days promising drama. Before and after court, several women would attempt to inspire a miracle by circling the courthouse seven times, and once someone apparently attempted to anoint the court—or to make it a voice for God—by pouring an oil cross in front of the steps many attendees took each day from the parking lot.
The Jinwrights' supporters believed the Jinwrights were anointed, and that they speak with God's voice. When the Jinwrights reportedly instructed most of the congregation to avoid media coverage of the courtroom drama and forbade them to speak to reporters, they obeyed. The church's doors stayed locked. In the courtroom, those who attended often brought Bibles, which they read during testimony and left open on the benches during breaks. At times, it sounded as if some of them were praying in whispers behind the media's bench, which one woman kicked on occasion. During recesses, the supporters acted as physical barriers between the Jinwrights and anyone they didn't want to speak to, though Harriet was friendly if caught on her own. Their daughter, Anthonae, did not attend the trial.
After a four-week trial, the jury deliberated for four hours before returning their unanimous verdict just after 8 p.m. on May 3, 2010. When the foreman knocked on the wooden door, the room silenced and the court's staff sprang into action, putting certificates of thanks on each juror's chair and notifying the judge in his chambers as well as the defense attorneys, who were waiting together in a small room just past the courtroom's doors. The prosecution was already seated.
After what seemed like an hour's worth of formalities, the judge read the verdict, declaring Anthony guilty on thirteen counts of conspiracy and tax evasion and Harriet guilty on four counts—three for tax evasion and one for conspiracy. Their supporters gasped and moaned. Judge Whitney ordered Anthony taken into federal custody immediately, citing "the economic risk to public safety." That's when the supporters' sobs began in earnest.
Marshals took Anthony back to a little room just outside of the courtroom, where he stood in a corner, handcuffed and looking shocked. A woman tried to wave at him through a female marshal's arms; "Keep moving, keep moving," the marshal 
shouted in response. The prosecution's team quietly gathered their things and exited with everyone else. On the steps, lights from a bank of television cameras blinded everyone as they filed out through the one unlocked door.
The crowd's cries continued through the courthouse as everyone pushed outside into the steamy spring night. Harriet's supporters shielded her with large, colorful umbrellas as they escorted her to her Cadillac, already manned by her driver. Within hours, Anthony's mug shot was put on display by nearly every media organization in the city. It had been taken at the Mecklenburg County Jail, where he would reside for ten months while awaiting sentencing and his eventual transfer to a medium-security federal prison in West Virginia.
On December 8, 2010, the couple faced Judge Whitney again for their sentencing hearing. Harriet arrived with her usual entourage and a pronounced limp wearing a black T-shirt with the words "Miracle on the 8th" in bold, white lettering—as were many of her supporters, though their sentences didn't come until the next day. The phrase referenced their hope for divine intervention in the sentencing. Anthony, noticeably heavier, was also escorted to court, but this time by federal marshals instead of his "armor bearers." He was shackled at his wrists and ankles and sported an orange jumpsuit that also had bold lettering, only his read "Mecklenburg County Inmate."
Anthony faced up to fifty-three years in prison and Harriet twenty. They were sentenced to eight years and four months and six-and-a-half years, respectively. Once they complete their prison sentences, for which there is no possibility of parole, they each face three years of probation.
Unlike her husband, Harriet remained free after the sentencing because she 
needed knee surgery. However, the Jinwrights' conviction hasn't deterred her supporters, who, represented by Blease Turner (who is no longer associated with the church), told the court they didn't feel the church is owed restitution. During bankruptcy proceedings later that month, Turner said the church had hired Harriet as its interim pastor and that it continued to pay Anthony's salary even though he was incarcerated, making him the only full-time employee on the church's payroll.
Twice after his conviction, Anthony asked the court to release him—once promising the judge he'd only accept his regular salary from Greater Salem Church (more than $300,000 annually), and again at sentencing, when he promised to minister other pastors on the importance of seeking sound financial advice and paying their taxes. Judge Whitney was not swayed.
In the months following the Jinwrights' conviction, the church's financial situation got worse. In November 2010, a bank foreclosed on its second mortgage, and the church filed for Chapter 11 bankruptcy protection. Under the watchful eye of the U.S. Bankruptcy Court, the church was forced to cease payments to the couple in late January, so they resigned.
Harriet's few remaining supporters splintered off to attend services at one of the funeral homes while others returned to their home church, eager to aid in its resurrection. Tithing is up at Greater Salem since late January, church officials report—the building needs a new roof and has a new van to pay for, after all.
And there's a new bishop behind the glass pulpit. His name is Alan Porter, and he says he's not related to Harriet, whose maiden name is Porter. He promises to bore the congregation with transparency and end his sermons no later than 12:15 p.m. each Sunday, though he won't be there every week since he splits his time with another church in Baltimore.
Porter was declared a bishop in the same manner Anthony was and is currently working on a master's degree. (He received a bachelor's degree in business management.) He says his goal is to refocus the congregation on public service, and he wants everyone to know they're welcome to attend services regardless of their skin color. But it's also important to note that he used to be an executive pastor at Greater Salem Church and was involved in securing the $5 million loan that led the church into foreclosure. He's also bragged, in board meetings, about chastising congregants from the pulpit for not tithing.
The congregation sometimes prays for the Jinwrights, though even their once-close allies and pastoral peers don't seem to be too interested in visiting them in prison. None of the supporters I spoke to were aware of where Anthony, now known as inmate 23372-058, serves his time or how to reach him.
Harriet is to report to prison by the end of April. Since neither the Jinwrights nor their attorneys were willing to comment for this story, it's unclear how her knee malady is healing—though word on the street is she was cured without surgery.
Both Jinwrights have filed appeals, only this time they'll each be dressed in prison garb, represented by court-appointed attorneys, and driven to court by armed guards.
Rhiannon Fionn-Bowman is an independent journalist in Charlotte and regular contributor to this magazine. She covered the Jinwrights' trial for Qcitymetro.com.