Butter Beans and Memories: An Essay
City living limits our backyard gardens, but connections to Southern food history live on in restaurants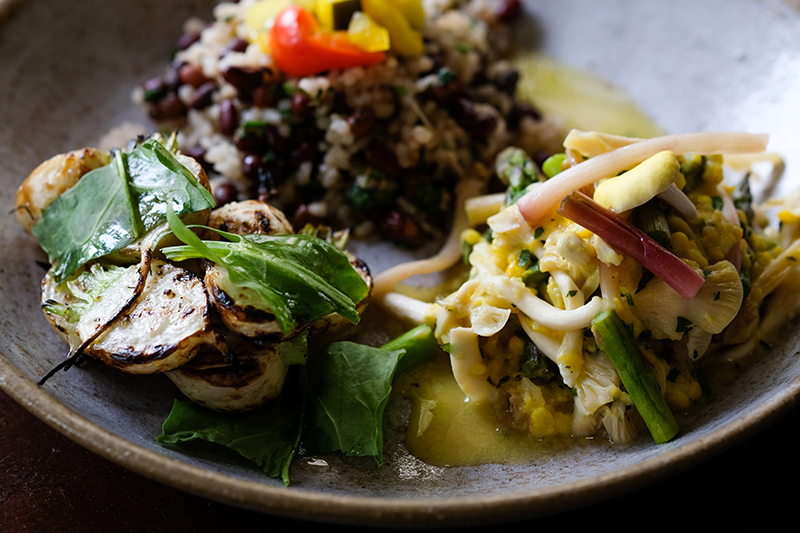 IT'S LUNCHTIME in Charlotte. Businesspeople head to McCormick and Schmick's for hushed conversations over seafood. South Enders crowd the front door of Futo Buta to wait for a table and slurp down ramen. Cam Newton may even join the sudden rush in uptown to stand in line for a vegan hot dog from a corner vendor. It's all quite predictable, the who doing what going where.
You never know who you'll find here, though, on Mint Street, in the cafeteria attached to the United House of Prayer for All People. When the turkey wings are roasting and the chicken is being fried, the church's cafeteria truly is a house for everyone.
The polygonal dining room has brick walls jutting out at each turn, many extending from floor-to-ceiling windows. Tables are centered between each brick divider, and each one offers a snapshot of a different Charlotte.
An older black woman wearing big, gold earrings, a skirt, and a houndstooth jacket sips sweet tea, watching the dining room as it fills and empties. In the center of the room, an older white man with a neatly combed head of thinning, gray hair reads the sports section of The Charlotte Observer, pausing every now and then to look up at the news broadcasting on CNN. His plate is clean, his tea glass empty but for ice. He sits at a long table with room for 12, but the only other seat taken is that of a younger black man, finishing his fried chicken before pulling the plastic wrap off a slice of sweet potato pie.
A woman in a CATS uniform enjoys her lunch with a friend, mashed potatoes and gravy and turkey wings. There are white men, black women, vice versa, young and old, skinny in suits and muscular in tight T-shirts.
They may have different careers, different skin colors, different chromosomes. But they join together in eating at this place, sharing the knowledge that here, you'll find good, Southern food for cheap. There's the fried chicken, the turkey wings, the fish on Thursday and Friday. Sometimes there's a spaghetti casserole, but there's always warm mac-and-cheese and sweet potatoes and mashed potatoes and rice, with gravy to go on top. The corn bread is sweet, the okra tender, and a plate of a meat and two sides with a drink and corn bread is only $8.
You won't hear any profanity—a paper sign on the door reminds you to be polite. Because that's another part of Southern dining.
Of course, you don't have to eat at a cash-only cafeteria to get good fried chicken in Charlotte. Carpe Diem's buttermilk fried chicken breast is one of its longest-running menu items, and for $20, comes with gravy, Yukon Gold mashed potatoes, and sautéed spinach. Mimosa Grill's version is served with sides of pimento mac-and-cheese and pickle slaw for $24. Not everyone can afford fried chicken that's hormone-free and humanely raised, though. The $8 plate at this place for all people turns a dining room into common ground. We all need to eat.
***
"FOOD AND sitting at a table is a celebration in itself," chef Jim Noble tells me on a recent Friday afternoon.
The owner of Rooster's and The King's Kitchen is sitting in a camping chair in the front yard of his SouthPark home, watching over his new, custom-built smoker. He's been out here cooking brisket and pork for nearly 12 hours, since 4:30 a.m., making sure the burning hickory logs are giving off enough heat and tracking the meat's temperature on his phone.
The 61-year-old Noble thinks back to memories of growing up in High Point and eating at his great-grandfather's house in Iredell County, on this side of the Yadkin River. Barbecue—or any preparation of meat—isn't a part of those memories. Granddaddy grew what they ate, and most times the family sat down at the table, there wouldn't be any meat at all, just vegetables—15 bowls full of them, including tomatoes, squash, potatoes, butter beans, cucumbers, all picked from the garden that Granddaddy tended to diligently.
"Radishes are all hip right now, but I grew up eating radishes, because that was the first thing to come out of the garden at Granddaddy's," he says.
There were ham biscuits waiting when Noble and his family arrived. Sometimes, Granddaddy grabbed and slaughtered chickens from the yard. But Noble says he didn't really notice if a protein was on the table or not. That was his Southern cuisine: meals that came solely from the backyard, enjoyed with loved ones.
Pick up the menu at King's Kitchen, and you'll see a plate of Southern vegetables for $12. Butter beans, collard greens, stewed squash, sautéed mushrooms—have your pick of any four side items for a true, Southern meal.
"It's kind of a respite; it's kind of an escape," Noble says. "Great memories are around tables with families."
To many people today, a meal without a big hunk of meat isn't a full meal. It's the modern carnivore's state of mind, and one Noble doesn't share. He constantly reminds his chefs to add more vegetables to his menus, he says, and to brighten up the plates with fresh, local ingredients.
Cody Suddreth, a 33-year-old Lenoir native who is now the executive chef at King's Kitchen, also has memories of fresh-picked vegetables heading to the kitchen for a family supper. Instead of going to the store and spending money on produce, generations of Southern families—from Suddreth's grandparents to Noble's great-grandparents—grew what they needed in their gardens. The food was free, with a bit of hard work and attention.
"Most everyone that I knew, everyone had gardens—especially in those smaller towns, a lot of people had gardens; a lot of people were hunting," Suddreth recalls of his childhood.
Somehow, though, people started looking in the wrong places for affordable dishes—to fast food chains and inside boxes. The recent farm-to-table push is returning us to our more practical roots.
"It's what our grandparents or their mothers and fathers did 100 years ago," Suddreth says. "It's nothing new. It's just that we got caught up in the McDonald's and the Uncle Ben's rice phase of life, and the drive-through phase of life. And it's butchered our eating habits for 50 plus years, in my opinion. So now people are like, well hold on—why are we not growing our own food, or why are we not going to the farmers' market?"
Suddreth reconnected with his love of local as a line cook at Bacchanalia, a James Beard Award-winning restaurant in Atlanta. Working with local farmers and producers reminded him of his grandparents' garden, and now he serves fresh, local produce at King's Kitchen, on that $12 vegetable plate. It's the cheapest entrée on the King's Kitchen menu, but not because it's an inferior product; it's cheap because what you're eating is something your grandmother once grew for free in her backyard.
And despite their age difference, the two chefs remember a similar Southern tradition. Perhaps their vegetables will be eaten by someone who also remembers, and whose face will brighten with memories of butter beans cooked way back when.
"We do a lot of vegetables—even at Noble's we did," Noble says of his first restaurant, which closed in 2010. "I always like to see a lot of color, and I remember those plates we would fix in the summertime: You'd have beets, corn, and green beans, squash; fried okra was always there. Then fresh-sliced tomatoes. Just a beautiful array of colors."
There is one protein Noble does remember vividly from his childhood: Aunt Beaut's pan-fried chicken, served with pan gravy and rice or potatoes. It's also on the menu at King's Kitchen, following the same recipe Aunt Beaut used to cook for the family after church.
The dish—a classic meat-and-three, $13 for dark meat or $15 for white—is prepared just as Noble remembers. It's pan-fried, an art that he believes is being lost to deep fryers around the city. It's true Southern fried chicken, and it may be a bit more time-consuming to prepare, but it's cooked in a cast iron skillet, seasoned by years on the stove, the way chicken used to be done.
Which brings us back to barbecue.
Too many barbecue restaurants are doing things the easy way now, Noble believes. They're switching to gas or charcoal bricks to slow-cook and smoke meat without the hassle of keeping hickory logs burning. The old way of cooking is called slow-cooking for a reason—it takes a lot of time and attention, and, like pan-fried chicken, is also becoming a lost art. So he's learning everything he can to keep tradition from being marred by convenience.
He pulls a brisket out of the smoker to let it rest. There's Carolina pork cooking in there, too.
Noble, one of the pioneers of the modern Charlotte restaurant scene, has a thing for lost pieces of Southern food history, such as Carolina gold rice, which is making a comeback, and plates full of just-picked local vegetables. And, of course, there's the routine of sitting in a chair in the cool dawn, setting the smoker, and listening to the sizzle of falling juices until the sky starts to darken.
He's talked to the owners of some of the most famous barbecue joints in the Carolinas and Texas—including Franklin's Barbecue in Austin—and generations of pitmasters to learn their histories and what they know about barbecue. They may not be his own memories, but they'll be protected when Noble opens his own barbecue restaurant—he's exploring spaces now. Noble plans to start serving barbecue outside of breweries as a test, and to move to a brick-and-mortar space once he has the right recipes and cooking times for his custom smokers. His future competitors are willing to share what they know to help him, because barbecue is a culinary tradition they want to see continue. Sitting around a table eating smoked hog is a celebration—a celebration of being Southern.
***
THE SOUTH'S food history, much like the South's history overall, is complex. Some of our traditions are based on seasonality, others affordability, and others necessity. Collard greens, for example, provided a steady supply of green vegetables during the colder months when little else would grow. Corn bread was borrowed from indigenous Americans, who started grinding the South's abundance of corn. Slavery also had a big influence on the region's cuisine, with African cooking methods and ingredients introduced to white households. Black-eyed peas came from this time in history, as African culinary traditions began to meld with American Southern cuisine. The way we slow-cook our greens using ham hocks is a tradition originating from slavery, when slaves had to make the best of leftover parts from the pig—throwaways after wealthy, landowning whites' dinners. Food divided us, by race, by wealth, by gender.
As the lunch rush slows down at the United House of Prayer cafeteria, an elderly woman with a cart travels from table to table, cleaning up trays and cups picked clean by hungry Charlotteans. The sounds in the cafeteria begin to soften as conversations grow scarce and the clanking interruptions of a pan that needs to be refilled become less frequent. Eventually, the cafeteria will be empty, waiting for the next day's diners. Some guests tomorrow will be the same ones as today; others may be visiting for the first time, from the big, new apartments on Morehead or the changing streets of FreeMoreWest.
It won't matter where they're coming from, though. It won't matter how much money they make, or how they're dressed.
All that matters at these Southern tables is that you mind your manners—no cussin', please—and whether you'd like sweet or unsweet tea. We all need to eat.
Kristen Wile is senior editor of this magazine and editor of Charlotte Home + Garden. Reach her at kristen.wile@charlottemagazine.com or on Twitter: @kristenwile.
---
This article appears in the June 2016 issue of Charlotte Magazine
Did you like what you read here? Subscribe to Charlotte Magazine »
---