By-the-Slice Pizza Place Opening Soon in NoDa
Benny Pennello's could open as early as next week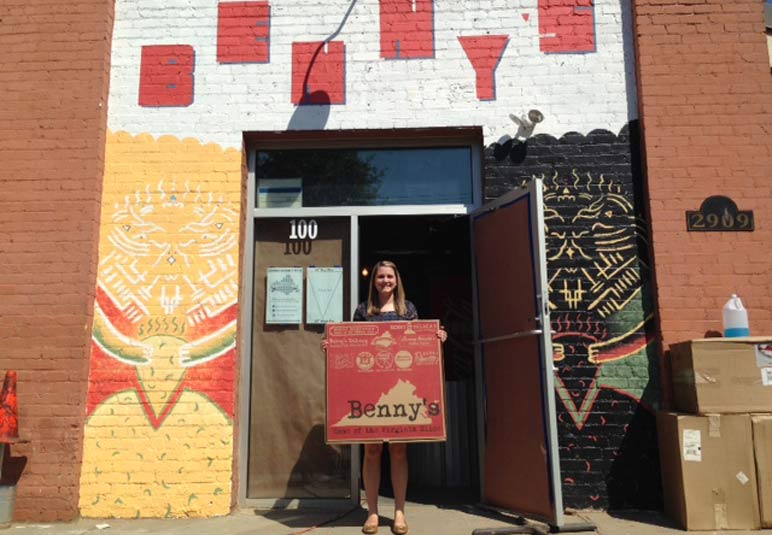 Benny Pennello's, a by-the-slice pizza franchise that originated in Blacksburg, Virginia (the home of Virginia Tech), is expected to get final approvals from the city this week. That means they'll be able to open as early as the end of next week, if all goes well.
The Benny's restaurants are all followed by a second word in Italian. This one, pennello, means paint brush, and is the tenth restaurant to open. So far, it's also the biggest, and has taken the longest to open. Husband-and-wife team Kristen and Bryan Brown secured the building, next to Heist Brewery, back in October. Bryan's brother, Chris, is co-owner of the pizza company along with fellow Virginia Tech alumni Zach Toth. Kristen and Bryan have been bugging them to bring the chain to NoDa, their home for the last six years.
Benny's restaurants are known for their 28-inch pizzas, which—as you can see from the photo above—are huge. Cheese pizzas will be $28 dollars; the 14-inch pizza slices will begin at $4.
"Only since pregnancy have I been able to finish a slice," Brown, who is due right around the restaurant's expected opening, joked about the serving size. Other Benny's locations have held a contest to eat a whole pizza; the record is around two hours to down an entire one.
They plan to sell local beer, and won't serve salads, wings, or other usual pizza accompaniments. The dough and sauce for the New York-style pizzas are going to be made in-house, and patrons can either take out or dine in. Brown says she expects the restaurant to be a bit of a daytime hangout, as they're offering free wifi. Those choosing to eat there will be surrounded by walls painted with murals from Virginia artists or with pockets of exposed brick. Artwork from NoDaRioty artists will also decorate the space, which will seat around 70 people.
"When we came in here, we were just like, this is the place, because we loved the exposed brick, we loved the history of the building," Brown says. "It was what we were looking for."
There will be outdoor seating, and all of the tables are being constructed out of reclaimed barn wood from Virginia. Along the front of the bar are bricks from old mills in South End. Right now, they're in the process of finishing tables, refinishing the concrete floors, and cleaning up the space. Brown says they'll do a soft opening with friends and family before serving up slices on their usual schedule, which is until 3 a.m. on weekends.
See the Benny's menu and full hours here.